►
◄
latest
habitat tv
blog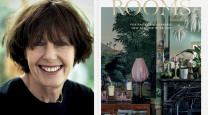 5 new botanical wallpapers to bring new life to your home
Oscar Wilde, a writer known for his dry wit, once said of the floral wallpaper in his bedroom, "Either it goes or I do". Clearly, the Irishman wasn't looking at the Resene Wallpaper Collection!
But whether you love wallpaper or tend to be more in Wilde's corner, there's no denying the current trend for wallpaper that goes heavy on nature. As designers continue to look to the natural world for inspiration – and as we fall more and more in love with our house plants - all things bright and botanical are covering our walls as a way of bringing the outdoors in. Because, as the experts tell us, being in nature is known to contribute to our physical well-being, including reducing blood pressure, heart rate, muscle tension and stress hormones.
As well as being good for you, nature-inspired wallpaper is a quick route to giving any room the wow factor. Whether that's overblown florals, giant vegetation, delicate fauna and re-imagined bold geometric patterns, all add interest and personality to your walls.
If you fancy pink peacocks, bold palm tree murals or delicate florals, Resene's Wallpaper Collection has you (or, more accurately, your walls) covered.
History of wallpaper
There's no denying the fact that decorative wall coverings have a long and colourful history, beginning with the Chinese who were said to have invented wallpaper - pasting rice papers onto walls as early as the Qin dynasty (201-226BC). Wallpaper reached a peak in the 19th Century when advances in block-printing technology meant cheaper wallpapers were accessible to everyone, not just the aristocracy.
What's a little harder to pinpoint is when nature-inspired designs began to creep onto wallpaper. What we do know is that by the 1600s, flock wallpaper (a raised pattern with soft material on it) had been developed and brought with it a more nature-focused aesthetic. Floral prints were particularly popular in England, where it remains a key feature of the traditional English aesthetic.
The Victorians, for example, were said to favour fern prints while in the 50s banana leaf prints were all the rage. Japanese and Scandinavian wallpaper has also been known to lean heavily on botanic and wildlife designs over the years.
Blue and green should always be seen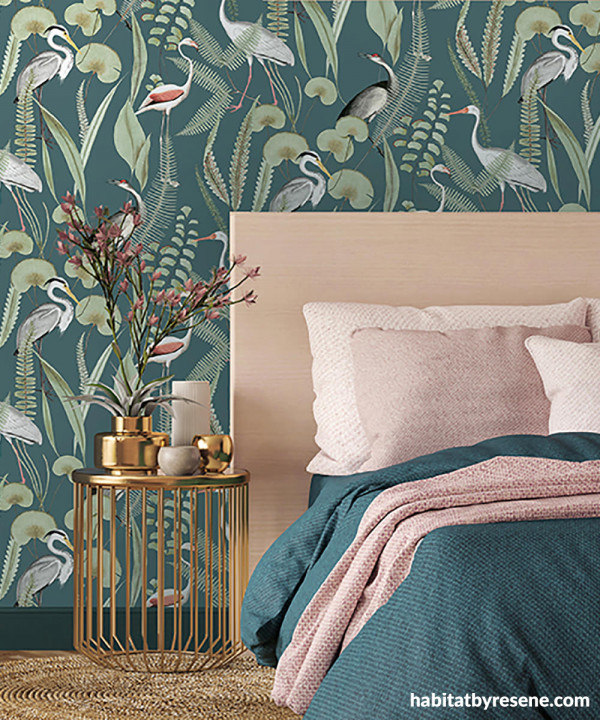 Be creative with Resene Wallpaper Collection M37414. Walk on the botanic side with this wallcovering inspired by nature. Natural textures such as wood and jute rugs suit this look. Try Resene Noosaas an accent colour on furniture, and on trims and ceilings.
Thankfully the old saying about blue and green not being seen together has fallen out of fashion. Teals and sea greens such as Resene Green Meets Blue and Resene Deep Teal combine the best of both worlds adding old world elegance to an interior.
In the wallpaper design world, teal and deep blue toned greens appear in both traditional Japanese wallpaper designs as well as William Morris style English botanicals. Resene Wallpaper Collection M37414 features the best of both worlds with delicate green Victoriana ferns and Asian-inspired red crowned cranes. This bold statement wallpaper allows you to travel into nature without leaving the room.
Botanic wallpaper is the perfect foil for some of the season's new colours, such as delicate pink. And go bold with gold accessories which reinforce the modern take on a classic nature-inspired print. If you can't find gold accessories to suit, refresh some favourite knick knacks with Resene Gold metallic paint.
Make it cosy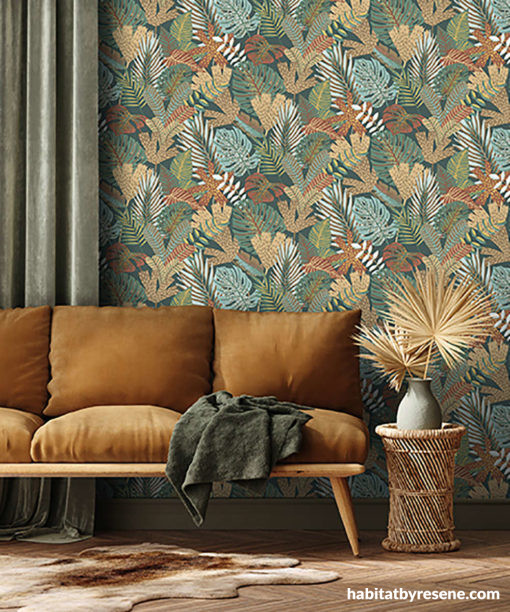 Cosy and luxe are words you can tuck into the same room. Resene Wallpaper Collection M36904 sets the tone for autumnal luxury. Double down with textured velvet curtains and thick sofa cushions you'll want to recline on. And don't forget throw rugs which have the advantage of revealing your floorboards but also keeping your toes nice and toasty. Pair with floorboards stained in Resene Colorwood Natural to ground the space.
Autumn may be some way away, but cosy is always in fashion. While green is the dominant colour of botanical wallpaper designs, many leafy designs also feature on-trend colours such as rust brown and terracotta orange. Embrace the colours of gold and red with Resene Wallpaper Collection M36904 which brings in nature in all its rich, autumnal hues.
Remember to introduce a touch of real nature, with dried leaves that bring the interest and texture.
A touch of nostalgia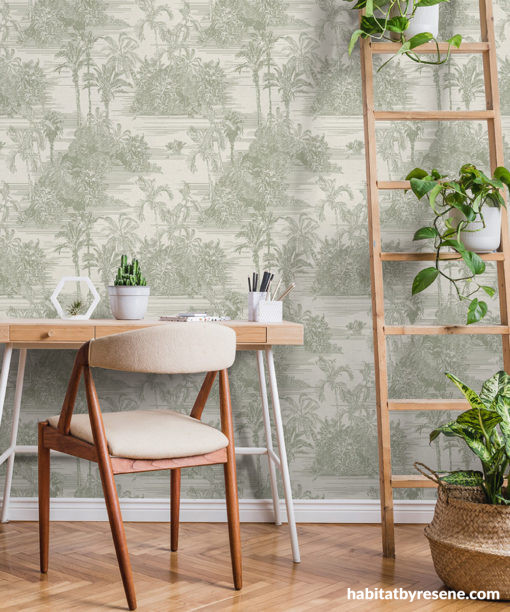 It's all in the detail in this inviting study nook. Keeping the décor understated lets Resene Wallpaper Collection M37394D really shine. Invest in natural textures such as wood and rattan and really bring the space alive with pot plants. Pair with skirtings in Resene Half Rice Cake and flooring in Resene Colorwood Natural protected with Resene Qristal ClearFloor.
If subtlety is more your thing, then why not go for find pencil-style botanical wallpaper? Resene Wallpaper Collection M37394D features nostalgic fine line drawings of tropical scenes which will have you dreaming of swaying palm trees.
Designs like this can work in place of a neutral wall colour. Natural textures such as wood and rattan can help to create that restful vibe.
Black and white's alright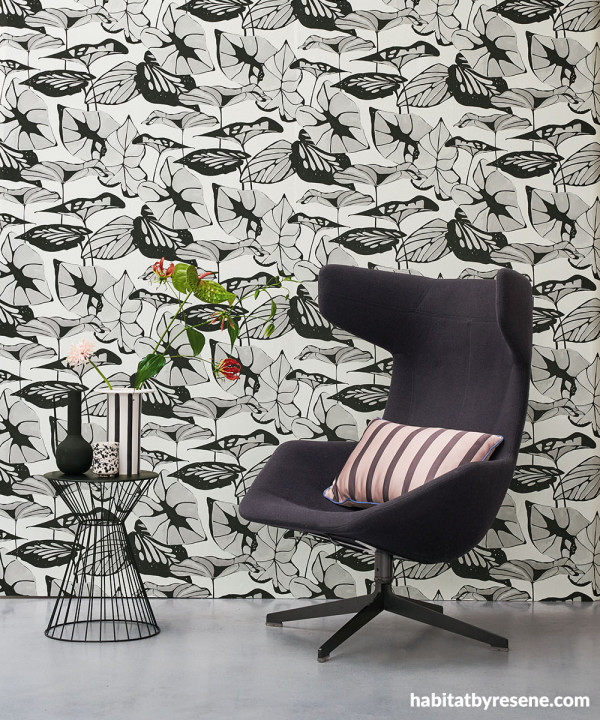 You'll be winning with two contemporary trends when you choose Resene Wallpaper Collections 539646. Not only does this striking wallpaper lean heavily on the graphic black and white trend, it also goes heavy on botanical elements. Accessorise with minimalist furniture and fittings, and add a spot of colour such as this striped cushion and flooring painted a steely grey like Resene Half Jumbo.
Never underestimate the enduring power of black and white. It's a sentiment you can tap into with the stylish Resene Wallpaper Collections 539646 design. Black and white botanical designs are good options when your existing furniture is colourful. Paper an entire room, or even just a feature wall, with this striking large leafy design.
Pair with classic black and white furniture and accessories – but don't forget to add a pop of colour with bright cushions or artwork.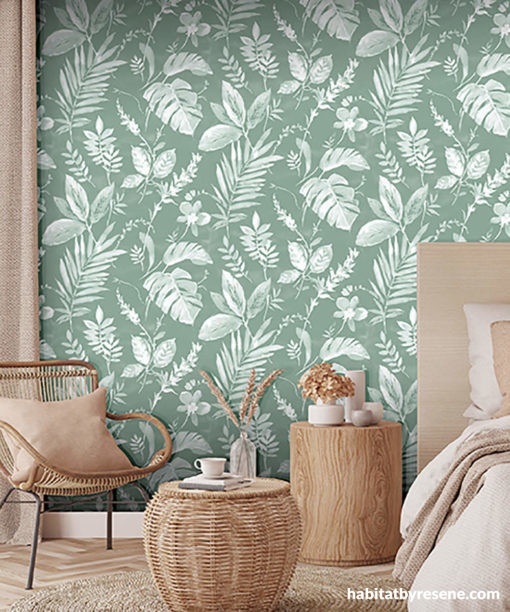 Bring a touch of whimsy into your home with Resene Wallpaper Collection L98904. Grey furniture and accessories, such as the knitted stool, pick up the wallpaper's accent colour. Try colours such as Resene Alabaster on trims and the ceiling and Resene Colorwood Whitewash or Resene Colorwood Rock Salt on flooring.
And relax
Every home needs a dedicated space where its inhabitants can go to think, dream and have a break from the busyness of everyday life.
Resene Wallpaper Collection L98904 is a tranquil design featuring stylish trees and pops of bright colour that creates that makes your shoulders drop simply by looking at it.
And don't forget the power of wallpaper to hide cracks, smooth over bumps and hide all manner of issues. Not to mention how well Resene wallpaper pulls a room together.
If it's been a while since you last hung wallpaper, it might be time to take another look. Not only has modern technology made wallpaper easy to hang these days, it's also much easier to remove, making wallpaper an easy decorating, and redecorating, option.
Top tip
Today's papers are moisture resistant and tough, coping with the varied and challenging conditions of bathrooms and kitchens. Many wallpapers are also washable or scrubbable making cleaning easy. Look for the code on the roll to see how cleanable your design is. Washable wallpaper can be washed with warm water, soap and a soft sponge. Scrubbable wallpaper can be washed with warm water, soap and a soft brush.
Published: 22 Sep 2022
Do you have a home full of wonderful Resene paint and colour? Send us some snaps by emailing editor@habitatbyresene.co.nz.
the look
If you're stuck on what
colour to use or need colour
advice, try out the Resene
Ask a Colour Expert service.