►
◄
latest
habitat tv
blog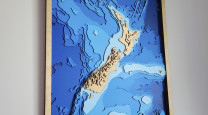 Black and White – 6 modern takes on monochrome
Is there a more classic colour combination than black and white? This pared back palette lends any space instant sophistication and is far more flexible than you might think.
Even if your design choices adhere strictly to just black and white in terms of colour, adding texture, pattern and some artistic flair will ensure your room is inviting, stylishly comfortable and utterly modern.
You can also experiment with a third or fourth colour to break up your black and white space. The contrast is a great way to showcase a particular feature in your room, while also really emphasising the classic lines of the monochrome backdrop.
Textured dark layers
Opting for dark charcoal walls in Resene Nero or Resene Bokara Grey is a great starting point for adding layers of tonal colour. Try using strength black or charcoal as the main colour then add in notes of paler grey tones like Resene Surrender or Resene Concrete and finish with one or two notes of cream or white like Resene Poured Milk or Resene Sea Fog.
This layering effect will leave you with a dramatic cosy space that really commits to the monochrome style.
To prevent the space feeling oppressive or too closed in, particularly in smaller rooms, play with tonal textures to break up large tracts of dark colour. Try wall battens or wainscoting in subtly lighter or darker shades, or bring in textured textiles like rugs, curtains, throws and cushions in similar muted monochromes. It helps the eye make sense of the space and find some structure.
If you have wooden flooring, make use of the visual texture from the grain, and stain in a darker shade like Resene Colorwood Pitch Black or Resene Colorwood Dark Ebony. It will still be in keeping with your moody monochrome palette, yet allow some texture and natural finish to show through.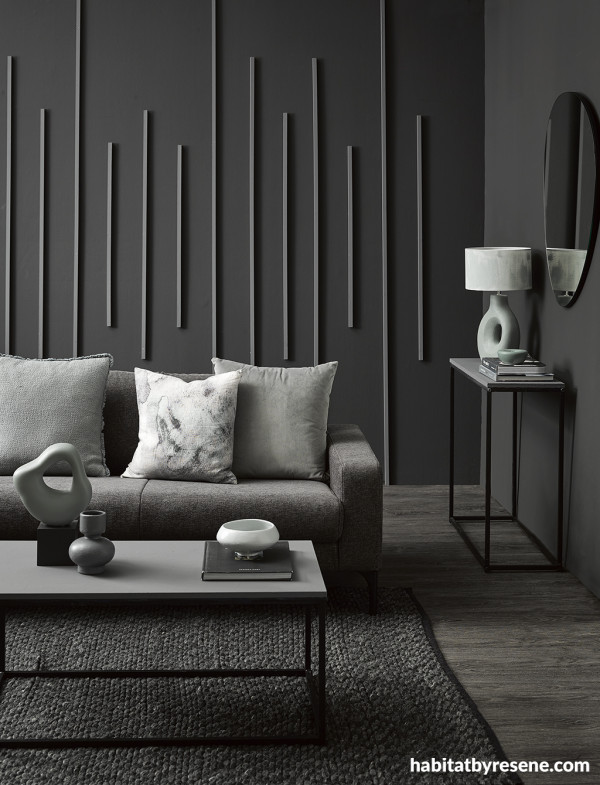 Simple painted wood battens, and fresher notes of grey-green, give this moody charcoal living room depth and perspective. The walls are painted in Resene Nocturnal with battens in Resene Half Tuna. The tops of the two tables are also Resene Half Tuna. Lamp base painted in Resene Blue Smoke, shade in Resene Nebula, tealight holder in Resene Yucca, table ornament in Resene Blue Smoke with base in Resene Nocturnal. bowl in Resene Tiara and case in Resene Half Tuna. Project by Vanessa Nouwens, image by Wendy Fenwick.
Wallpapered elegance
Introducing patterns and interesting shapes to your simple monochrome colour scheme adds immediate visual interest and elevates to something special.
One of the simplest ways to do this is with Resene wallpaper, throughout the room or as a showcase feature on a particular wall or feature corner.
Try simple but bold geometric patterns like Resene Wallpaper Collection E395823, for a classic finish. Add plenty of pot plants and textures throws to soften the edges, and finish with decorative pieces in muted shades like soft green Resene Gondwana or on-trend lilac Resene Lola for modern elegance.
Try more ornate botanical black and white styles like Resene Wallpaper Collection 539165 or Resene Wallpaper Collection 539189 for a more fluid, eye-catching backdrop; perfect in a reading nook or to showcase a stylish monochrome piece of furniture. Add touches of metallic for hotel-chic and a soft wool flokati rug for at-home luxury.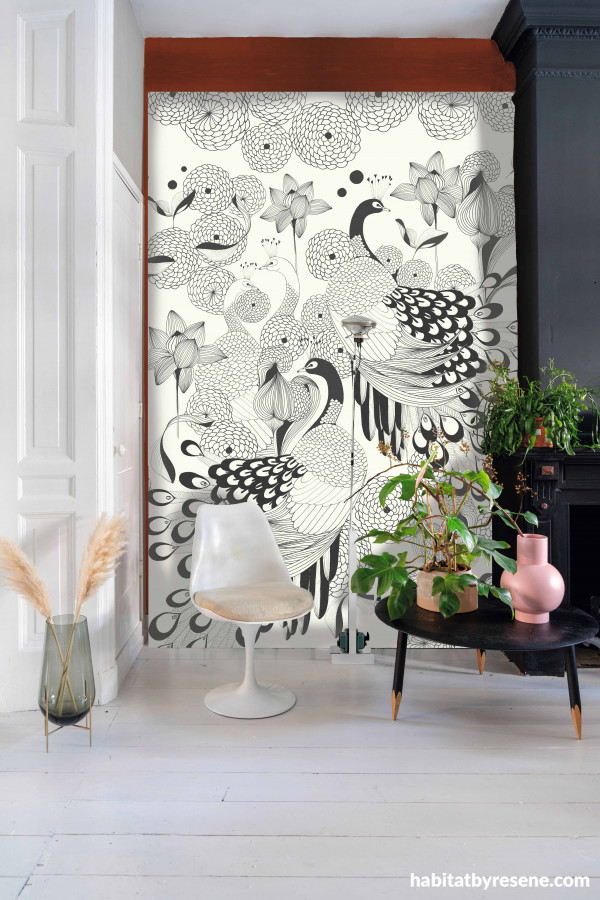 The fluid lines of Resene Wallpaper Collection 539165 are emphasised in the curved shapes of the black and white furniture to give this quiet corner bold elegance without bold colour. Team this wallpaper with adjacent walls in inky Resene Jaguar with contrasting floorboards stained in Resene Colorwood Whitewash, or painted in Resene Double Black White.
Shades of grey
Grey is an extremely versatile colour to try if you want a monochrome colour scheme that is not too dark black or too icy white, yet it works well with both ends of the monochrome spectrum to create a look that is modern, unique and minimalist.
Grey runs the full spectrum from icy pale Resene Half Black White, to the deep charcoal of Resene Double Cod Grey, with elegant dove tones like Resene Grey Chateau and steely shades such as Resene Silver Chalice along the way. There are blue-greys, brown-greys, green-greys, as well as paler greys and charcoals. The shades you choose will come down to how warm or cool you want your finished space to be.
To warm a room up try smoky, or charcoal greys such as Resene Eighth Masala or Resene Half Nocturnal. If your room is filled with warm natural light, experiment with cooler tones such as Resene Surrender or Resene Seashell.
Top tip: Greys can change in appearance quite a lot based on what light they're in, so experiment with Resene testpots before you commit.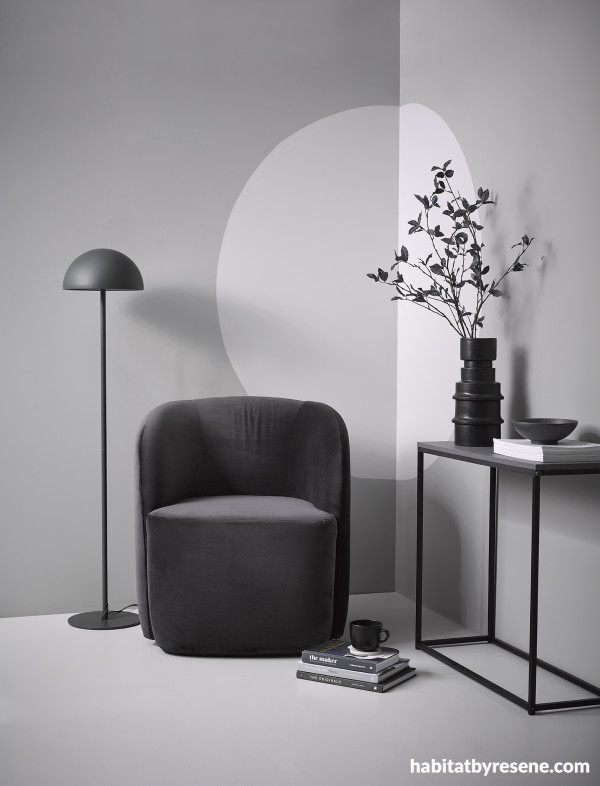 Shades of grey put a very elegant spin on a classic black and white monochrome look to create a space that would be right at home in film noir or an Art Deco themed room. These walls are painted in Resene Half Stack with a circle feature in Resene Surrender. Floor painted in Resene Silver Chalice, console and small bowl in Resene Half Grey Friars and tall vase in Resene Blackjack. Project by Vanessa Nouwens, image by Wendy Fenwick.
Fresh minimalism
The pared back nature of a black and white colour scheme lends itself naturally to minimalist interiors, but that needn't mean your finished spaces need to feel clinical or impersonal.
Just like today's monochrome trends, modern minimalism has moved away from stark, clean lines to a softer more personalised vision that is practical to live in.
Try adding freeform shapes and artistic flourishes within your simplified colour palette and room design, and make the most of the contrasts between your blacks and whites to give your room shape and personality.
One way to add unexpected interest to a minimalist monochrome look is to flip the traditional uses of darks and lights. Use your blacks or charcoals like Resene All Black or Resene Ironsand on the floor, ceiling or trim, against white or creamy walls in Resene Quarter Black White or Resene Half Spanish White.
Natural fibres and timber finishes washed in softer shades like Resene Colorwood Breathe Easy from the Resene We Speak Beach collection are another good addition to a minimalist monochrome finish, adding warmth and texture for a space that feels Scandi-fresh, rather than cold or harsh.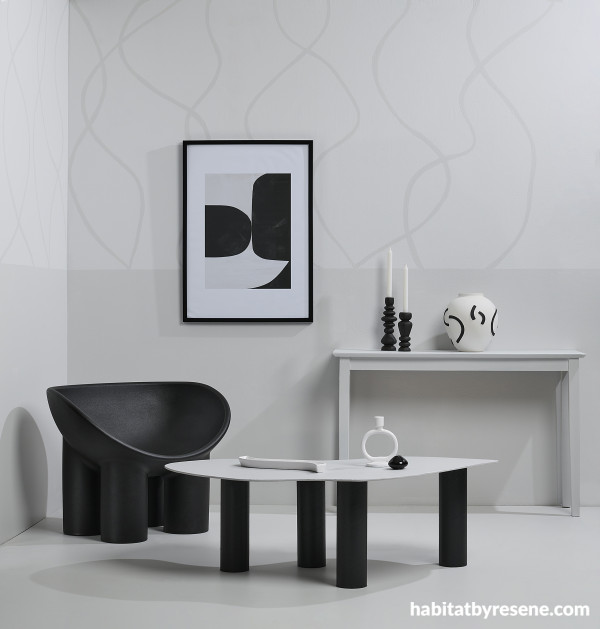 Hand-painted swirling lines in grey soften the bold blacks of this very modern minimalist and monochrome room. Upper wall painted in Resene Half Concrete, while the lines and lower wall are in Resene Concrete and floor in Resene Quarter Concrete. Console table and coffee tabletop in Resene Concrete, table legs in Resene Element, circle vase in Resene Half Sauvignon, DIY artwork in Resene Concrete, Resene Triple Concrete and Resene Element and wooden candleholders and tiny vase in Resene Element. Project by Melle van Sambeek, image by Bryce Carleton.
Bold backdrop
Lean in to the inherent drama of a black and white colour scheme with bold designs. Simplify things with a wallpaper design like Resene Wallpaper Collection E395895.
If you're feeling braver, try hand-painted black and white stripes, chevrons or use a drawing pin and string tied to a pencil to create curves or circles. For more intricate, repeat patterns that resemble tiles, experiment with stencils made from thin cardboard cut-outs.
Keep your colours to classic blacks like Resene Black and whites like Resene Alabaster for chic and sharp sophistication with maximum impact. For a softer finish add in highlights of grey like Resene Triple Sea Fog or go bold with a shock of colour in vivid turquoise Resene Yes Please, magenta Resene Cardinal or terracotta Resene Mexican Red.
For a more subtle contrast try muted greens like Resene Laurel or dusky pink Resene Apple Blossom.
Use your contrast shade as highlights, in relatively small amounts that emphasise the boldness of your monochrome design while adding touches of your own colour personality.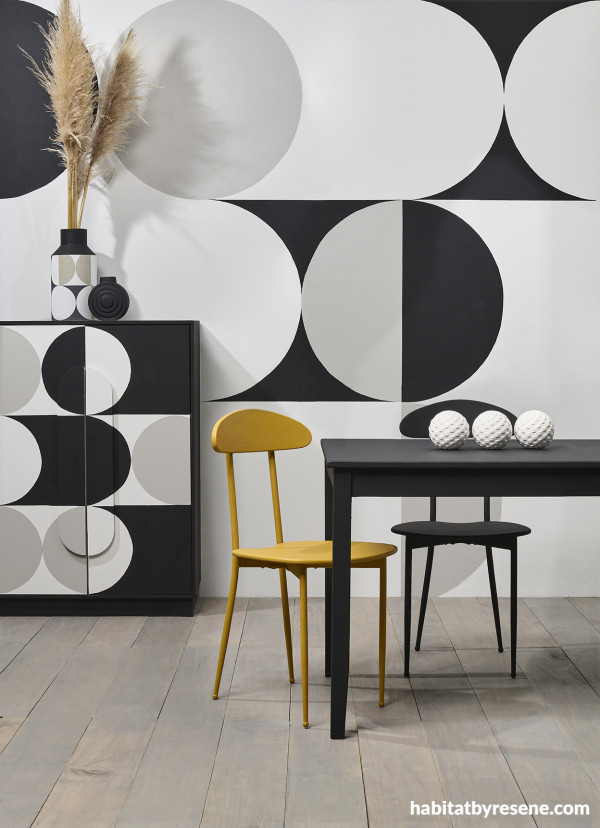 A monochrome bold geometric design gives this dining room a modern retro feel. Pops of yellow from the Resene Tussock chair catch the eye against the wall design painted in Resene Sea Fog with Resene All Black and Resene Quarter Friar Greystone. Table and black chair painted in Resene All Black, large vase in Resene All Black wrapped in Resene Wallpaper Collection 538021, small vase in Resene All Black and floor finished in Resene Colorwood Mid Greywash. Project by Megan Harrison-Turner, image by Bryce Carleton.
Cottagecore warmth
A black and white interior need not all be hard lines and crisp edges. The neutral nature of a monochrome colour scheme does lend itself to being adapted to 'comfort' trends like Cottagecore.
By pairing your base black and white shades with tongue-and-groove timber finishes, natural fibres, plants and earthy, creamier light neutrals like Resene Parchment and Resene Half Truffle you can create more modern and relaxed interiors that are still smart and sophisticated.
As well as wood and natural fibres try adding other distressed elements such as brushstroke or sponged finishes for a more lived-in, weather effect. Notes of bold black will balance out the looser, less finished or wispier effects and anchor the space for a finished room that feels both comfortable and cohesive.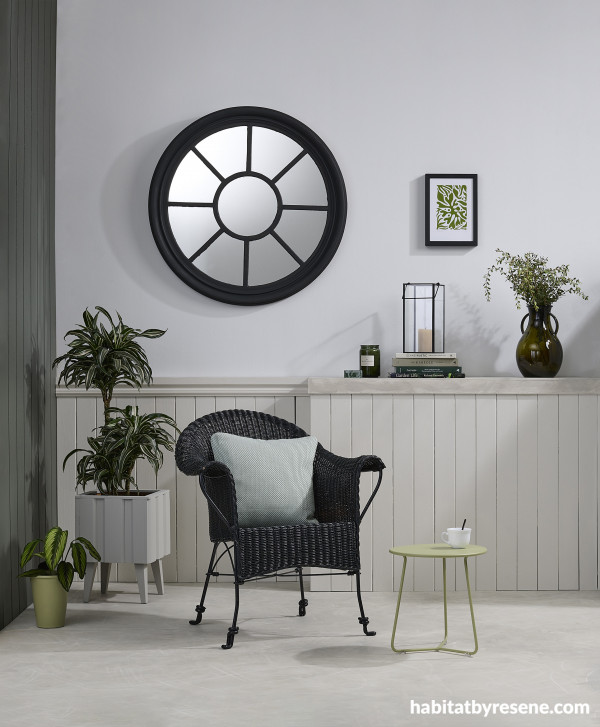 The wall painted in Resene Quarter Merino wall emphasises the impact of this showpiece mirror in Resene Nero, and the look is grounded with Resene Double Merino on the lower boards and bench and Resene Quarter Karaka on the left wall. Floor painted in is Resene Foggy Grey with Resene FX Paint Effects medium mixed with Resene Quarter Merino, floor planter in Resene Quarter Merino and small side table in Resene Quarter Crisp Green. Project by Kate Alexander, image by Bryce Carleton.
Top tip: Layering levels of sheen is a way to add dimension to a monochrome space. Resene SpaceCote Flat will add velvety texture to dark wall colours. Pair with battens or trims in Resene Lustacryl a waterborne semi-gloss with an enamel style finish to elevate the space.
Published: 29 Sep 2022
Do you have a home full of wonderful Resene paint and colour? Send us some snaps by emailing editor@habitatbyresene.co.nz.