►
◄
latest
habitat tv
blog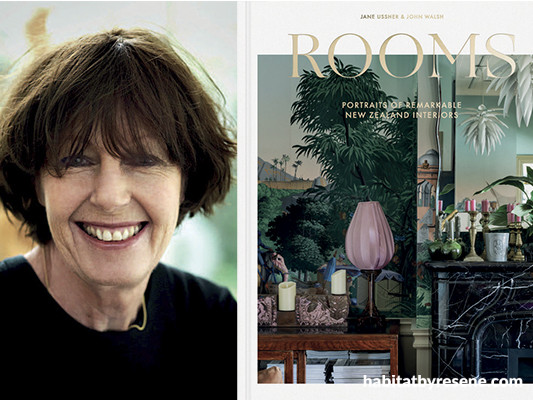 A quick word with Rooms author and photographer Jane Ussher
23 Nov 2022
Photographer Jane Ussher is well known for her ability to make even the most hesitant or nervous characters come to life in front of the camera. For 30 years the award-winning photographer worked at the NZ Listener, photographing a who's who of New Zealand politics including Robert Muldoon, David Lange, and Helen Clark. When she made the move into interior and architectural photography following her departure from the NZ Listener in 1997 she didn't leave her love of people aside.
"When I walk into a room that interests me, it's like meeting a person that interests me," Jane told John Walsh in the forward of her new book Rooms: Portraits of Remarkable New Zealand Interiors.
This stunning book features 300 plus colourful homes filled with personality.
Jane caught up with habitat for a quick chat about the process creating this book, which is proudly supported by Resene.
habitat: One of the striking things about it is that the imagery is full page with very little captions. Can you tell us the thought process around that design?
Jane: We really wanted the reader to come to their own views about each room and actively look at the images without any editorial set up or foreshadowing that would direct their focus and reaction. This means that each image is open to a unique reaction from each and every reader. Readers are telling us that they really appreciate this.
As a photographer do you think about how readers look at the rooms - how do you hope they will 'read' the images?
Jane I hope that they will look at the rooms the way I look at them through the back of my camera. I have it set up on a tripod, often with a very long exposure, and I am very focussed on the way the image is framed. I am confident that this will lead their eye through and into the room and that they will then fully scan all parts of the image, working first from a general survey and impression and then turning to the finer detail and think 'What is on the table in the corner?' for example, or 'What is the painting at the very back of the room?'
When talking to the homeowners, how did you decide which rooms you would feature?
They would often tell me the room of which they were most proud or that they would be comfortable that I shot, but sometimes I would take a bit of a wander through the house and ask whether I might set up my camera elsewhere. There is definitely a preponderance of living or sitting rooms as this is where most people put the most effort into staging their collections and arranging their art and furniture. I also shot a lot of hallways as these are often extremely interesting areas, especially of older houses, where there is an opportunity to set up a vista and sense of adventure as you move deeper into the house.
Colour is a huge part of this book - How can colour transform an interior/room?
It is huge part, and in fact the entire book is organised around a colour wheel and flows from tones of reds and browns through into blues and yellows, pinks and greens, whites and creams and so on.
All of these homeowners were incredibly confident with colour and all of them had got things absolutely right. Some of their decisions were really bold and even where it was white, cream or grey it was just the right tone. These aren't spaces where the owners follow trends and in many cases their collections of art, sculpture and furniture helped define the colour of the rooms.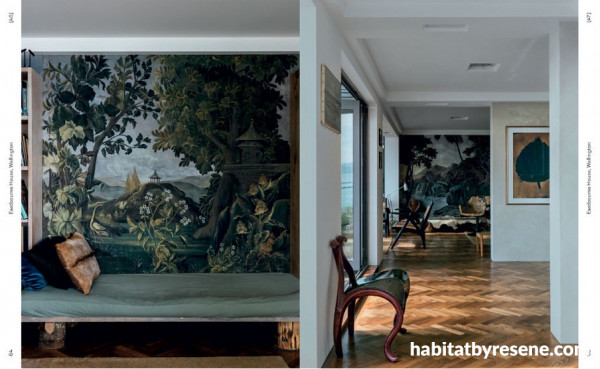 The walls of this contemporary harbourside home designed by Kerikeri architect Victor Wilmar are hung with hangings based on tapestries and painted by its owner, former Wellington fashion designer and boutique owner Kerrie Hughes. She turned her attention to her art practice after returning home from London, where she had a shop and label, Idol, with Penny Meachin, in 2000.
Do you have a favourite Resene colour?
The book has several pages of solid Resene colour and these are powerful yet restful 'pause points' in the very maximalist flow of the book. Right up the front we use Resene Chathams Blue opposite a wall painting by Wellington artist Kerry Hughes that looks like a Flemish tapestry. That colour is just amazing there and feels just perfect.
What's your own personal interior style?
We have just sold our adored John Goldwater home in Kerikeri to move back to an apartment in Auckland. My husband Grant and I like fairly uncrowded interiors and modernist furniture and a few carefully chosen pieces of art. We are keen on high ceiling heights as way to display Grant's very large sculptures. Our new apartment is in a converted warehouse building and will have lots of space for that.
The foreword of this book talks about how you were a portrait artist for many years - how are rooms like a 'portrait' of a person.
I work in soft, low light which can give my images to have a filmic quality — they are moody and atmospheric rather than bright and well lit. Because of that these images have a deeper quality that moves beyond documentation into a sort of resonance. The person who created the room is not in the room in these images but also the room has become its own thing, apart from the person who created it. The room has its own essence and timelessness, and in that way I feel that my image of it becomes a portrait rather than just a photograph. It's a nuance, and it is subtle, but I think it is something that the viewer can feel.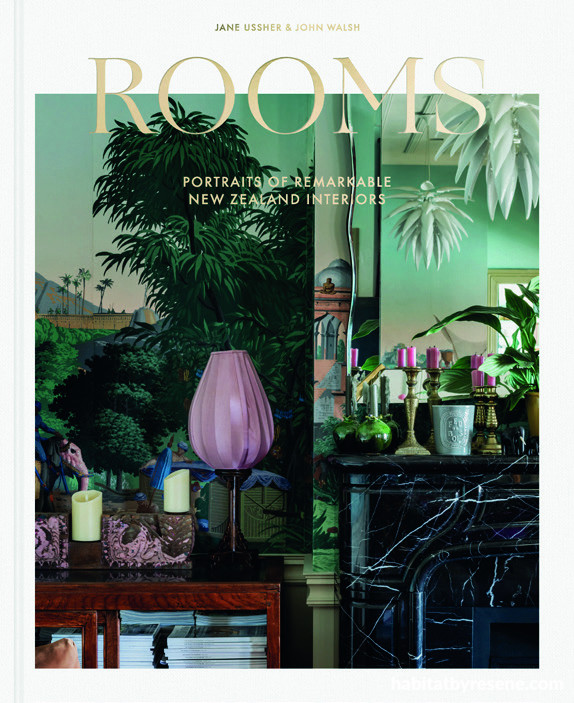 Rooms: Portraits of Remarkable New Zealand Interiors by Jane Ussher & John Walsh, Massey University Press ($85 RRP) www.masseypress.ac.nz/books/rooms/
Published: 23 Nov 2022