►
◄
latest
habitat tv
blog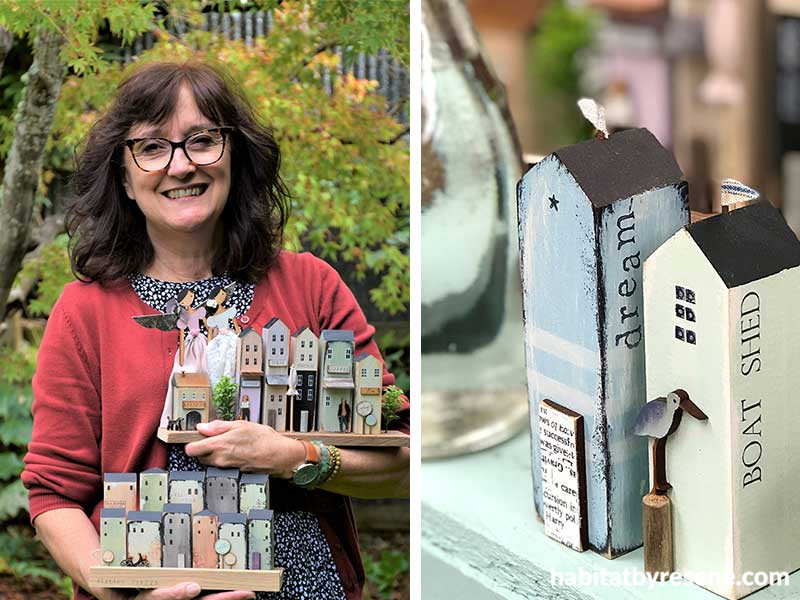 Jackie Nicholls' ornamental take on tiny houses
27 Oct 2022
"French vintage with a Scandinavian influence" is how artist, designer and Resene colour consultant Jackie Nicholls describes her artistic style.
It sounds like the recipe for a stylish and sophisticated house, particularly given her fondness for on-trend rustic patinas and soft, weathered colours. The difference is in the size of Jackie's perfectly decorated house exteriors.
Quirky details bring Jackie's creations to life. These houses are painted (from left) in Resene Martini, Resene Green Spring, Resene Vintage, Resene Gelato and Resene Half Pavlova. She also works with Resene FX Paint Effects medium to give the ornamental buildings a rustic patina.
Jackie, who runs a creative design studio and colour consulting business called House on the Hill Design in Christchurch, specialises in tiny ornamental wooden houses, artfully decorated in a range of Resene paint colours.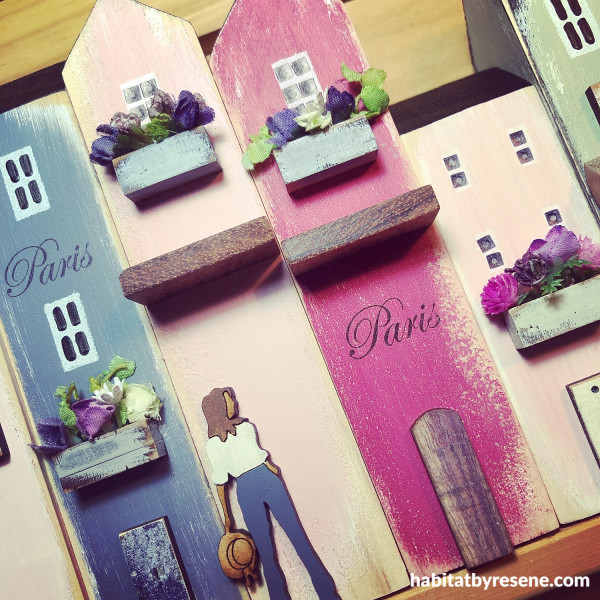 French vintage style is a big influence on Jackie's finished projects. These Parisian facades are painted in, from left, Resene Hammerhead, Resene Gelato and Resene Quarter Pohutukawa with Resene Turkish Delight on the balconies.
"As long as I can remember, I have always been creating things and learning different crafts like sewing, drawing, calligraphy and photography but it was when I was at home with young children that I started painting little houses," says Jackie.
"I took some to a market at my daughter's kindergarten and it went crazy. We could hardly keep up with the amount of people wanting them. I have been making them ever since."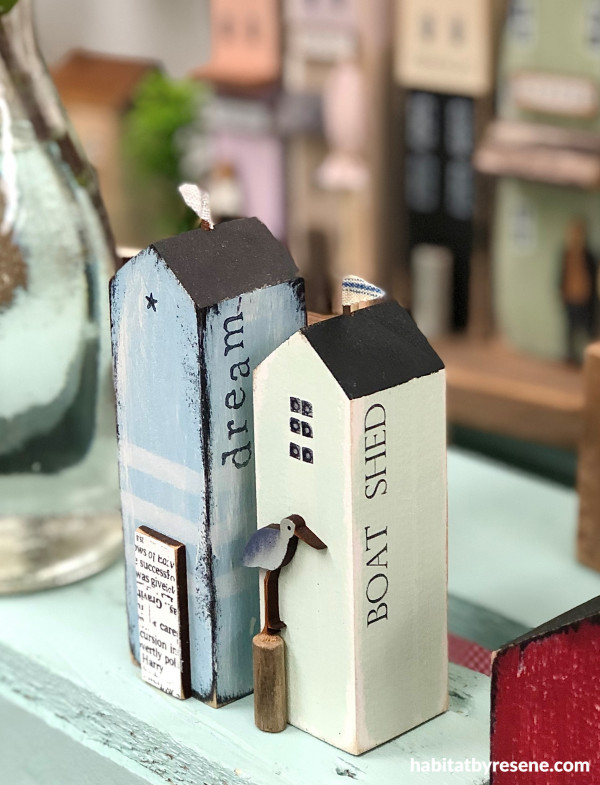 Two of Jackie's seaside ornamental boathouses painted in Resene Moby and Resene Kandinsky
Jackie prefers to use scrap or recycled wood for her charming creations because it lends the finished product a naturally lived-in look.
"It's always more interesting and I love the idea of turning something old, and destined for the bin, into something special."
Whether it's creating whole villages or any of her artistic pursuits, which include stencilling, collage, and creating quilting and stitching patterns (which she sends to shops around the world), Jackie finds inspiration everywhere.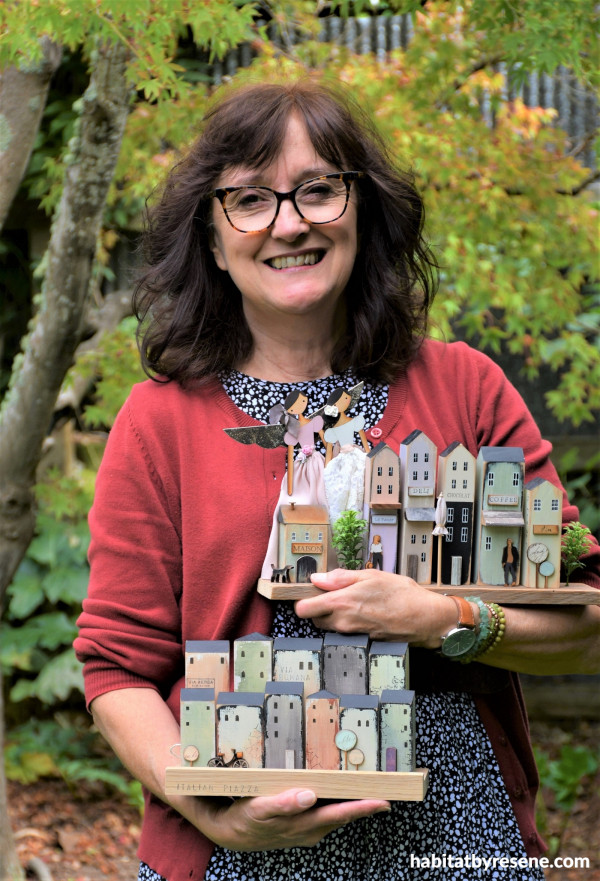 Artist, designer and colour consultant Jackie Nicholls with some of her Italian-inspired houses made from recycled skirting boards, all painted in a range of Resene colours.
I make sketches and notes of things I've seen and then adapt the ideas into whatever I'm working on. Often, it turns into something quite different," she says.
"The colours in nature fascinate me and we have been lucky to have travelled in the past through Italy and France which has given me so much inspiration.
"Wherever I am, I seem to notice little details and colours. I'm always the one who has dropped behind to take a picture of a little flower growing out of a crack in the pavement, or an old door with flaky paint!"
Her favourite piece to date is a range of Italian village houses, made from old skirting board timbers, and inspired by a family trip to Cinque Terre in Italy.
Through House On The Hill Design, Jackie runs creative workshops, tutoring others in how to make their own tiny houses, as well as other artistic projects.
Jackie uses a lot of different Resene paints in her creations. "I have always worked with Resene products and love the colours available. They perform so well, the Resene testpots are perfect for small projects.
"I'm working with colour schemes every day and new palettes can evolve from a piece of fabric or sprig of blossom, it's always interesting and ever-changing."
Her favourite shades change often but a current preference is for the dewy grey-green of Resene Haven. "It's a vintage blend of blue and green that works well for my seaside houses."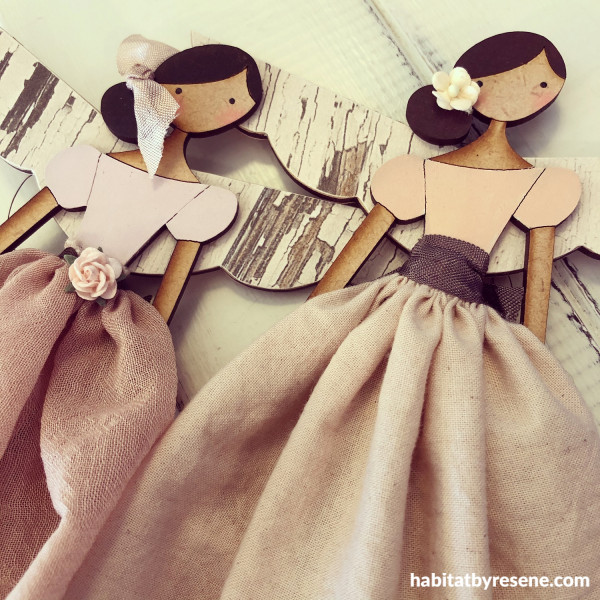 Jackie also likes working with mixed materials such as these wooden and fabric angels painted in Resene Soothe and Resene Dawn Chorus.
As a part-time Resene colour consultant helping customers and other designers with their paint choices, Jackie is an expert in Resene's special effects products. She often uses Resene FX Paint Effects medium and Resene FX Metallic paint for bespoke finishes on her tiny houses, but Jackie is also often commissioned to create decorative finishes in commercial buildings and private homes.
"One day a week, I run painting classes from my home which is so rewarding and I find the more you share with others, the more enjoyment and new ideas you get back."
www.facebook.com/houseonthehilldesign
www.instagram.com/houseonthehilldesignnz/
Published: 27 Oct 2022