►
◄
latest
habitat tv
blog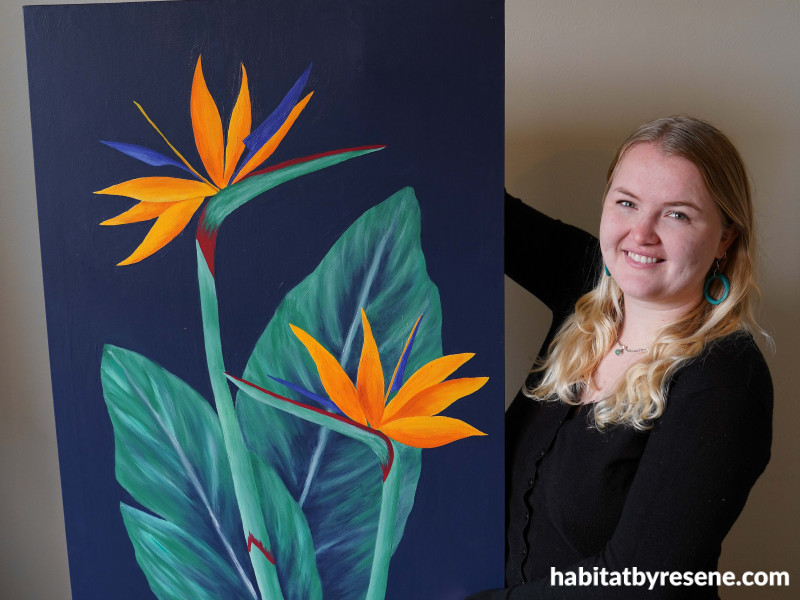 Artist Rachel Dodds has birds on the brain
19 Oct 2022
As voting gets underway for New Zealand's Bird of the Year competition, one artist would find it difficult to pick a favourite. The natural environment is at the heart of the beautiful contemporary art Rachel Dodds paints. From the fabulous feathered friends that feature in many of her artworks to the striking florals and botanicals that burst through the canvases – nature is the star of her art and it's even behind her choice of paint.
"One of my values is being environmentally responsible. Resene paints are eco-friendly, vegan and Environmental Choice approved. This way I know I can produce artwork without damaging our environment," says Rachel.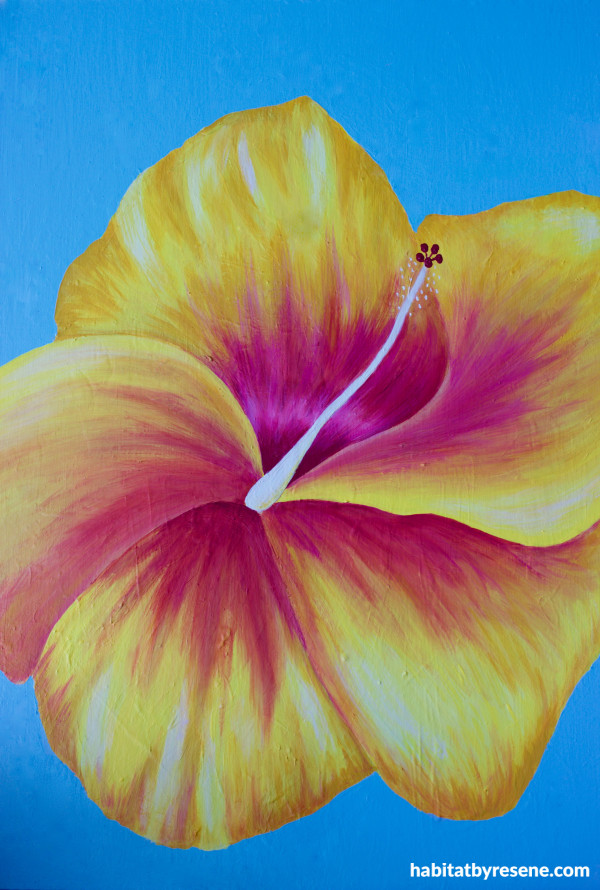 Rachel Dodds painted this hibiscus flower in Resene Boston Blue, Resene Turbo, Resene Hopbush, Resene Colour Me Pink, Resene Hot Chile, Resene Cleopatra and Resene Black White.
A nature baby, she loves to explore Aotearoa and loves finding new flora and fauna to star in her artworks. "Aotearoa never disappoints in its beauty. This month I was travelling down Desert Road while it snowed. Snowy fields with a mountain backdrop – how gorgeous and inspiring!" says Rachel.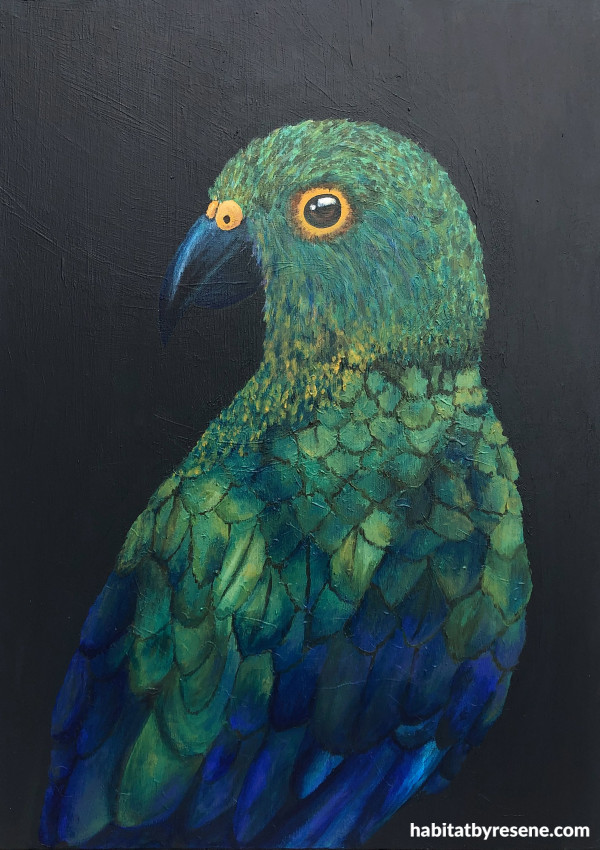 'Karaka Kea' is painted in Resene Double Foundry, Resene Resolution Blue, Resene Aquamarine, Resene Karaka, Resene Cleopatra, Resene Blue Diamond, Resene Black White and Resene Pattens Blue.
Rachel's love for painting native birds and plants started in her early 20s, with her first large painting of a tūī caught the eye of her mum Melanie, who requested her own personalised version. Her art career grew wings when Rachel began posting her art on Instagram, where more people expressed interest in purchasing her bird paintings. There is something so magical about the bright feathers of native birds, their bird call and individuality. I am in awe every time I see a fantail dance or when a tūī lands on a kōwhai tree in the garden," says Rachel.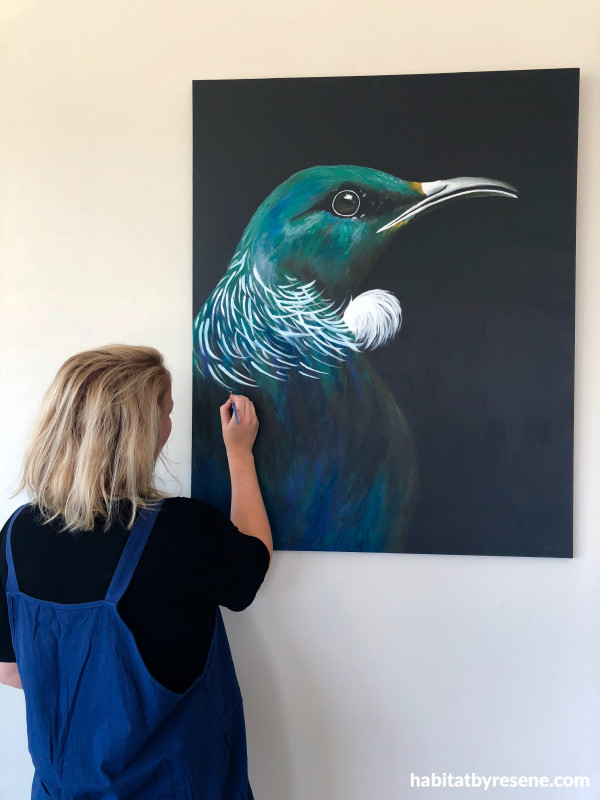 'Midnight Tūī' is painted in the same hues as 'Karaka Kea' including Resene Double Foundry and Resene Aquamarine. "Travelling across Europe, Africa Asia, North America and the Pacific has made me appreciate Aotearoa's unique landscape and wildlife so much more," says Rachel.
Drawn to the bright jewel tones of Resene's Multifinish range, Rachel uses Resene testpots to create her artwork, building paint layers from darkest to lightest. "I aim to capture the essence of Aotearoa's nature through the use of colour and texture."
Rachel credits the encouragement she received from her grandma Janice, who supported her creative journey from a young age, encouraging her to invest in her artistic skills. With art now her passion project, she says it would be her dream to do this as a full-time job.
See more of Rachel's work at www.racheldoddsart.com.
Vote for your favourite bird of the year at www.birdoftheyear.org.nz.
Published: 19 Oct 2022