►
◄
latest
habitat tv
blog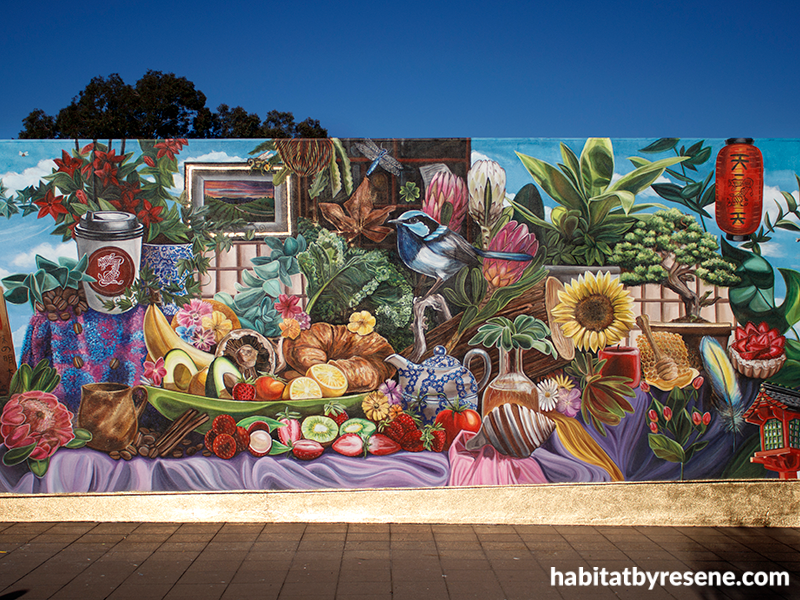 Diary entries and stories inspire Australian artist Jasmine Crisp
18 Aug 2022
Adelaide artist Jasmine Crisp's paintings stop people in their tracks on the street. Her colourful pieces using Resene colours are so detailed and characterised it pays to pause to take them in.
"Often my works centralise on my own personal experiences (diary entries and felt memories) or the stories of others close to me," says Jasmine. "These current tales are then re-constructed as influenced by historic genre paintings, renaissance and baroque portraiture as to create playful, symbolic and highly characterised contemporary portraits."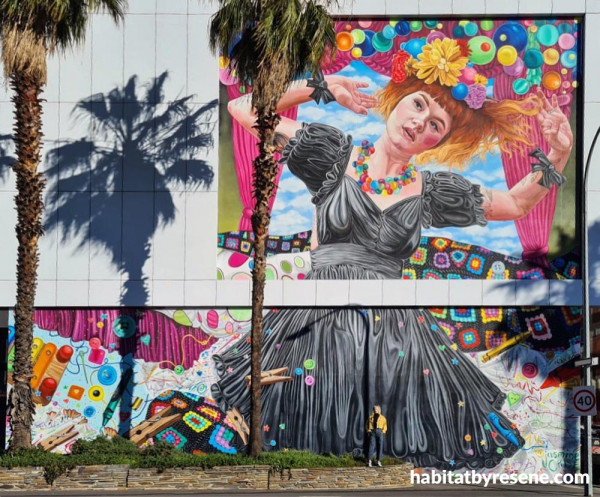 This art by Jasmine Crisp is called 'She imagined Buttons'. "I have a hugely extensive palette so it's tricky for me to list (counted 45 colours). However, my staples include Resene Havoc, Resene Adrenalin, Resene Turbo, Resene Pirate Gold, Resene Half Sour Dough, Resene Wham, Resene Palm Green, Resene Anakiwa, Resene Curious Blue, Resene Surfs Up, Resene Blackberry, Resene Fahrenheit, Resene Jambalaya and Resene Toorak."
After high school Jasmine completed her Bachelor of Visual Arts (Hons) at Adelaide Central School of Art, then exhibited and participated in multiple artist residencies in Adelaide and internationally. She won first prize awards in several local art competitions. "In 2020 I began practicing full-time and executed my first large-scale public art project, then proceeding to participate in numerous mural projects and festivals nationally. I consider muralism an extension of my already existing and continuing painting practice."
Inclusive of both her studio artworks and muralism, she says her painting practice combines the use of traditional painting techniques and influences with her personal life experiences. It's these experiences that inform highly characterised and maximalist narrative paintings.
"Often my work features self-portraits or local figures alongside their treasured belongings and environments, which are choreographed into symbolic worlds of the familiar, mundane and reimagined human experience," she says.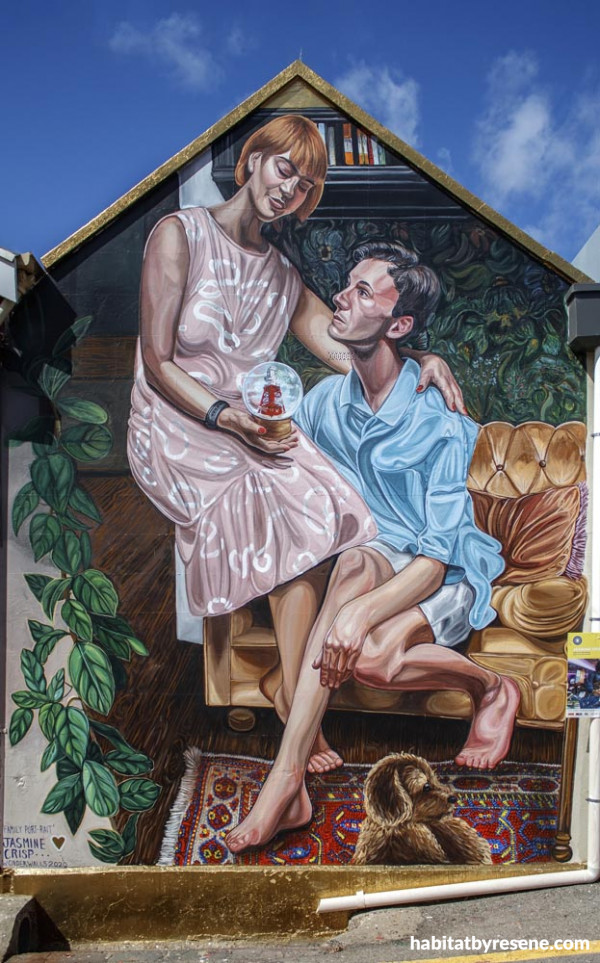 'Family Port-trait' painted in Resene paints by Jasmine Crisp for Wonderwalls 2020.
She always begins her pieces with a story, and a subsequent photoshoot of the chosen figure and their surrounding subject matter. "Using photoshop I create a refined composition and design (built to fit a site) and refence this image with plenty of room for creative improvisation and stylisation. For public artworks I then begin with a detailed grid and subsequent drawing of this photo-plan on a primed white ground. From there it's just all brushes, paint, my hands and my brain."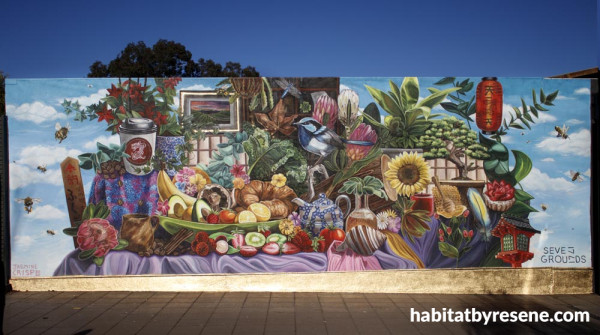 Jasmine Crisp used an extensive palette of Resene colours to paint this work. "As a sole trader I practice as a visual artist, public artist and more recently as a tattooist as well. It's important to me to have different facets of my practice where I can apply different ideas, tasks and skills whilst also experiencing different kind of rewards and groups of people/makers."
As a traditionally trained oil painter, Resene was the obvious choice when Jasmine expanded into muralism. "It's incredible bendability, pliability and high pigmentation best mimics the kind of paint I'll use in the studio. It's because of Resene paint that I am able to translate my usual paint language into large scale with ease."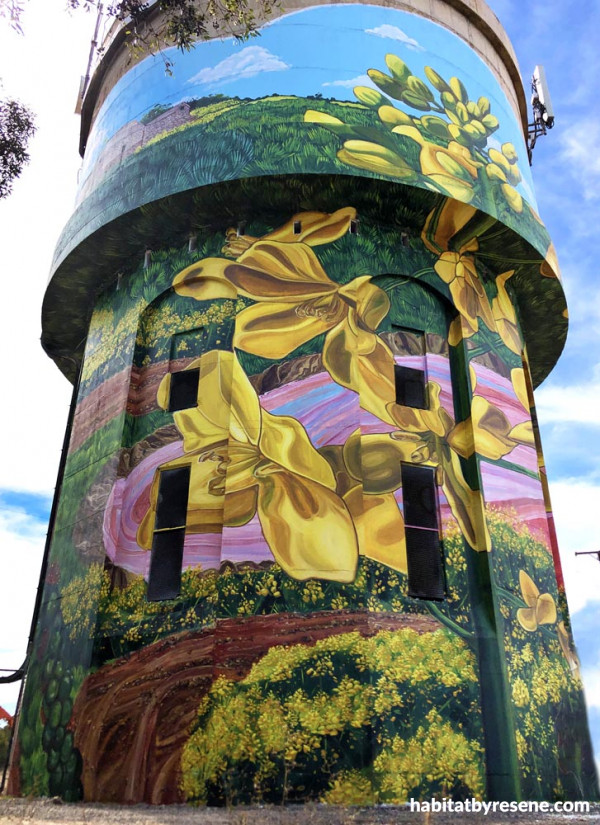 "Resene Spritzer is my favourite shade. It's an almost fluorescent lime green that adds a contemporary electric vibrancy that's incomparable."
She says her favourite piece always changes as she continues to make, but a piece she loved creating this year was 'They remembered to look'. "It was a mural I created for the Women's Street Art Commission project in Geelong. This work wasn't required to accommodate a specific brief so I believe it best represents the vision of my practice while also connecting to place/site in an authentic way."
Find Jasmine: www.jasminelcrisp.com/
Published: 18 Aug 2022