►
◄
latest
habitat tv
blog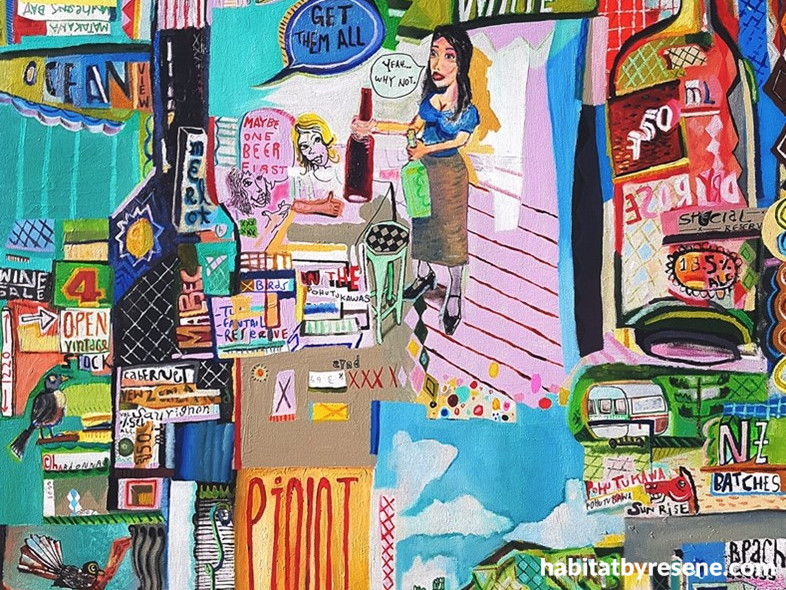 Inspiration activates colourful creativity for Mauricio Benega
05 Oct 2022
Mauricio Benega's vibrant, graphic works painted in Resene colours are often the results of random bursts of inspiration – even if it comes when the surfer is riding a wave!
"When the good ideas come, you have to be open and ready to write down or execute them straight away," says Mauricio. Sometimes inspiration strikes at inconvenient moments like while he's in the water surfing. One time he was paddling out to see he looked over his shoulder and saw a horizontal image from the shore towards the hills and knew he had to capture the moment. "As I was walking back home, I found this long and narrow piece of timber on the street, exactly the shape as my vision in the water. I painted that vision straight away and it came very organically," he says.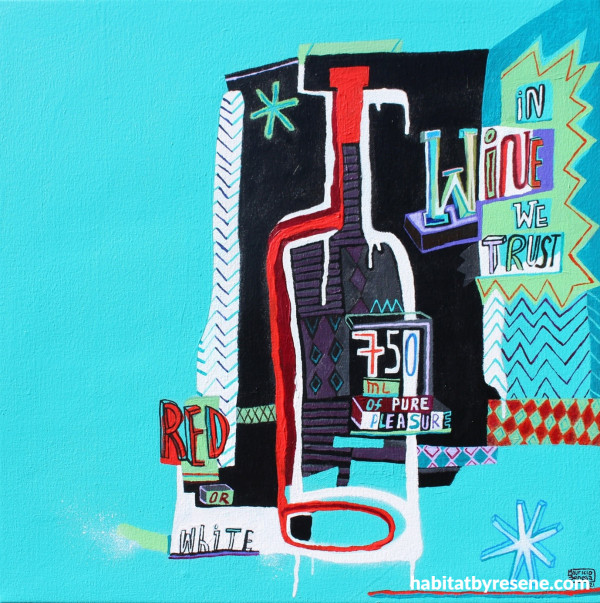 'In Wine We Trust' painted in Resene Kitsch, Resene Chaos, Resene Half Sea Fog and Resene Black by Mauricio Benega.
Influenced by comic books, graphic novels and cartoons, Mauricio's style combines those of classic painters and modernist artists, using bright Resene colours to bring his fun ideas to life.
"My style is a bit of this mix, blended with lots of colours and information from everyday life." He combines sketches with painting, building layers with Resene paints.
Mauricio was born in Brazil and studied a degree in Visual Arts and Computer Graphics before moving to New Zealand in 2004. He is now based in Te Awanga, Hawke's Bay where he has his full-time business, Studio Benega Ltd.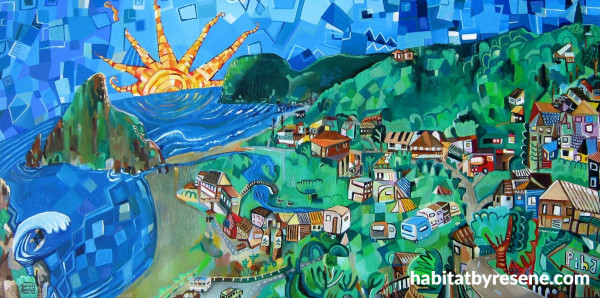 Mauricio's most special work, Piha, features Resene Havelock Blue and Resene Summer Green. "My favourite Resene colours are the teals and blues, I like to paint the ocean mixing these colours."
Mauricio's favourite piece of art has a very special story behind it. Depicting the view from his former home in Piha, as he was starting to paint the artwork, he heard the beautiful news that he was going to be a father for the first time. His daughter was then born in that house, so the painting holds a lot of significance for him.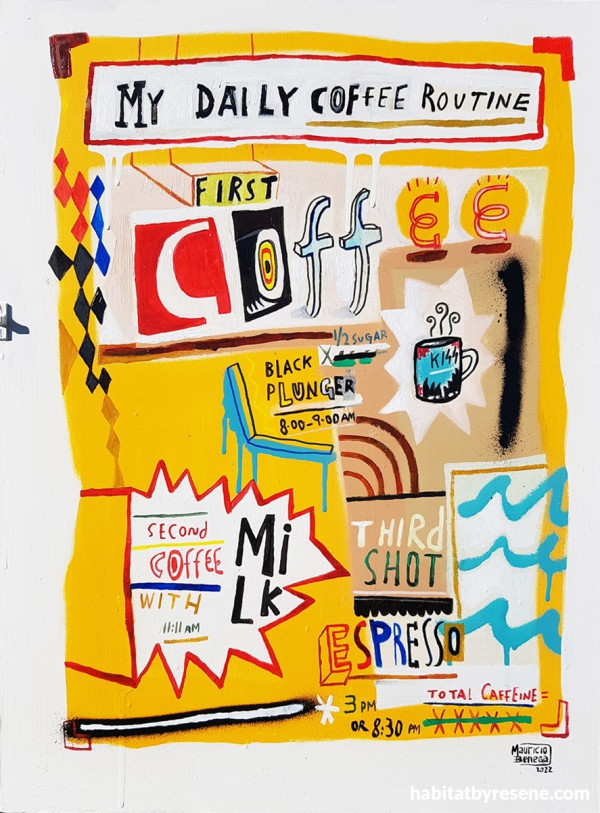 Mauricio painted 'My Daily Coffee Routine Still the Same' in hues including Resene Half Turbo and Resene Outrageous.
Selling his first drawing in 1995 to a man who had commissioned him to work on a tattoo was a pivotal moment in his life. "After this, I never stopped," Mauricio says. He enjoys working with different creative projects, which is exactly what he does with his business Studio Benega Ltd, one of the organisers behind the Hawke's Bay Big Apple art trail. "I love that I am not restricted to only a few different mediums, I am always learning and evolving."
Mauricio likes using Resene colours because of the huge variety that is available. "They are so great for getting the vibrance on the composition," he says.
See more of Mauricio's work: www.mauriciobenega.com
Published: 05 Oct 2022