►
◄
latest
habitat tv
blog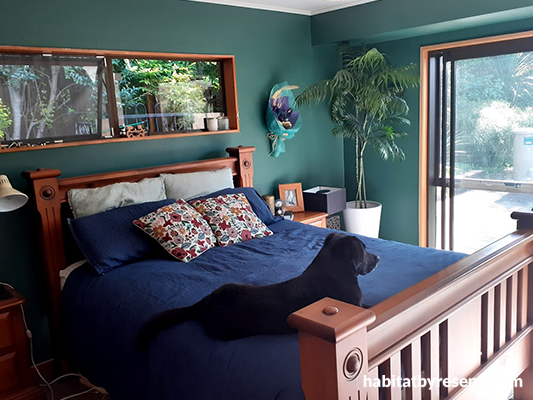 Reader roundup: From Kitchen makeovers to wallpaper gowns
03 Aug 2022
It's amazing what whimsical and creative things can be whipped up with a simple paintbrush, a Resene testpot or a roll of Resene wallpaper. Our readers have been busy cooking up colourful projects and makeovers. From mural art to fashion, this roundup features it all.
Fantastic fronds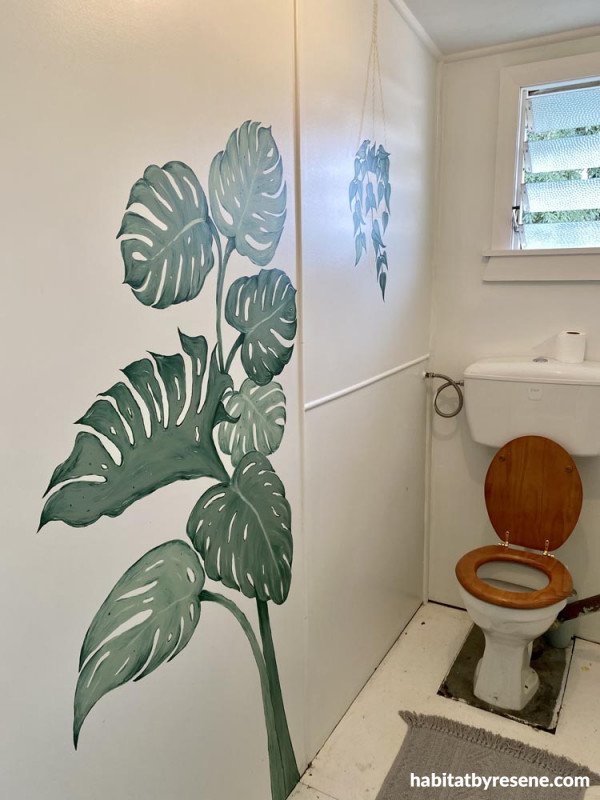 Shariya's bathroom has been given a whole new tropical look with a monstera mural painted on the wall. "I decided that the outdoor toilet was a bit of a blank canvas and needed something fun to spice it up. I used Google and Pinterest for ideas and shapes for the monstera plant."
After repainting her walls in Resene White, she sketched out a design in pencil. "I bought four testpots from Resene in various shades of green and a small paintbrush to paint the mural on the wall. I also used Resene Spanish White that we had left over from our house exterior to paint the macrame hanger. I think it was just what that plain bathroom wall needed!"
Find more of Shariya's crafty projects: @1921bungalowreno
White and bright

Andrea's kitchen in Auckland is almost unrecognisable from its original blue state, now bright and fresh in Resene Half Pearl Lusta. Kitchen bar stools have been upcycled and painted in contrasting Resene Black on the legs. "The brightness of Resene Half Pearl Lusta contrasts perfectly with the green of the bush outside our window. The kitchen had been blue for years – the new white shade has made it feel so much more modern and open." She complimented her local Resene ColorShop staff on the North Shore for their solid advice on choosing a new white for her home.
The perfect green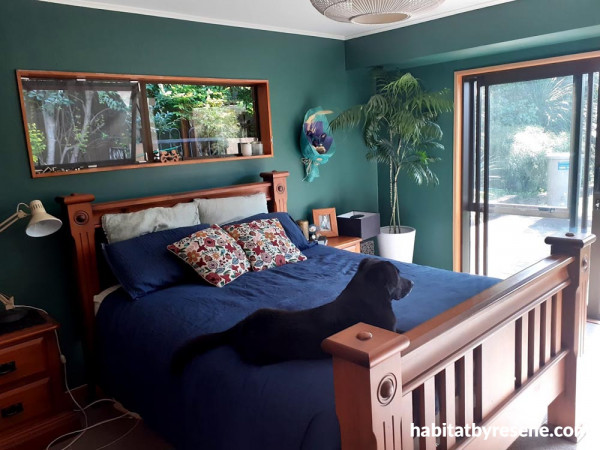 habitat reader Liz made sure to test multiple shades of green to get the perfect Resene hue for a master bedroom. "I paint my testpots onto A3 paper so I can use Blu-Tack to hang them around the room to catch different light. I write the names on the back so I can keep them for future reference, since I'm obviously drawn to them I will probably want to use them in future as well. You should see my A3 colour collection now! It varies from Resene Sunflower through to Resene Tarawera and Resene Marathon!" Liz's bedroom turned out beautifully when she landed on Resene Mother Nature.
Magic murals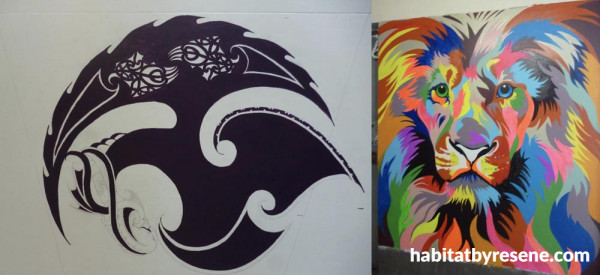 Gilli from the Hawkes Bay Corrections facility sent in some photos to thank Resene for their donations of Resene paints for their men. "I would like to thank you for your ongoing support of the men in the Hawkes Bay Corrections facility. I thought I would send you some pictures of the murals here in the prison so that you can see what they have been doing with your paints. From all of us here at the prison, thank you because without this paint the men would not be able to paint." The murals feature bold tones like Resene Bright Spark, Resene Black and Resene Smitten.
Fashion central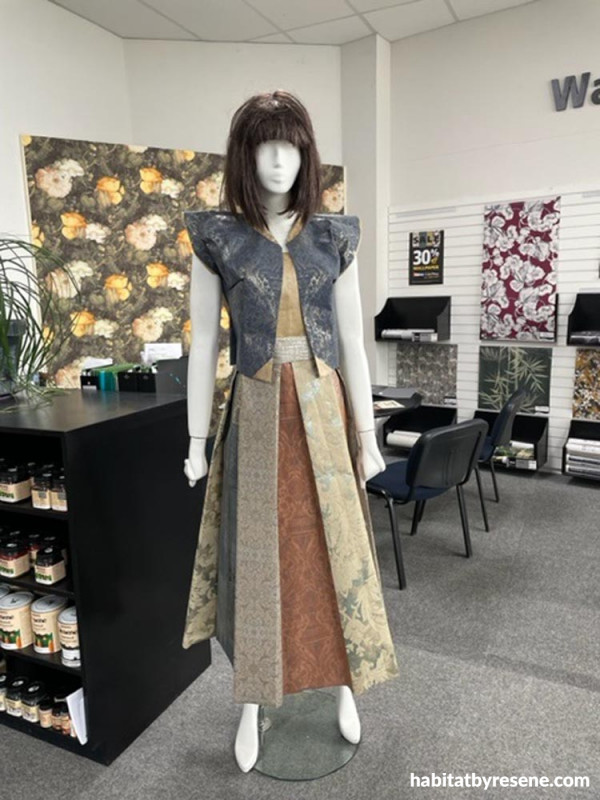 Angie from Hastings is creating fashion masterpieces with wallpapers from the Resene Wallpaper Collection. Her latest outfit creation is a dress in Resene Wallpaper Collection AR65004, AR65505, SR28006, MG11606, MG11601, NG33805, NG33806 and NG33002. Unsurprisingly, Resene customers in the store keep looking at the outfit and love her creativity!
Flying high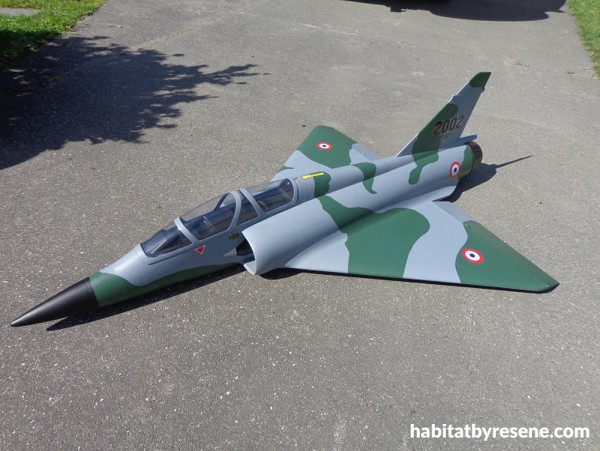 Brendon has proved Resene products aren't just good for walls. "I used Resene Aquaclear waterborne urethane brushed onto fibreglass cloth to create a lightweight, hard clear skin on my jet. It was painted with testpots in Resene Regent Grey, Resene Timber Green and Resene Black. My 240kph jet makes for pretty fast moving, The Resene finish looks good don't you think?"
Warm and moody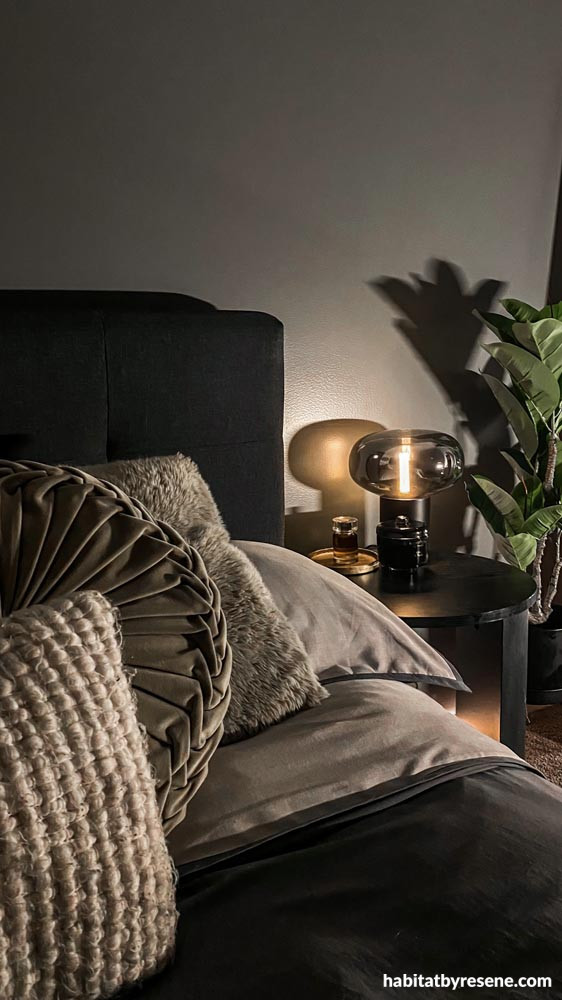 Reader Kurtis has almost completed his bedroom renovation, which he did in partnership with Lighting Direct with their Marcel Smoked Lighting. "Using the charcoal paint Resene Chicago has brought warmth and depth to the room. Custom curtains are now in, just TV mounting, floating shelving and new light switches to go." The finished result is sure to be stunning, check it out here: @kaytooswavy

Pot of gold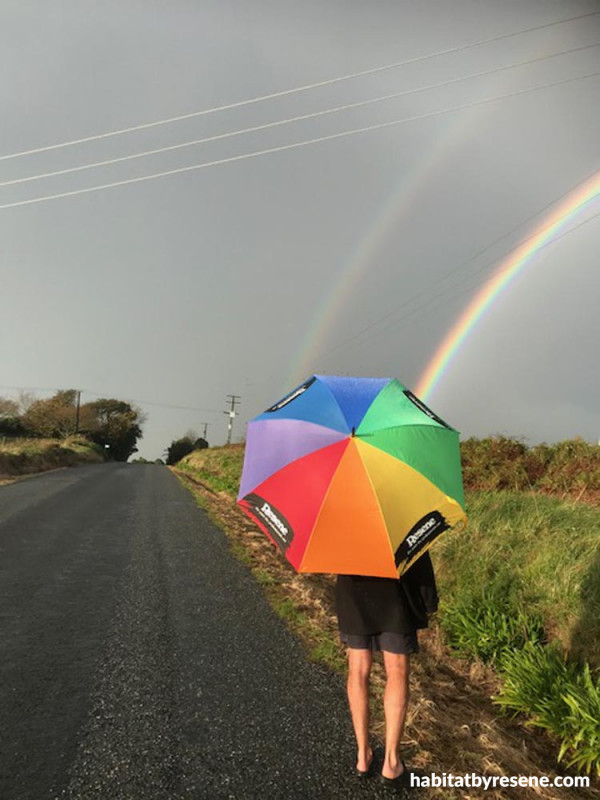 Last but not least, habitat reader Sue captured this beautiful shot of a double rainbow bursting out of a Resene umbrella. She's certainly moving in the bright direction towards a pot of gold!
Published: 03 Aug 2022