►
◄
latest
habitat tv
blog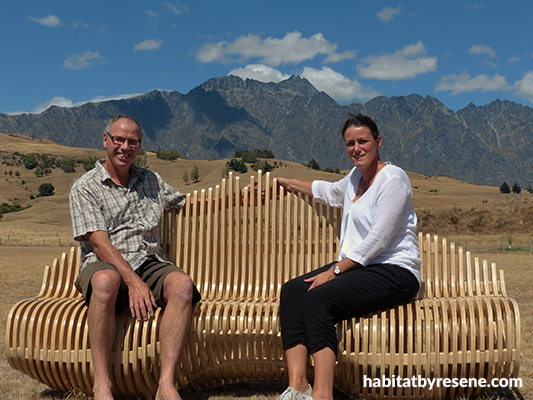 The Queenstown artists creating magnificent large scale wooden pieces
11 Aug 2022
It's hard to take your eyes off the clever designs from Queenstown-based artists Stephen and Kim. Together they run their fulltime business 'The Cusp' designing pieces of functional art, finished with Resene products.
"We like to produce pieces with an element of unexpected delight. Our pieces are functional art with clean lines, curves and pleasing textures. It is making pieces that appear simple which is sometimes the most difficult," Stephen says.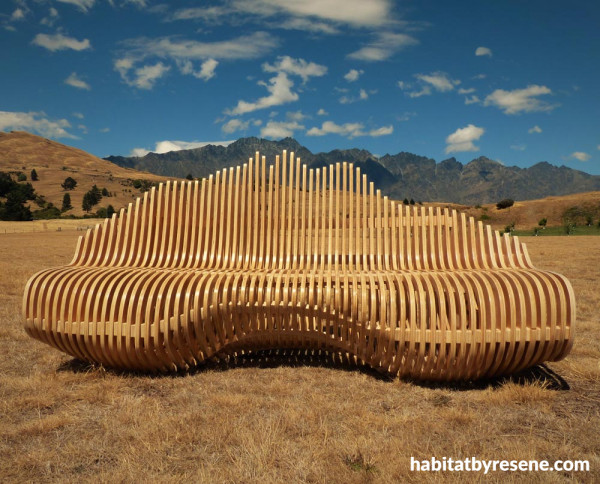 The first commissioned Remarkable Seat: a hollow form referencing the outline of the Remarkable Mountain Range. Resene Aquaclear urethane and Resene Qristal Clear H.D Satin polyurethane have been used on the Remarkable Seat range.
"For example, some of our core line of products utilise European furniture ply laminated into large blocks that intentionally focus on the end grain, which is not how it is typically used – your eyes will tell you this should feel corrugated, but thanks to far too much time sanding, your hands will tell you it is silky smooth."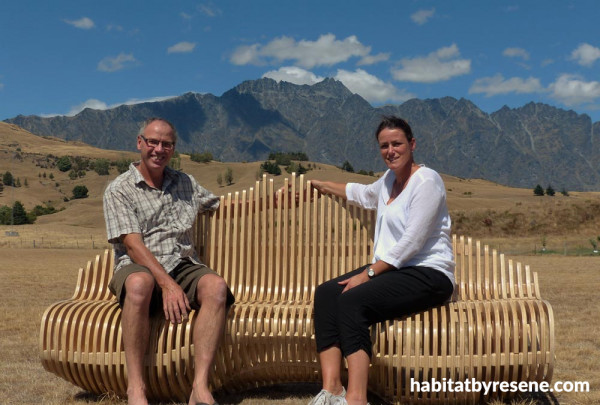 "Our favourite pieces tend to be the special commissioned Remarkable Start Early Learning centre seats. We have now made two large seats for their reception areas themed around The Remarkables mountain range. The brief was for a reception area seat that would make visitors go wow!' … and they do, we like that! We have incorporated colour programmable LEDs into these seats which can change the mood in the reception areas at the touch of a remote," says Kim.
They began by upcycling furniture – not just painting it, but radically modifying it. This progressed into commissions to modify clients' furniture but eventually, they realised they had so many original designs in their heads that they moved into designing pieces from scratch.
"We now only build pieces we have designed. It was during this initial phase of upcycling and modifying that we started using Resene products and quickly came to realise the reliability of the paints and products."
The pair say they are lucky to live in the Queenstown lakes area, which offers ample inspiration. "With the grandeur of the mountains and lakes surrounding us every day, along with many stunning architecturally designed homes that often incorporate local materials, it is hard not to feel inspired by nature.
"We combine this natural grandeur with our interests in Danish mid-century and modern Scandinavian design, so we are never short of inspiration. It's deciding what ideas not to progress that is our problem."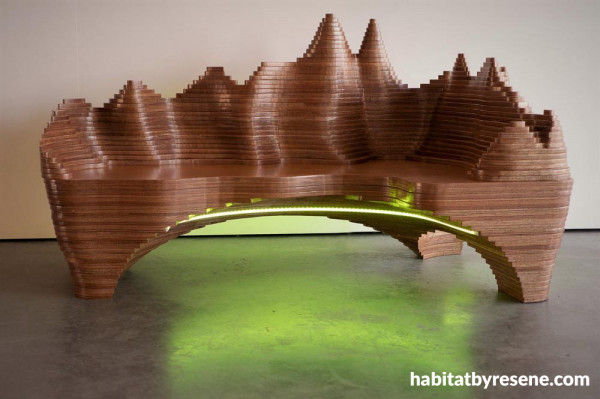 The second commissioned Remarkable Seat made using stacked meranti plywood to reference the Remarkables mountain range highlighting a stylised Double Cone. Resene Aquaclear urethane and Resene Qristal Clear H.D Satin polyurethane have been used on the Remarkable Seat range.
Generally, the pair decide on the next type of piece together. "We sketch (that's a generous term for our scribbles) ideas together then Stephen develops a few versions of the design digitally, which we then pick apart and refine together. We build prototypes sometimes in cardboard or pine plywood before the final version gets built," says Kim.
They are big fans of Resene products. "We started using Resene products in the early days when we were upcycling – after trying several brands we found it easier to get great, durable finishes with Resene. Another key factor for us in choosing Resene was the consistent technical support we receive from both the staff at our local shop and via the helpline.
"This was particularly true as we struggled to get a quality spray finish and the helpline person worked through various issues with us. He was brilliant. Nowadays we emphasise a natural wood look and use less colour. We love to see the natural grains and patterns in the wood expressed so we have shifted towards protecting and preserving the natural appearance."
For the two large reception area seats for The Remarkable Start Early Learning Centre they enjoyed using Resene products. "For the first seat we used Resene Aquaclear urethane which proved easy to apply, durable, and easy to clean. For the second seat, we chose Resene Qristal Clear H.D Satin polyurethane.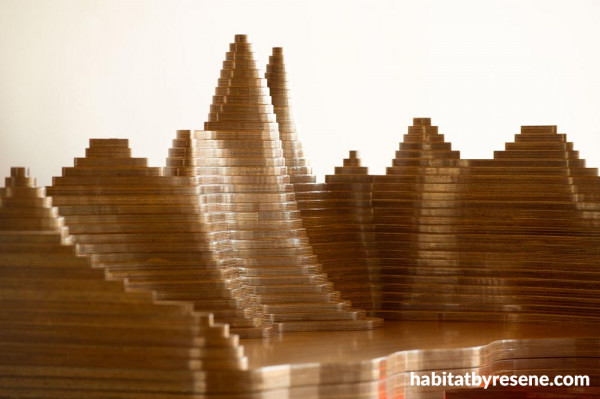 The backrest of the second Remarkable Seat capturing the curves and waves of the mountain range with the rich tones of the meranti plywood being enhanced with Resene Qristal Clear H.D Satin polyurethane.
"We wanted a product that would bring out the rich tones of the meranti plywood used while being very hard-wearing, after all, there are going to be kids clambering all over this piece. We found it also very easy to apply, it sanded well between coats (and there are a lot of edges and surfaces to be sanded on this seat) and get a good finish."
Find The Cusp online: www.thecusp.nz
Published: 11 Aug 2022