►
◄
latest
habitat tv
blog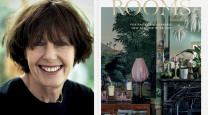 From 70s funk to modern haven with three different Resene greens
When Alex and Brendon walked into their 70s home for the first time, they immediately saw charm and potential – even though the property had some quirks. When the couple bought their pink three-storey brick 'n' tile home in 2014, they looked past the dated interior of funky wallpapered rooms and textured ceilings and saw many opportunities. "We looked at each other and said, 'we're going to buy this home'." Eight years later, they have renovated it head to toe using Resene paints to make it completely their own, forever home.
The large, Hawke's Bay house is home to Alex a stylist, and Brendon an electrical technician and their three children Joshua, William and Mikayla and four fur babies – two cats and two dogs. The house has always attracted busy creative types. The first owner was a builder who was ahead of his time, installing many 70s era mod cons. In the 90s it was sold to an architect who remodelled the home but kept its original charm.
After dreaming, planning, and saving for seven years, Alex and Brendon began to renovate the whole home in 2020, aiming for an open plan space that allowed for more natural light. "A big task but it was incredibly rewarding," says Alex.
A passionate stylist, Alex says she wanted to create a "modern Scandi home with a minimalist light and bright feel", while using feature colours in some of the rooms such as Resene Cabbage Pont, and Resene Mai Tai. "The colours we chose were definitely picked to complement my love for linens and ceramics, I wanted wall colours that we wouldn't tire of and that would work if we changed the bedlinen and décor."
The pair credit the Resene ColorShop team in Napier for their expertise. The Resene ColorShop staff gave advice on stripping wallpaper and helping them choose exterior colours that won't age with time. The house exterior is a true transformation from the dated terracotta tones, now painted in a chic balance of Resene Triple Truffle, Resene Ebony Clay and Resene Alabaster which does well to modernise the original brickwork.
Inside, the biggest change is seen in the kitchen/dining room, where Alex and Brendon removed a wall into the lounge, replacing it with a large island. They knocked out the doorway separating the kitchen and dining room. Complete with a kitchen revamp, this created an open-plan space and light-filled area that became the heart of the home.
"Entertaining, cooking and baking are a major part of our lives so designing our dream kitchen that flowed and worked for our large family was big on our list." The calming neutral Resene SpaceCote Kitchen & Bathroom Low Sheen tinted to Resene Quarter Rice Cake on the kitchen walls and Resene Black White on the ceiling perfectly complements the gorgeous hardwood floor. These neutrals follow through to the bathroom, keeping the clean, modern look.
The original scalloped ceiling in the lounge got the Resene touch too. The couple wanted to keep this original art deco style feature to honour the home's history in art deco rich Napier.
"The ceiling is incredible, it's unique and we love it for all those reasons," says Alex. A quick scrub and fresh coat of paint was all it needed, using Resene Alabaster, a crisp white with hint of black, ideal for ceilings with architectural features.
The lounge is the first sign of Alex's play with colour, with a panel feature wall in Resene Half Rivergum. The deep, water green is her personal favourite, she describes it as restful on the eyes as well as being on-trend. "We get so many compliments on it," says Alex. Pops of stylish green continue through the home, with Resene Cabbage Pont used in a creative three-quarter picket fence wall design in Mikayla's bedroom and Resene Half Forest Green on the headboard in William's room.
In a nod to the home's 70s heritage modern earthy tones come through with Resene Sandpit as a feature walls in the master bedroom, and a three-quarter wall painted in Resene Mai Tai in Joshua's bedroom with Resene Quarter Rice Cake on the top half of the wall.
Alex's styling flair is evident in her selection of design pieces, natural textures and wooden flooring to perfectly match her colour choices, and she plans to follow this passion into her professional life. She recently sold her Hawke's Bay events business to pursue her passion for styling, launching a new business Interior Devine.
To further maximise space for their busy household, Alex and Brendon turned the small office into a fourth bedroom for son William, and one of the bathrooms into an ensuite. They undertook most of the DIY work themselves, using their combined skills (Brendon is an scada engineer with an electrical technician background) to minimise costs. They did however use a builder for the bathrooms and kitchen ceiling. With their combined skills Alex and Brendon found their groove while working on the home together.
"Brendon was more than happy to let me take the lead with the colours and style as he knows that is where I shine. He took the lead from a construction point, as he is an incredibly handyman who knows how to work the tools. I can just draw what I want, and he always brings my vision to life!"
Alex and Brendon's biggest lesson was to have a financial buffer on top of the budget, "Once you start pulling walls down you just don't know what you are going to find. We hadn't budgeted for a new ceiling or toilet but were so glad we had over-budgeted and were able to renovate those areas properly." Alex also recommends asking companies you use, like Resene, for advice, as they are the experts.
Two years on, everything came together just as they imagined, Alex cracking the classic joke that their marriage even survived. "We actually really enjoyed working on it together and would definitely do it again, we make a great team!"
Top tip: Resene SpaceCote Kitchen & Bathroom is a waterborne enamel style paint with added anti-bacterial silver protection and MoulDefender. It's ideal for walls in wet or steamy areas such as kitchens, bathrooms and laundries.
Contact Alex on hellointeriordevine@gmail.com
The wall colour, Resene Quarter Rice Cake is a green-toned white which pairs beautifully with Resene Half Rivergum used on the feature wall of the lounge. The Art Deco style fan design ceiling is painted in Resene Alabaster.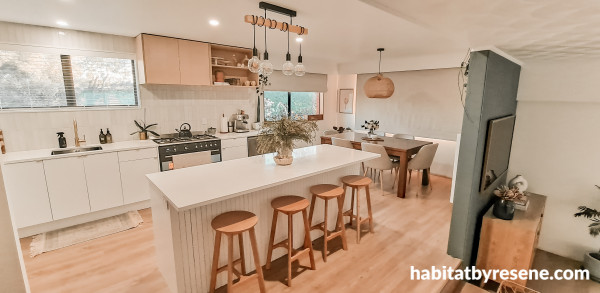 The open-plan kitchen area perfectly embodies the modern Scandi style with walls painted in Resene Quarter Rice Cake, ceiling in Resene Alabaster and the lounge feature wall in Resene Half Rivergum. "I love every colour we use but if I had to choose a favourite it would be Resene Half Rivergum."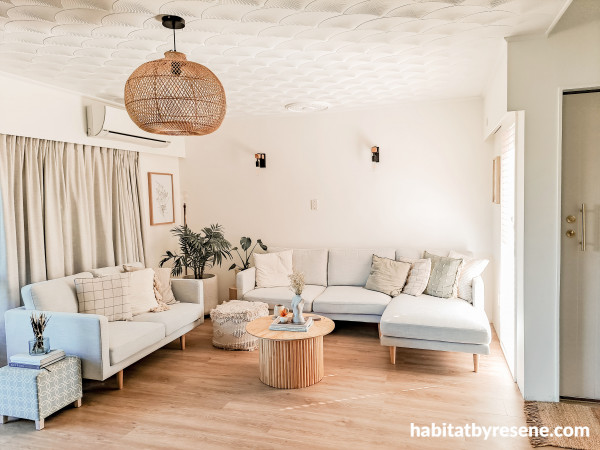 "I knew from the get-go I wanted to incorporate my love for natural woods, textures, linens and house plants by creating a modern Scandi home with a minimalist light and bright feel," Alex says. The lounge is painted in Resene Half Rice Cake and the scalloped ceiling in Resene Alabaster.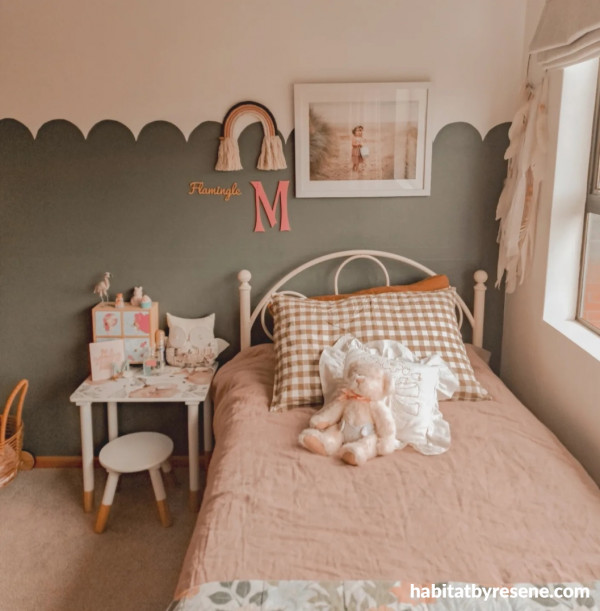 Alex painted a playful feature three-quarter picket fence wall in her daughter's room with Resene Cabbage Pont. The top part of the wall is Resene Quarter Rice Cake.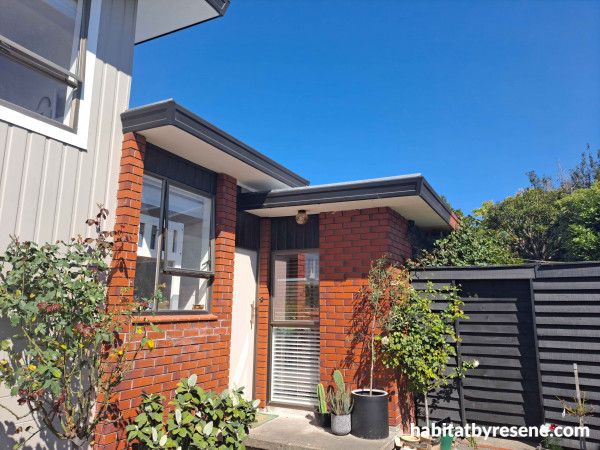 With recommendations from Resene experts, the exterior is painted in Resene Triple Truffle, Resene Ebony Clay and Resene Alabaster. "The team here in Napier were fantastic," says Alex.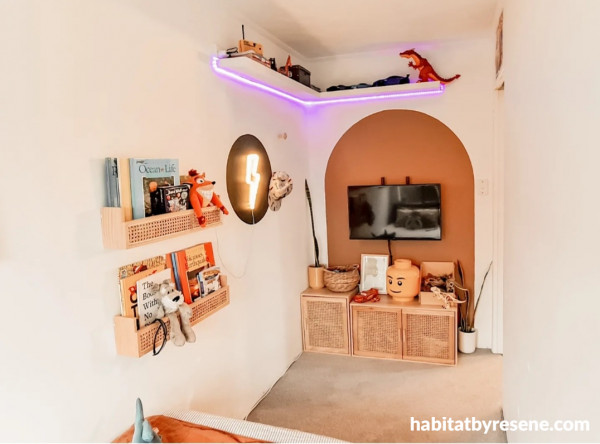 This former office was transformed into a bedroom with a feature arch painted in Resene Brown Sugar and playful circle (on the left wall) painted in Resene Black Forest. The main wall colour is Resene Quarter Rice Cake and the ceiling is Resene Black White.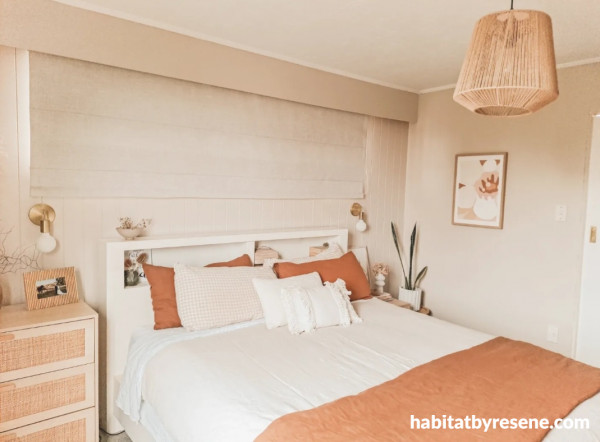 For a restful atmosphere in the master bedroom, the couple used Resene Sandspit Brownon the featured panelled wall. The ceiling is Resene Black White.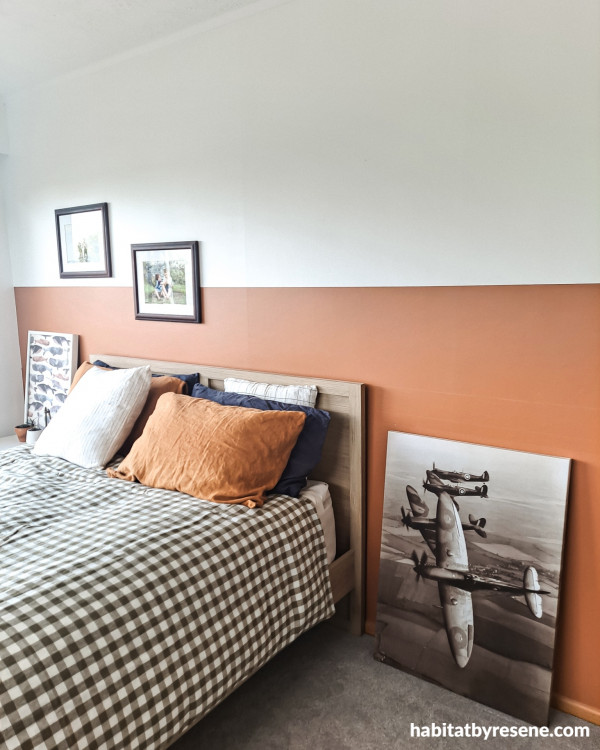 Playing with colour and space, this bedroom's feature wall is painted in Resene Mai Tai with Resene Quarter Rice Cake on the top half of the wall and Resene Black White on the ceiling. "Paint is an affordable and brilliant quick way to refresh anything and bring it back to life," says Alex.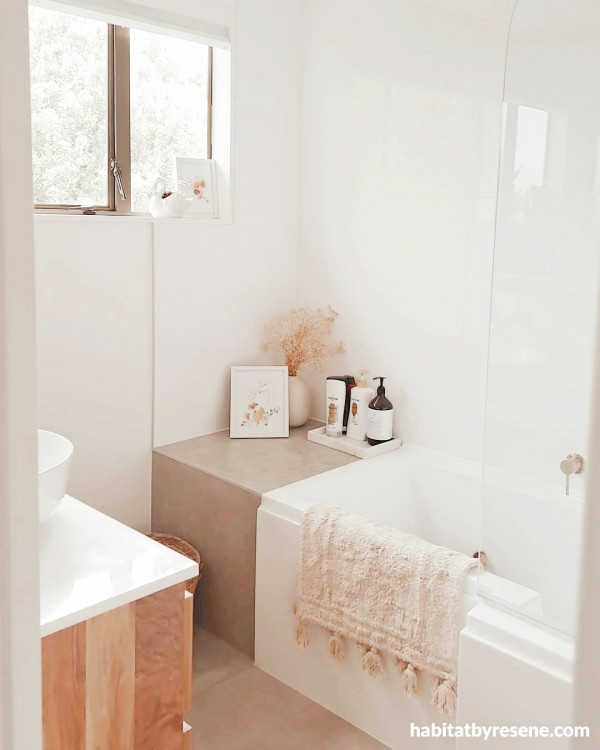 Resene SpaceCote Kitchen & Bathroom Low Sheen tinted to Resene Quarter Rice Cake is painted on the bathroom walls. "I was craving a calm and beautiful space," says Alex.
Published: 15 Sep 2022
Do you have a home full of wonderful Resene paint and colour? Send us some snaps by emailing editor@habitatbyresene.co.nz.
the look
If you're stuck on what
colour to use or need colour
advice, try out the Resene
Ask a Colour Expert service.