►
◄
latest
habitat tv
blog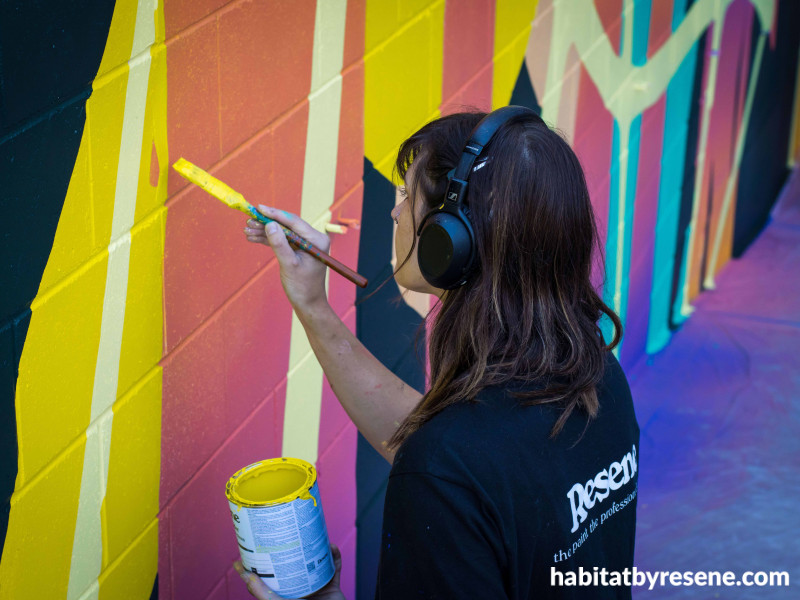 Artist George Rose brings us abstract, vibrant energy
08 Feb 2023
George Rose has been a creative from a young age and has explored many avenues to find where her passion and freedom to express lays in the art world. From paintings to murals, George was obsessed with Resene paint colours from the first time she used them and found there was no other brand that offered the bright and vibrant shades for her palette
Characterised by their unique colours and markings, George's artwork and murals are bold and fun. Drawing on abstract mark making we see oversized gestural brushstrokes that invoke awe through their scale and vibrancy.
Colour plays an important role in George's work as she explores the fragility of nature, native flora and fauna, and transforms the micro world into macro wonder. Her works elevate the often overlooked, depicting subjects not often seen in a large scale.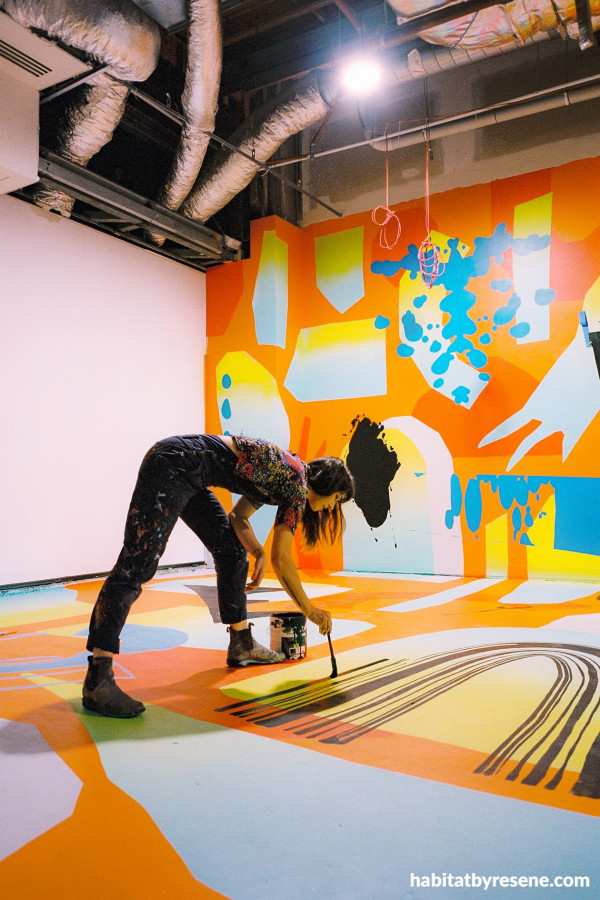 George hard at work painting at the Brisbane Street Art Festival, using colours Resene Racing Green, Resene Princess, Resene Lucky, Resene California, Resene Observatory, Resene Chetwode Blue and Resene Alo Alo. Image by Ben McFayden.
"I find nature pretty inspiring, I often depict endemic flora and fauna and I like to research species that might be endangered or are unique to the area in which I'm painting," says artist George.
"I grew up in constant connection with the bush and the ocean, so that relationship with nature has had a huge influence on my interests. Contrastingly I am also really drawn to abstraction and colour theory."
"I've always been drawn to bright colours and I love gestural mark making as well as less literal works of art, so I think my own inspiration and practice is constantly revolving between these great loves."
George has been through a colourful journey to find her place in the art world. After high school, she felt the need to pursue something at university that combined her love for art and was also practical and could earn a living from. This led her to studying Graphic Design, but amidst her studies she was told by lecturers that she wasn't a designer and to go to art school.
After transferring and completing a degree at the School of Art, she was told she wasn't an artist but a designer. George left the institutions believing that she didn't fit into either the fine art or design industries. This journey led her to reflect on where her passions and inspirations lay, and having always been inspired by street artists and muralists, she began painting walls.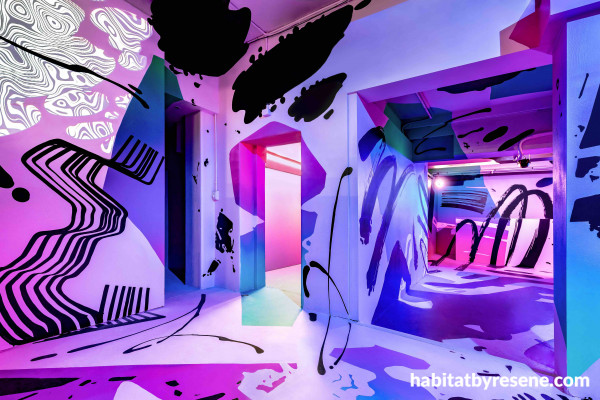 George's work at Supermelbourne is like a wonderworld painted with Resene Princess, Resene Smitten, Resene Studio, Resene Hullabaloo, Resene Home Run and Resene Black. Image by Aaron White.
"At the time I don't know that I ever expected a 'practicing mural artist' was a viable vocation, it felt more like a pipe dream," she says.
"In the beginning when I first started as a full-time artist my practice was overly varied. I was doing too many things - oil painting, sculptures, light installations, interactive installations, ceramics, digital illustration, hand lettering, drawing, and murals, it was a lot."
Over time, George's love of painting walls won over the other aspects of her practice, however it wasn't until she met her representative, Eddie Zammit, that she truly focused on purely muralism.
"I recall he sat me down before we started working together and said: 'You do too many things, if you could choose just one thing to do, what would it be?' I replied, 'painting big walls.' To which he said 'Okay, that's what you do now.'"
"It felt like starting from scratch again as I gave up other parts of my art business, but slowly my career gained momentum."
Inspired by Colour Theory, never realistic and always bright, George's colour palettes are carefully curated to create a stylised, surreal look, which you may see in her signature 'sweet fade' gradient.
Motifs in her work connect to the mural's surrounding environment, often drawing on topography, geography, endemic flora, and reflecting the local community through symbolism and emblems.
"As a child of the 90s growing up on the coast, I was influenced by a lot of the Australian surf brands, and I think that influence can be seen in my colour choices," says George.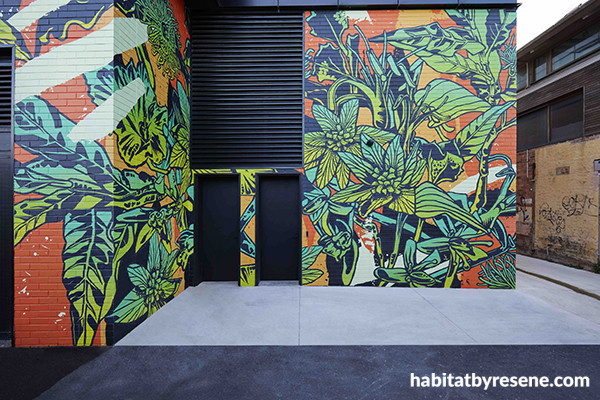 George's mural on Church Street in Richmond is painted with Resene Home Run, Resene Neva, Resene Jaguar, Resene Carpe Diem, Resene Reef, Resene Trinidad and Resene Black. Image by Holly Hawkins.
Some of George's favourite works are her Darwin mural and the wall at 510 Church Street in Richmond. She particularly loves these for the colour palettes and the scale and orientation. Always coming up with new ideas and works, if you ask George tomorrow, she may have a different favourite for you.
When painting her murals, George uses a whole variety of Resene prep and priming products, including Resene Waterborne Smooth Surface Sealer, Resene Concrete Primer, Resene Vinyl Etch, Resene Walk-on and Resene Quick Dry.
She has also used Resene SpaceCote and one of the most important product for muralists, Resene Uracryl GraffitiShield in a flat finish for a protective topcoat.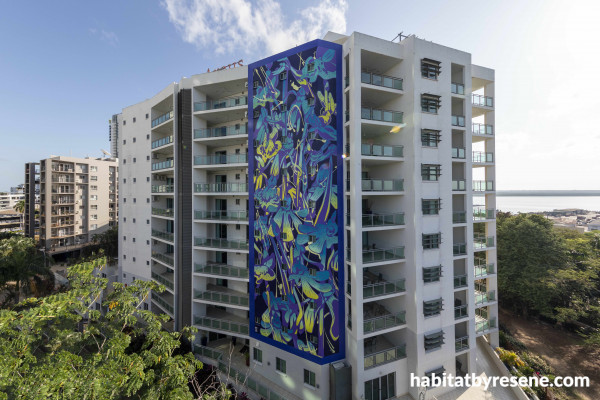 George's large than life Darwin mural is painted with Resene Paua, Resene Bullitt, Resene Deep Koamaru, Resene Daisy Bush, Resene Canary, Resene Turbo, Resene Aqua, Resene Java, Resene Bowie and Resene Captain Cook. Image by Andrew Bourke.
Alongside all of these products, George admits that her 'ride or die' paint is Resene Lumbersider, which she uses for almost all of her murals, and if there is a colour she cannot find in Resene Lumbersider, she turns to Resene SpaceCote where she is sure to find what she needs.
"I became obsessed with Resene from the first time I used it, I can't even remember how many years ago now," says the artist. "My colour palettes are quite vibrant, and I was finding that the house paint brands I was using just couldn't create the colours I was after."
"Not only that but the coverage for bright bases was woeful. Some colours needed up to 5 coats to create a solid fill. So when I first used Resene, saw the coverage and the colours, I was sold.
"I'm a bit of a paint nerd so I asked a lot of questions and researched the brand and found that it just aligned with my practice and principles the best."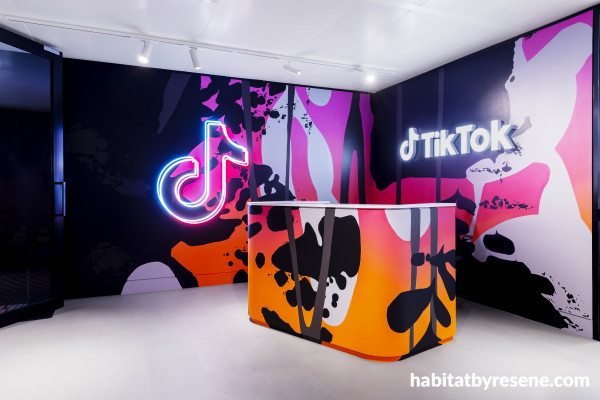 TikTok getting a whole new makeover and the result is nothing less than spectacular. George used Resene Grenadier, Resene Adrenalin, Resene Smitten, Resene Black and Resene Half Gull Grey. Image by Holly Hawkins.
Asking an artist what their favourite colour is can be an interesting affair. Although she definitely has a palette she returns to quite regularly, she tells us she couldn't possibly narrow it down to just one.
"When you love colour as much as I do, it's hard to narrow it down to one. In saying, that I can let you know a few of my favourites. I do love Resene Spritzer, Resene Governor Bay, Resene Smitten and Resene Deep Koamaru. I use these quite widely throughout my work."
"I also love Resene Paua, Resene Allports and a recent favourite is Resene Fire. I have so many, I often find I cycle though favourites depending on my mood."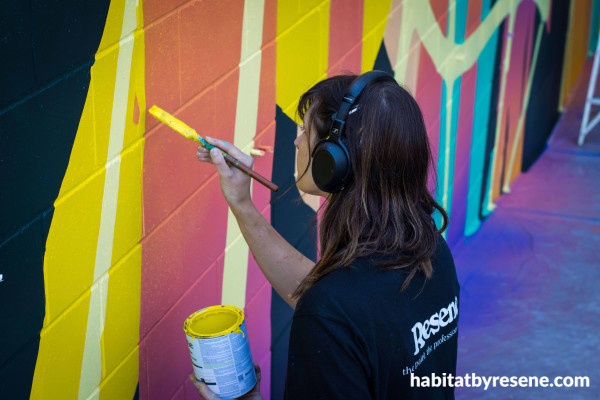 George in the zone painting a mural in Preston, using the bright shades of Resene Riptide, Resene Governor Bay, Resene Glorious, Resene Indian Ink and Resene White. Image by Mick Doolan.
George's tips for people getting into the art scene are that building a business as an artist can be a slow journey, one thing always leads to the next and it might feel isolated but generally you can't succeed without a good team or support around you.
"I've been a practicing full time mural artist for almost 8 years now and I had been a full time artist for another few years prior. I can honestly say that painting walls is still my favourite thing to do in the world."
Check out more of George's art: www.georgerose.com.au
Published: 08 Feb 2023