►
◄
latest
habitat tv
blog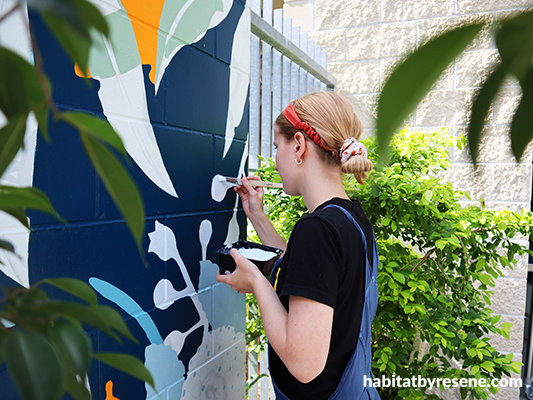 Australian artist Ingrid's Resene murals sing with colour
11 Aug 2022
Painting outdoors in Australia's heat isn't easy, but Queensland's Ingrid is well acquainted with painting in sweltering summer temperatures. She produces vibrant works often inspired by natural elements like flowers and plants.
"I work as both an illustrator and artist, with the jobs I do ranging from tiny, detailed watercolours, to large, colourful murals. The way I work often involves both realistic illustrative elements, merged with abstraction and blocks of vibrant colour. My mural work tends to favour the latter," Ingrid says.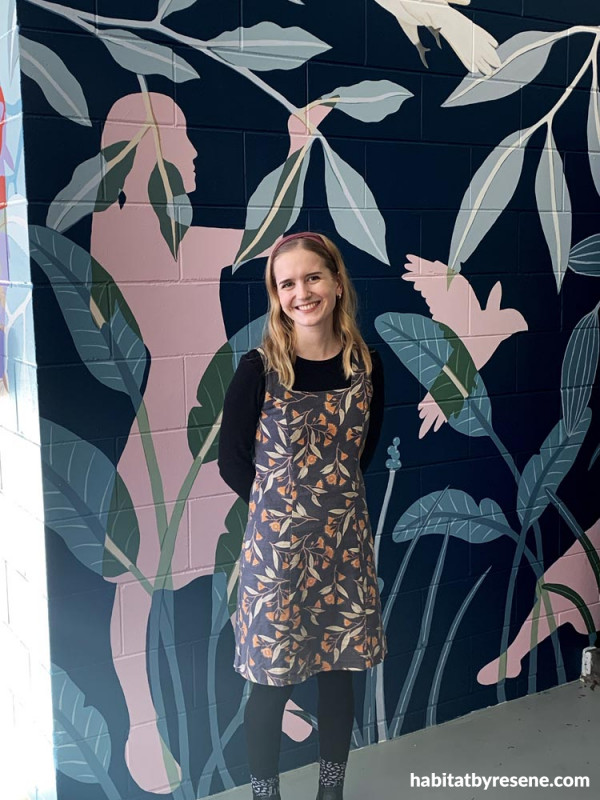 Ingrid with one of her murals, featuring Resene Blue Night, Resene Pink Lace and Resene White.
Ingrid studied a Bachelor of Fine Art at the Queensland College of Art, and after graduating began researching how she could make a living as an artist, and the different pathways available. "I started my business in quite a simple way – selling greeting cards, and then expanded from there into things like exhibitions, packaging illustration, murals and picture books."
Style-wise Ingrid says she was definitely influenced early on by the Arts and Craft movement (in particular the work of William Morris) and botanical art. During her studies she also discovered a love for more abstract based artists, such as Fred Fowler. She is particularly drawn to pattern and colour.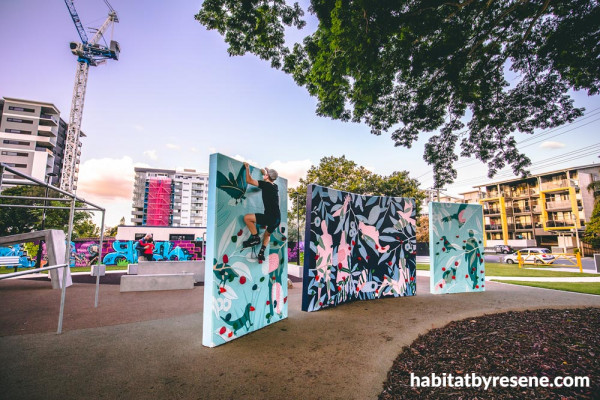 This mural by Ingrid is painted in colours like Resene Keppel, Resene Windfall, Resene White and Resene Pink Lace.
"I really loved creating my mural 'Urban Connect' in Woolloongabba for Brisbane City Council (BCC). This was my first large scale mural - it was both extremely fun to work on, and a huge challenge. I had to work out how to convert my small scale work onto walls, the logistics of the installation and working outdoors in the Australian summer heat!
"It was also great to work with a client like BCC. I ended up simplifying my style to be a bit more blocky and abstract than my usual work, however it still had elements of the floral patterning I so often favour."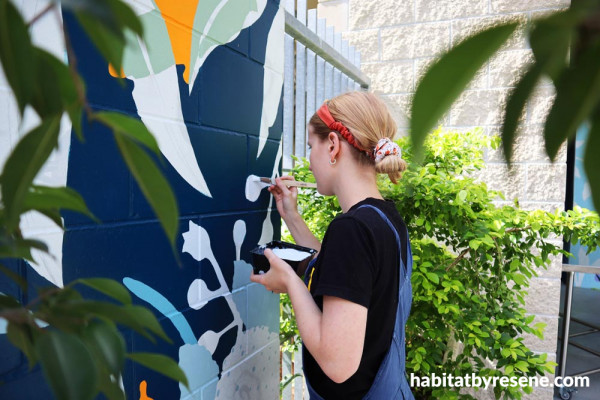 "I've usually had a side job 1-2 days a week since graduating. That's mainly as I like having a bit of diversity to my week, and also so I can take the pressure off art to make my full income week by week and focus more on enjoying making the art. However, that's not to say you can't make a living as a fulltime artist - I think it just comes down to what works for you personally, and what balance you like."
Her artistic process depends on the project, but generally she starts with a digital sketch. "This makes it easy to make changes early on and work out the design. I then move onto paper/board/walls with my paints. For mural work, I use Resene Lumbersider."
Resene is her top pick to use. "It was 100% because of the amazing colour range - it felt just like going to a store where you can get pretty much any colour your heart desires. Before painting my first mural, I asked a number of experienced muralists what they recommended, and I kept getting 'Resene'. I think the quality of the paint is also amazing, it's so lush to use.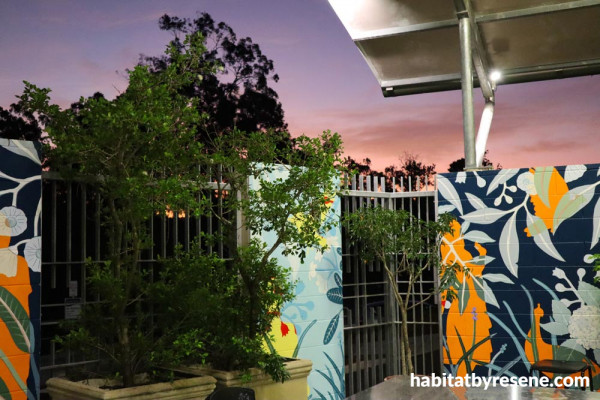 Sunset behind Ingrid's mural, painted in Resene Lochmara, Resene Moody Blue, Resene West Side and Resene Prussian Blue.
"Colour palette wise, it's usually inspired by the content of what I'm painting. For example if I'm painting a Bottle Brush, I think about what colours would pair well with it, make it pop, complement it etc. If it's a commission for a particular space, I like to take into consideration the nature and architecture of the surroundings."
Resene Blue Night is her favourite hue, she loves the depth of this colour. "I used it as a base colour for the 'Urban Connect' mural in the deep blue monochrome section, and loved the way it looked in different tones."
See more of Ingrid's work: www.ingridbartkowiakart.com/
Published: 11 Aug 2022