►
◄
latest
habitat tv
blog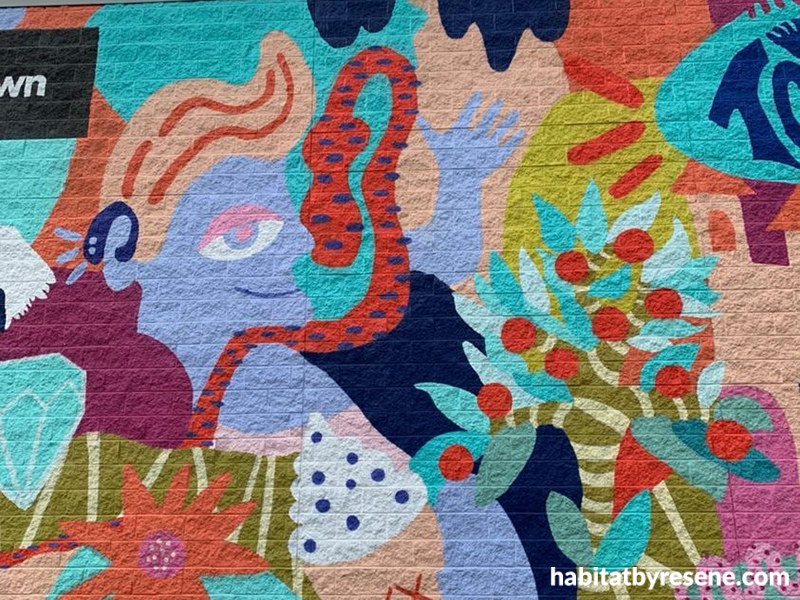 Sair Bean's playful murals come alive with Resene colours
24 Aug 2022
Australian artist Sair Bean's most recent wall mural is a whopping 41 metres long and six metres high. Its textured surface was tricky to paint, but equipped with plenty of bright Resene colours like Resene Pink Lace and Resene Waxflower, Sair is stoked with the finished piece.
"It was such a challenge to paint, but I love it! It's like a Where's Wally of icons, symbolic to its community and area all puzzled together. It's bright and bold and is a big slap of colour to what was once a very grey, dull area."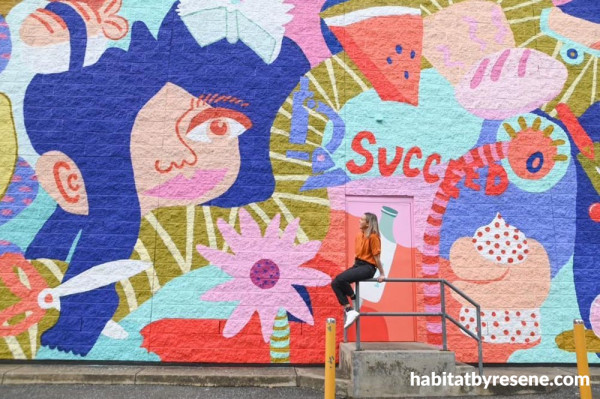 Sair Bean's latest mural is painted in Resene Funk, Resene Perano, Resene Chetwode Blue, Resene Pink Lace, Resene Ballerina, Resene Waxflower and Resene Deep Koamaru.
Sair says she is heavily invested in the spirit of play and experimentation. "I would describe my style as illustrative and playful. I use a lot of continuous linework and strong block colours." She has always been creative, making things and drawing from a young age. "About seven years ago I fell into street art by chance and my first ever wall was 18 metres long. I fell in love with creating large scale and changing public spaces."
Her designs normally start off complex, but her process involves stripping back and simplifying. "I'm constantly inspired by artists around me. My all-time favourite artist is David Shrigley."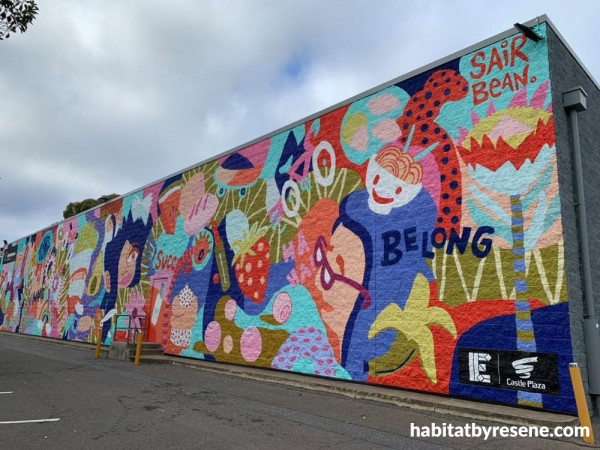 A favourite piece is hard to pick."The next artwork I make is always my favourite piece. I'm always looking to improve and evolve."
In her studio, Sair experiments with everything, from clay to recycled materials to acrylic paint. "It's like a big playground in there. When designing a wall though, I'll use Procreate on my iPad." Alongside her work as an artist, she teaches art part time, which she loves. "Young children have this beautiful nature of not being afraid to test and experiment with new things - they just throw themselves into it! So inspiring!"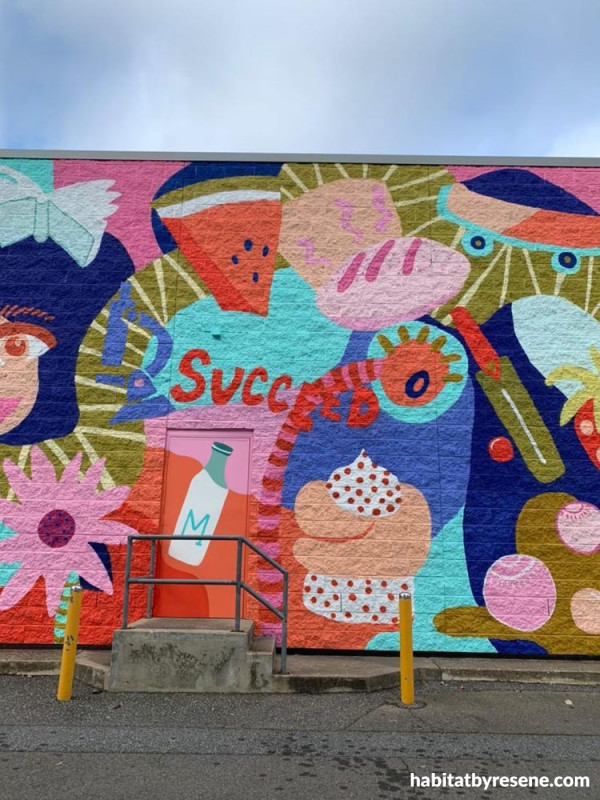 Sair Bean's new piece is 41 metres long and six metres high finished in an array of Resene colours.
Resene has been her go-to paint for her murals. "I had heard so many great things about Resene. It's colours are so deep, rich and yummy. It's almost like painting with fabric, a tapestry of divine colours! There are way too many beautiful colours to choose a favourite colour, but I love Resene Waxflower and Resene Riptide (especially together), oh and also Resene Deep Koamaru!"
See more of Sair's work: @sairbean
Published: 24 Aug 2022