►
◄
latest
habitat tv
blog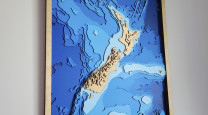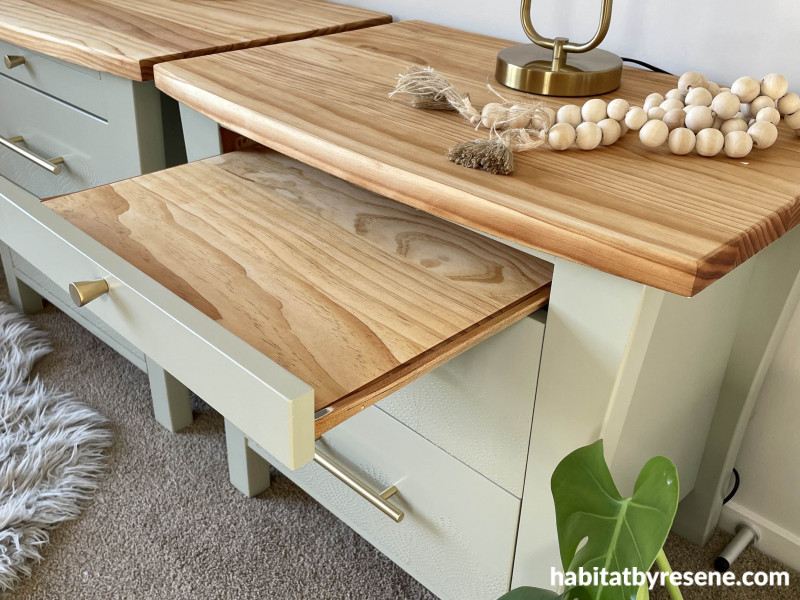 Upcycling furniture with a touch of nature
30 Aug 2023
In the realm of creative innovation, Jess Sayer stands as a shining example of how passion and determination can lead to breath-taking transformations. An artist who specialises in upcycling furniture using Resene paints and products, Jess has carved out a unique niche for herself, creating pieces that not only rejuvenate the past but also resonate with the tranquillity of nature.
"I would describe my work and style as minimalistic and clean with simple colour combinations," Jess explains, capturing the essence of her artistic identity. Her creations radiate simplicity and elegance, enhancing the innate beauty of natural wood while infusing it with new life. Her philosophy is grounded in the belief that art should captivate the viewer's immediate experience rather than reflecting external realities.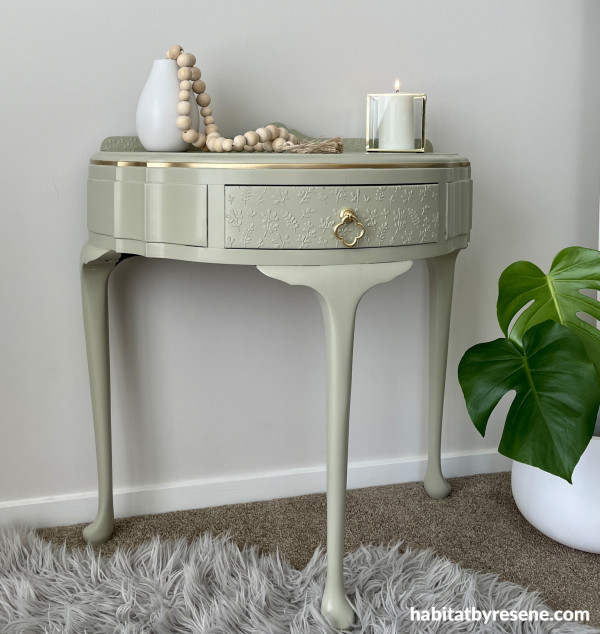 This vintage style piece is painted in Resene Lemon Grass, a shade that works wonders with small hints of gold for a touch of elegance.
Two years ago, Jess faced an unexpected turn in her life due to health complications, forcing her to step back from her job. The path to recovery was challenging, yet out of this adversity, a new creative journey emerged. With a deep-rooted love for various forms of art, Jess found solace in repurposing and restoring furniture.
"I find painting to be very therapeutic," Jess says. "During my recovery I had a lot of spare time, so I started upcycling some pieces I had at home, I very quickly became addicted. I then sold a few and they were a big hit so I went all in from then on. I want to do my part in reducing waste by taking in one piece of furniture at a time and saving it to be used and loved by another person."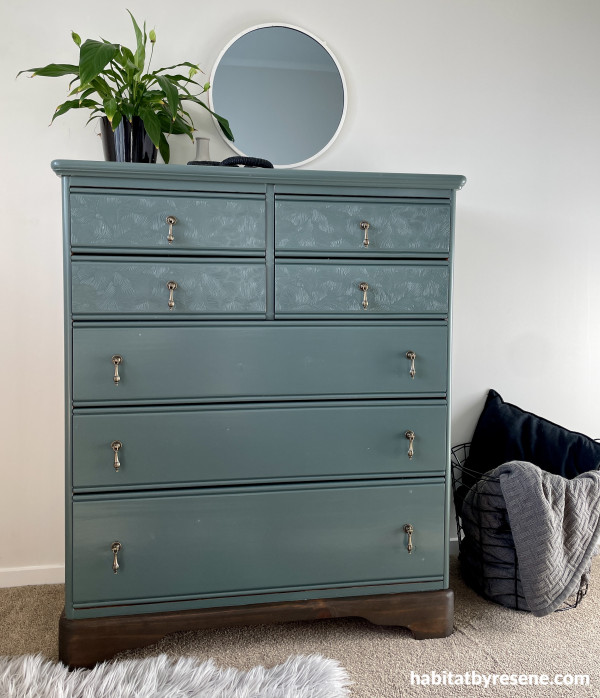 This beautiful piece is painted in Resene Jurassic, with Resene Colorwood English Walnut on the wooden base.
"Nature would have to be one of my biggest inspirations for all of my creations," Jess says. The natural world offers a sanctuary where her creativity can flow unhindered. As studies show, spending time in nature reduces stress and amplifies feelings of serenity and calm. This is exactly what Jess aspires to convey through her work – the embodiment of peace and relaxation within the confines of furniture.
One of her standout pieces, the entertainment unit, exemplifies Jess's artistic ethos. With the soft, green-edged grey of Resene Climate and the deep richness of Resene Charcoal, the unit radiates an organic connection. "Together these two colours really enhance the natural timber and make it the star feature, keeping it simple, while allowing nature to shine through," she explains.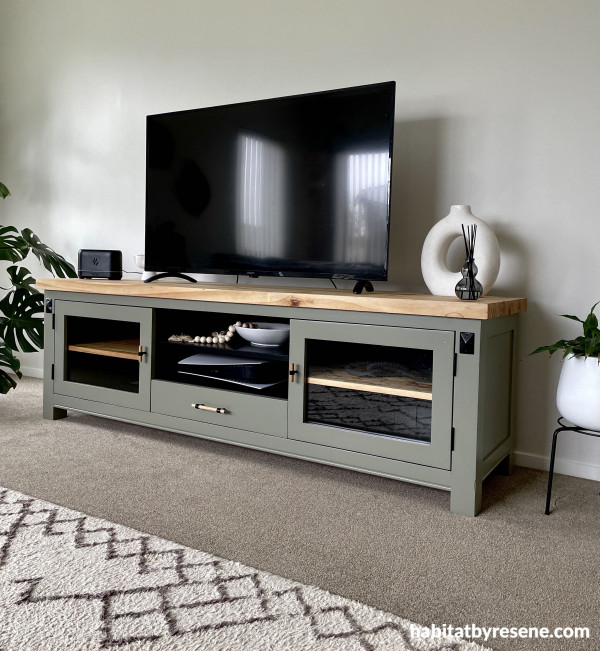 Jess' favourite piece, using Resene Lustacryl tinted to Resene Climate and Resene Charcoal.
Jess's design journey typically begins with the tactile process of sanding down a piece, revealing its raw essence. From there, she allows the wood to guide her choice of colour, often opting for soft tones and shades of green. Her design concepts often evolve during the process itself, a testament to her organic and intuitive approach to creation. The interplay of colours and textures in her designs underscores her commitment to elevating the intrinsic elegance of wood.
From a hobby born out of adversity, Jess's passion has blossomed into a full-time career. Balancing her role as a mother of two young boys, aged eight and six, with her creative enterprise, Jess finds fulfilment in being present for her family while pursuing her artistic ambitions. Operating from her home studio, she has transformed her space into a hub of innovation and transformation.
The choice of Resene paints is a cornerstone of Jess's artistic process. "I decided to use Resene paint for my furniture because of how durable and smooth the finish is," she says. Resene's expansive colour palette perfectly aligns with her inspirations, rooted in nature's seasons. Her preference for autumn hues, greens, terracotta and neutrals, melds seamlessly with her minimalist, nature-inspired aesthetic.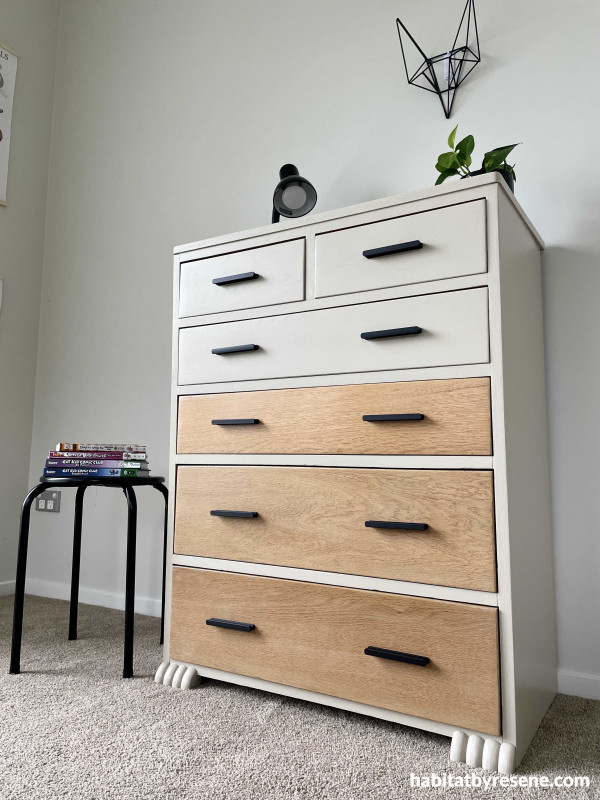 Jess shows her eye for colour and detail, with the shade of Resene Awaroa Bay paired with natural wood and contrasting black handles.
Among Resene's extensive colour range, one hue stands out for Jess – Resene Climate. "Green and grey are my favourite two colours and Resene Climate is the best of both worlds," she enthuses. The transformative nature of this shade, shifting from vibrant green to soothing grey based on lighting, mirrors Jess's artistic philosophy of eliciting emotions through visual experiences.
In the world of furniture upcycling, Jess' journey shows the power of creativity, resilience and the profound connection between art and nature. Through her artistry, she not only breathes new life into old pieces but also invites us to witness the beauty of simplicity and the serenity of nature within our living spaces.
See more of Jess' designs: www.facebook.com/Ecogem
Published: 30 Aug 2023