►
◄
latest
habitat tv
blog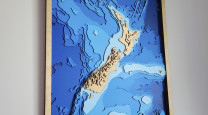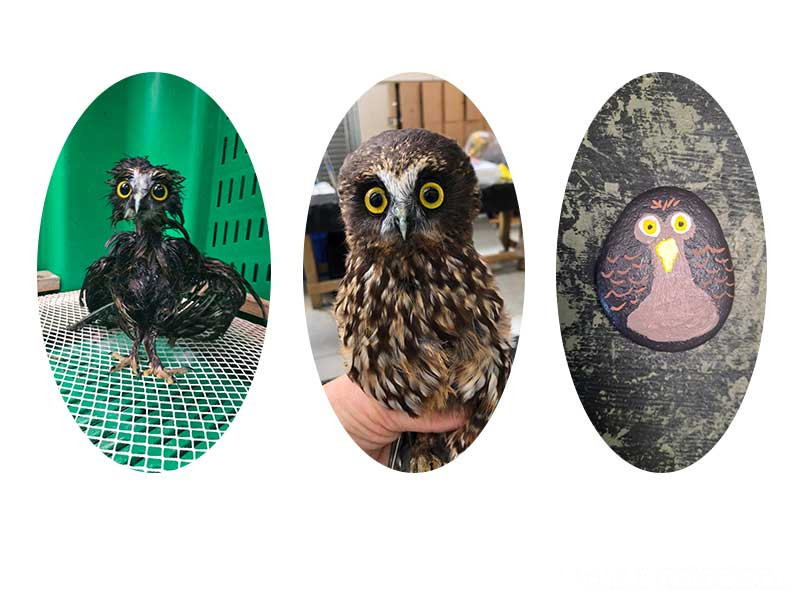 Rurus rock: Make bird of the year an owl-eganza
20 Oct 2022
Bird of the Year has arrived so it's time for you to get creative juices flowing and show your support for your favourite bird. Young and old can vote in the bird election and Forest and Bird's feathery competition is a great way to teach kids about the plight of our native birds as well as voting and democracy.
Show your love for your favourite species with some flighty arts and crafts using Resene paints inspired by your feathered friends including Resene Pukeko, Resene Kiwi, Resene Fantail, Resene Morepork and Resene Kea.
Did you know ruru/morepork has never won Bird of the Year? habitat's editor Emma Rawson is campaigning for New Zealand's only native owl in the hopes that this year this night guardian will take the crown.
"It's ruru's time to shine," says Emma.

"There's something very comforting and homely about hearing a ruru's distinctive 'more-pork' cry at night – like a guardian of the night."
Indeed in Māori tradition, rurus are seen as a watchful guardian from the spirit world. The 'more-pork' cry is seen as a good omen, while the 'cree' noise the birds make are a warning to prepare for bad news.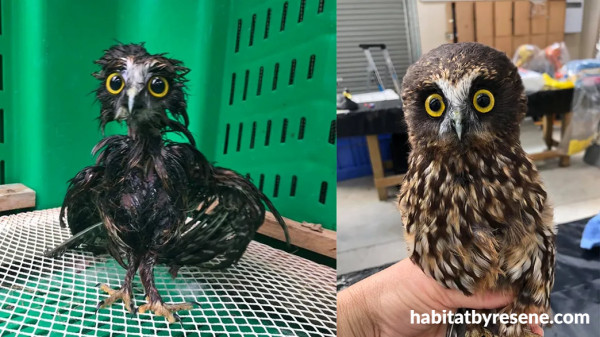 A wet juvenile ruru has a blow dry while being cared for at Massey University's Wildbase hospital. Image: Wildbase hospital/Hōhipera ki Te Whakahaumanu Massey University.
Five fun ruru facts
Rurus can fly silently as they have soft edges on their feathers. This allows them to hunt for prey such as spiders, moths beetles, mice, rats and small birds. Although rurus are silent fliers, their unique feathers cause problems for them in wet weather as their feathers are not very waterproof.
Rurus are smaller than you might think. A female ruru is only 29cm in size and weighs an average of 175g, that's less than a packet of biscuits.
Rurus nest in tree cavities, epiphyte plants growing in trees or among rocks and roots.
Rurus have special facial disks which allow their eyes to allow them to see at night. In pitch black conditions rurus use their offset ears to find their prey.
Rurus can turn their head 270 degrees to help them find their prey.
Show your support for ruru with this cute rock craft. It's so easy kids can do it!
You will need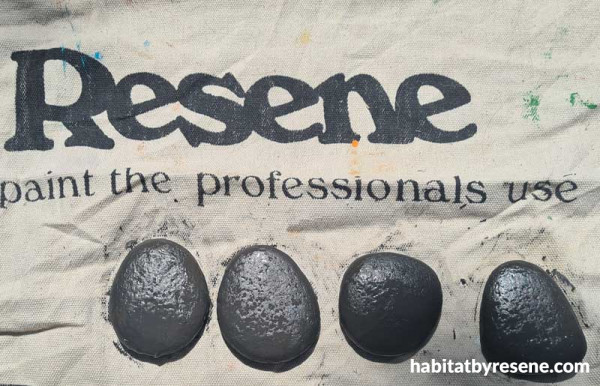 Step 1: Paint the base of the rock in a dark colour. Emma used Resene Ironsand. Make sure to paint as much of the edge of the stone as possible. Once dry, flip the rock over and paint the other side.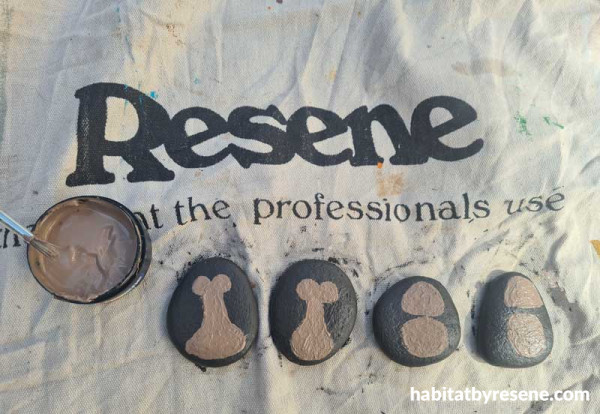 Step 2: Paint the abdomen of the bird in a lighter shade, Emma used Resene Slate Brown. For the adult birds paint a tree shaped design, and for the ruru chicks paint two circles.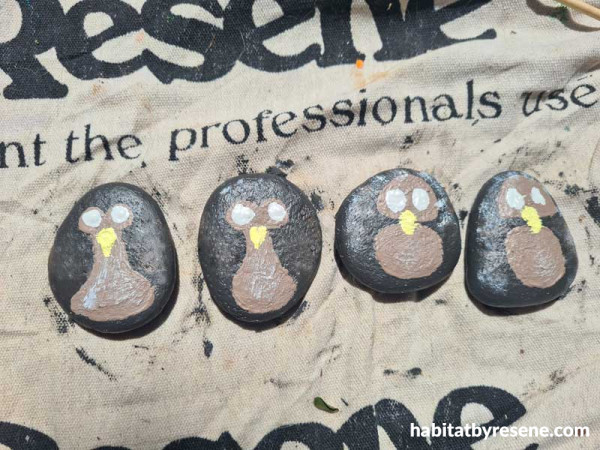 Step 3: Using a fine artist's brush paint the details in layers. First paint the eyes and then a triangle for the beak. Emma used Resene Double Thorndon Cream for the eyes and Resene Sweet Corn for the beak and eye iris.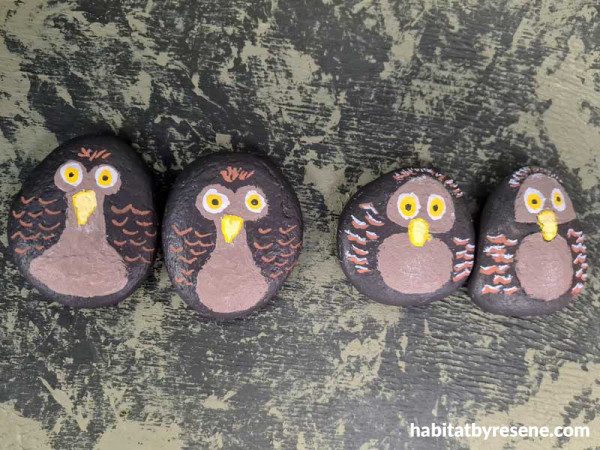 Step 4: Paint the remaining details. Emma used Resene Nero for the eye pupil, Resene Spice for the feathers and Resene Double Thorndon Cream for the pale feathers on the ruru chicks. The background is Resene Karaka and Resene Hemlock.
project and image Emma Rawson
Vote in Bird of the Year at www.birdoftheyear.org.nz.
Published: 20 Oct 2022