►
◄
latest
habitat tv
blog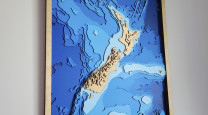 Townhouse undergoes creative transformation with Resene wood stains and stenciled interiors
When Katherine bought her two-story townhouse in 2113, she almost needed to wear sunglasses indoors, so bright was the interior decor.
"Everything was pink – every wall, every trim, door and ceiling," recalls the kindergarten teacher.
"Even the kitchen cupboards and bench were pink."
The house, which Barbie would no doubt have felt at home in, didn't sit too well with Katherine, who admits her taste lies at the opposite end of the colour wheel with cool Resene colours like Resene Quarter Delta and Resene Half Shark featuring on the inside of her home and Resene Woodsman Pitch Black on the exterior.
"I love warm, layered neutrals and soft greyed greens. I'm also a sucker for dark and moody vintage tones," she says.
The pink tones in the living space and entrance were dealt to shortly after moving in but it took six years, as time and budget allowed, for Katherine to completely turn the split-level townhouse into the tranqil haven it is today.
Which gave her some breathing space to create the overall look.
"Parts of the house are very bright beause of the northern light, and other areas are quite dark, so I needed a paint colour that could work with both lights. I'd used Resene Quarter Cougaras I did in a previous house.It's the perfect 'griege' - not too brown but not a cold grey either."
Kathreine opted for Resene Quarter Cougar on the bulk of the interior walls, as well as the entrance, stairwell, upstairsbedrooms and large living room. "It layered perfectly with the other neutrals, the existing blue/grey carpet and the soft-white of Resene Quarter Rice Cake,which I used to paint a stenciled design on the teracotta tiles in the entrance."
Other walls in the kitchen/living area received the Resene Double Truffle treatment while the feature wall in the entrance is painted in Resene Baltic Sea. Katherine painted the stencil designin Resene Shabby Chic andResene Gold Dust and Resene Magma metallic paint.
Her biggest challenge was finding a colour to go with the deep cream/beige joinery.
"I like crisp white frames and trims but Resene Alabaster didn't work with the joinery so I finally decided on Resene Tea for the window trims, which blends nicely with the warm neutrals throughout."
The renovation was truly a labour of love with Katherine doing all of the prep work and painting herself, tucked in around completing her teaching degree. That included the exterior which she hired a cherry picker to reach the second storey to stain the home's exterior in Resene Woodsman Pitch Black, along with the front poles and garage trim in Resene Double Alabaster.
"The front door was previously pink but last Christmas I painted it in striking Resene Salsa."
"The only area I couldn't do was the living room's high sarked ceiling – I couldn't face working with that height, so I paid the professionals to do it."
Not one to be idle, once she'd finished painting the interior and exterior of her home, Katherine turned her considerable talents to refurbishing and painting furniture. That includes breathing life into a vintage sideboard with Karen Walker Chalk Colour paint in Resene Element.
Now that's she able to sit back and enjoy her labour of love, what's Katherine's favourite room in the house?
"Definitely the living area with its wall of doors, windows and conservatory nook leading to the deck. It has a high sarked ceiling and gets plenty of northern light and sun."
But the kitchen comes a close second.
"The bench and cupboards were previously pink, there was no splashback or space for the microwave. I added more upper cabinets, tiles, extra benchtop space, a pantry and rangehood, as well as hanging lights and blinds. Painting the walls in Resene Double Truffle also goes so well with the tiles, grout and benchtop."
First impressions matter and thanks to Katherine's front door, the impression visitors get is of a stylish, creative space. Katherine chose Resene Salsa to help create that all-important first impression. The trims are Resene Tea and the cedar cladding is stained in Resene Woodsman Pitch Black.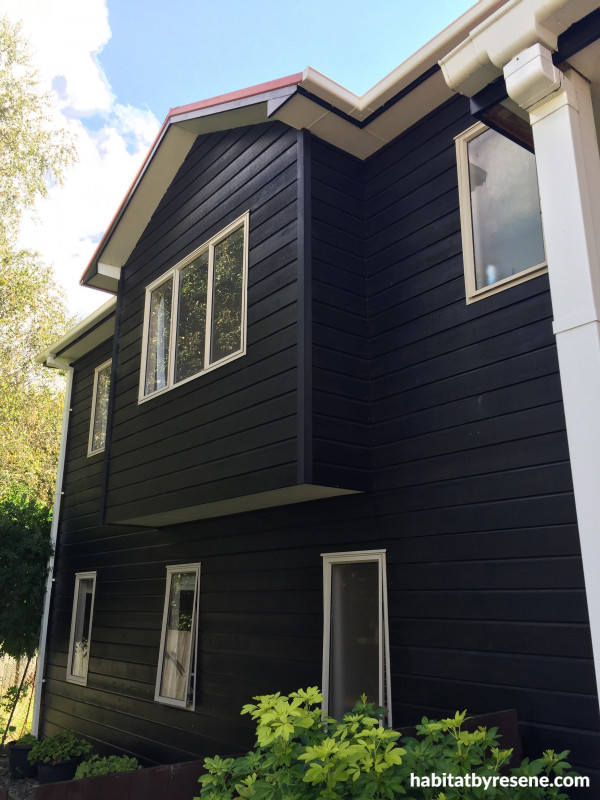 It was a labour of love giving her cedar-clad home this sleek black facelift. Resene Woodsman Pitch Black gave Katherine the effect she was hoping for, while the trims are Resene Tea.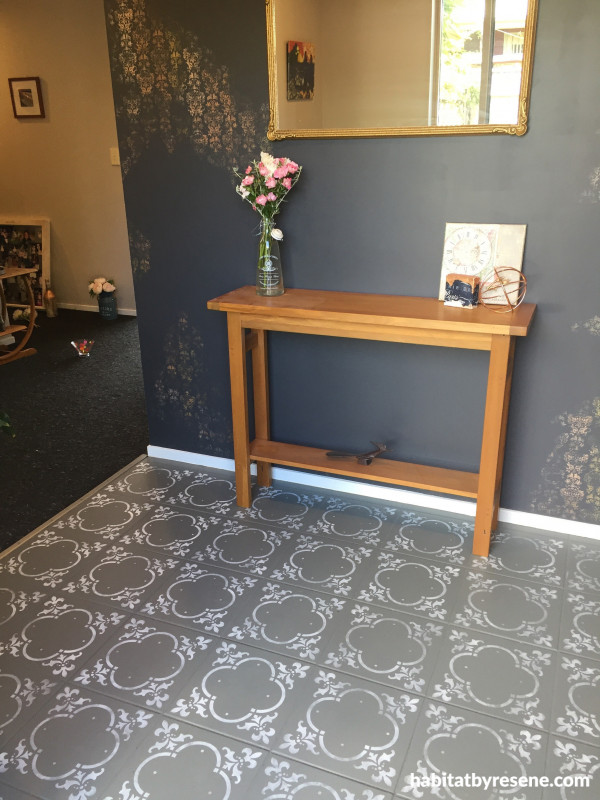 A striking feature wall in Resene Baltic Sea with stencil details in Resene Shabby Chic and Resene Gold Dust metallic greets visitors at Katherine's two-storey townhouse. Katherine rejuvenated the tired terracotta tiles by painting the floor in Resene Walk-on in Resene Condor and stenciling a pattern in Resene Quarter Rice Cake.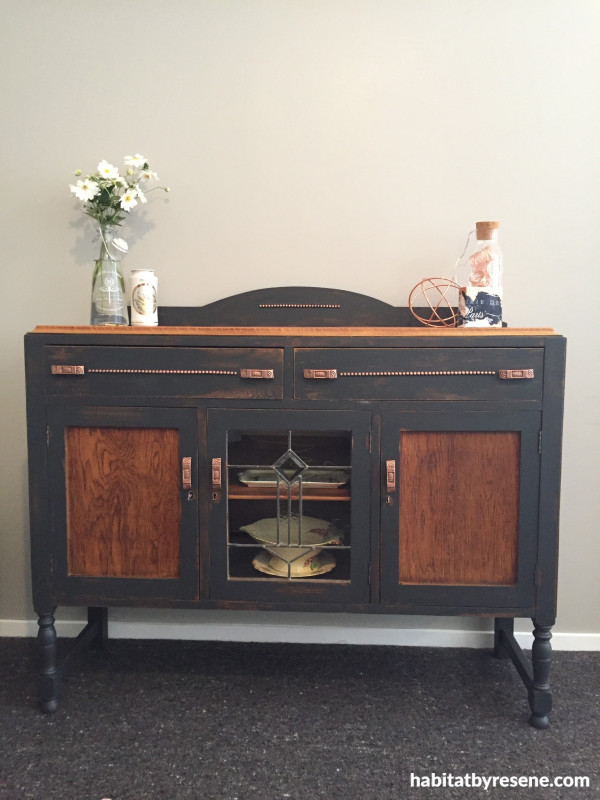 Katherine saved herself a lot of cash by breathing life into this vintage sideboard using good old fashioned elbow grease and Karen Walker Chalk Colour paint in Resene Element. The wall is painted in Resene Quarter Cougar and the trims are Resene Quarter Rice Cake.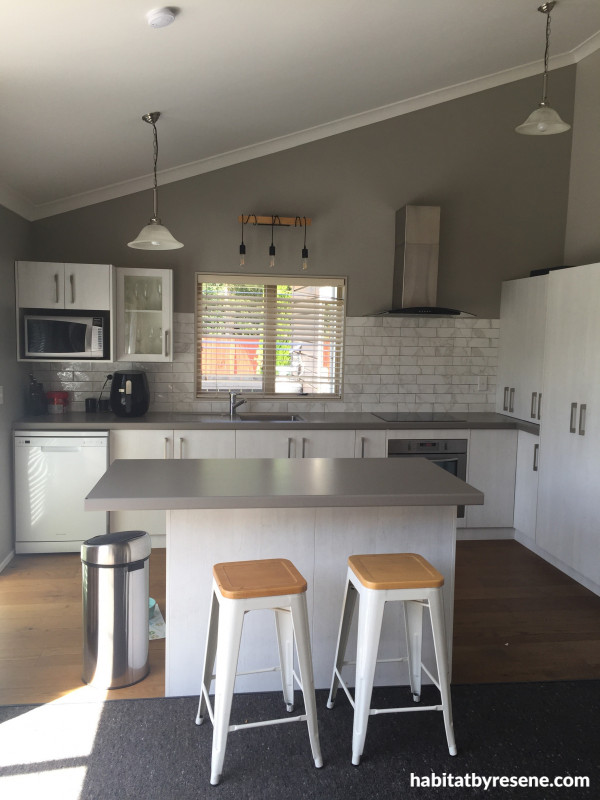 Pink be gone! One the home's biggest transformations was in the kitchen where former pink benchtops and cupboards and walls were previously various shades of pink. They've been replaced with this restful but practical palette with Resene Double Truffle on the walls.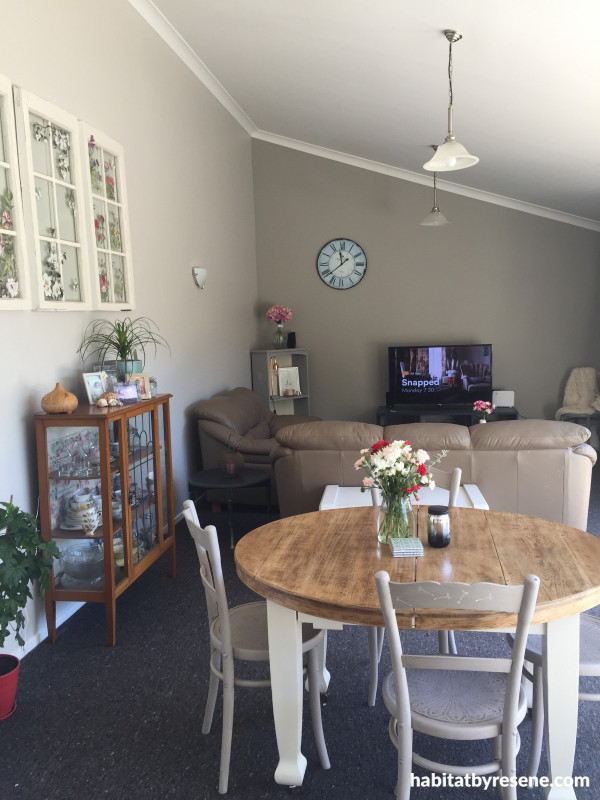 Resene Double Truffle in the living room gives the space a warm and sophisticated palette. The trims are Resene Quarter Rice Cake and the ceiling is Resene White.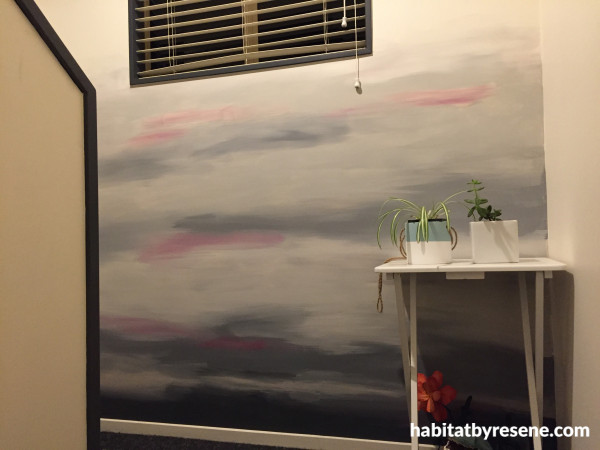 Katherine got creative in the stairwell painting a feature wall in Resene Cranberry, Resene Half Shark, Resene Tea and Resene Half Tea – as well as a few extra testpots she had on hand. The handrail on the stairs is Resene Half Shark and the wall is Resene Quarter Cougar.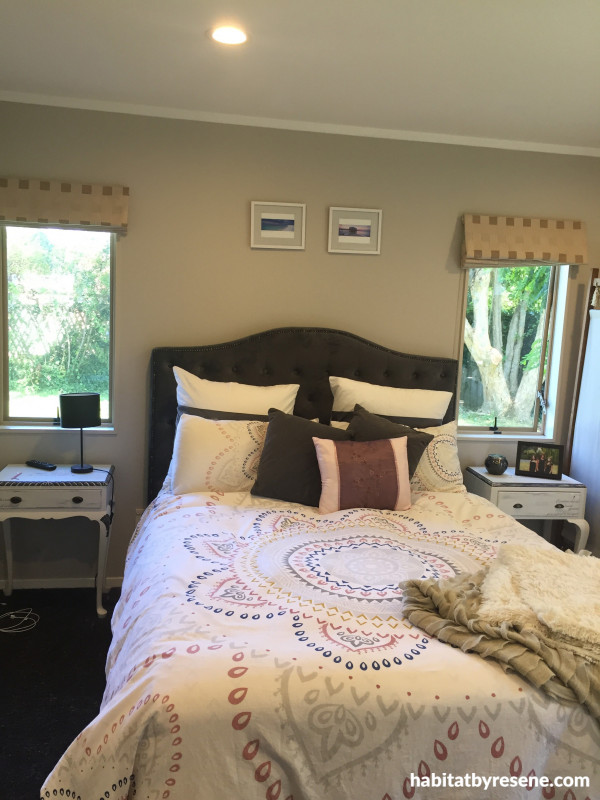 Resene Quarter Delta is a peaceful backdrop for this bedroom with Resene White on the ceiling and Resene Quarter Rice Cake on the trims.
Published: 22 Sep 2022
Do you have a home full of wonderful Resene paint and colour? Send us some snaps by emailing editor@habitatbyresene.co.nz.