►
◄
latest
habitat tv
blog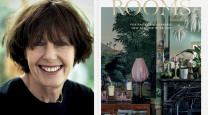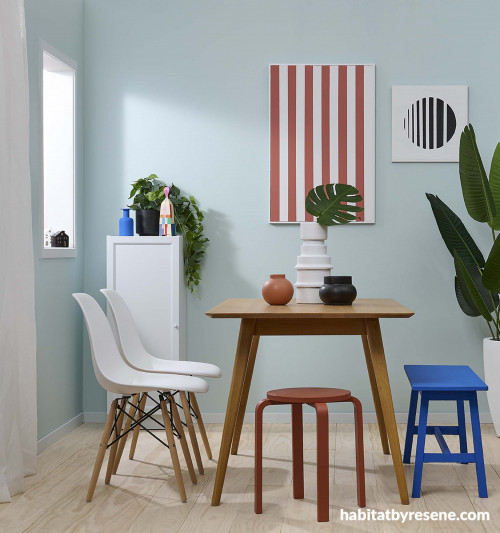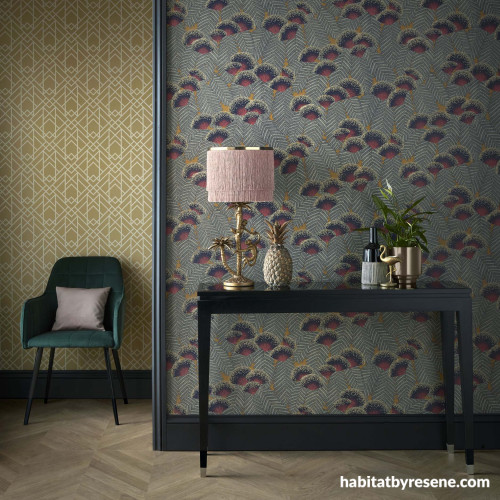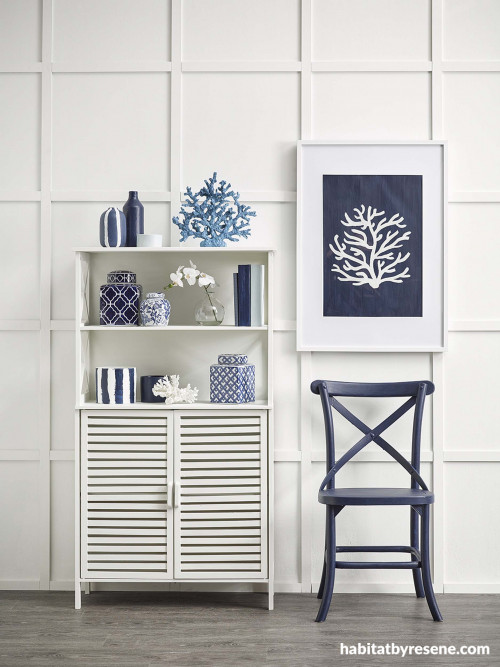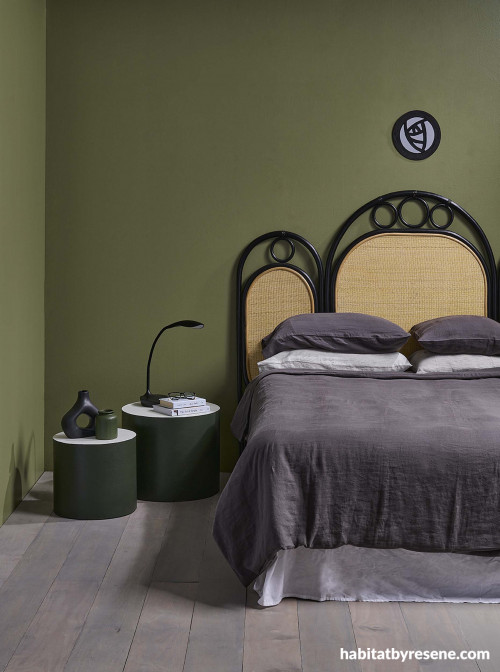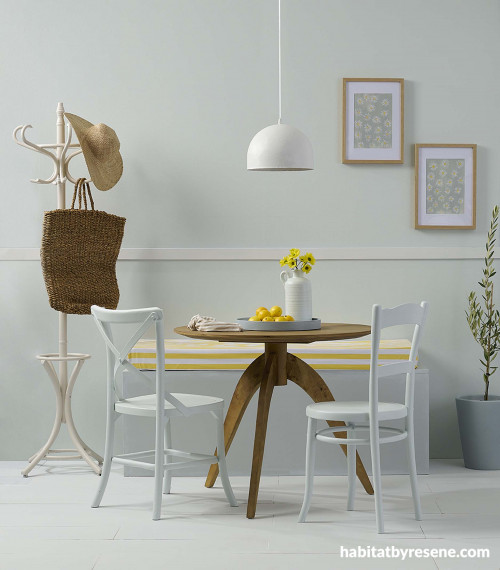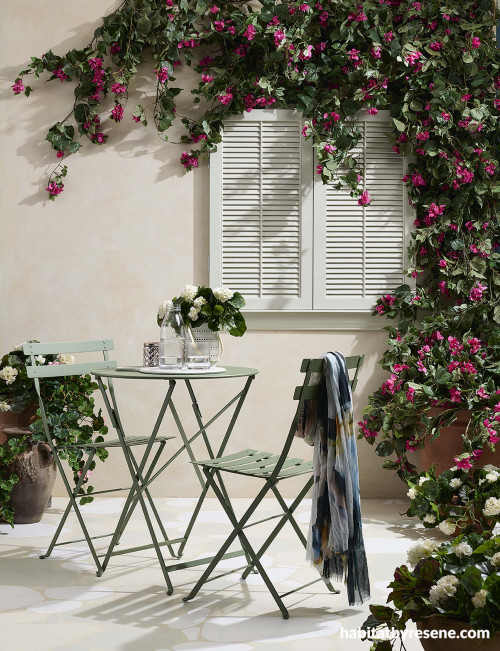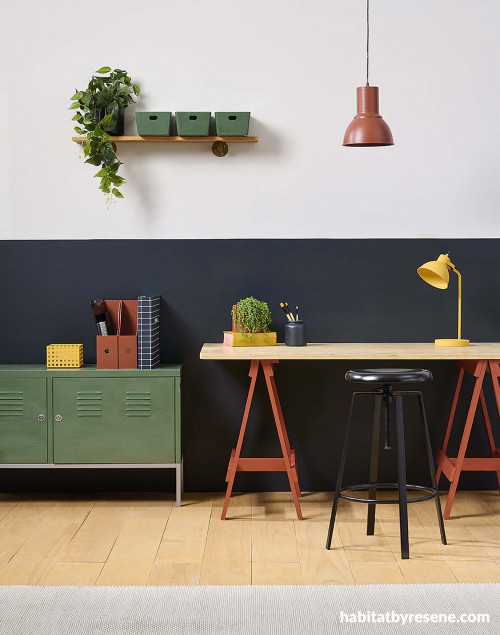 A splash in time: Eight stylish interior designs that have stood the test of time
Time flies when it comes to the latest trends in interior design. With daring décor and new colour palettes to be discovered around every corner, take a moment to embrace those timeless classics that have formed the basis of good design. An ageless look, whether it be breezy Hamptons, spicy Mediterranean or glamorous Art Deco, is easily achieved with Resene's perennial range of paints and wood stains and can give your home an extra lift.
The key to creating a timeless space is to not only adopt the colour palette and décor of your chosen style, but also to think about how you use the space in your day-to-day life. A functional space is a successful space, so be sure to inject some touches of your own personality into the mix, whether that be through existing furnishings or by getting creative with some DIY artwork.
Scandi and new Nordic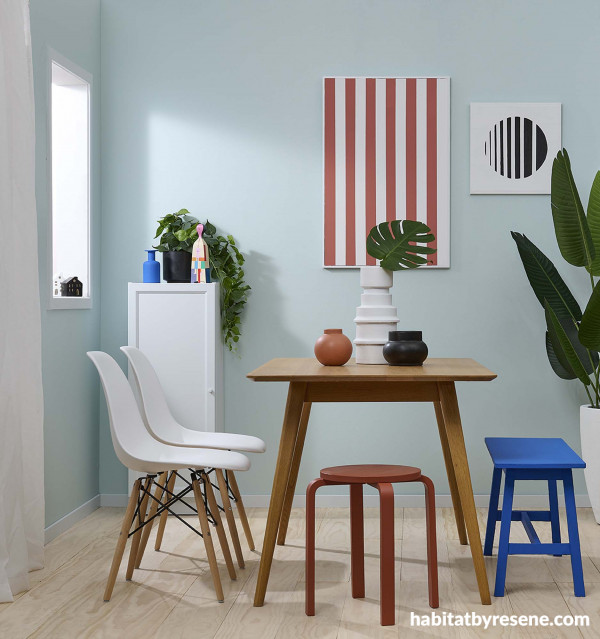 This vibrant Scandinavian dining room's colour palette is kick-started with bold Resene Jet Stream walls. The trim and cabinet are in Resene Quarter Duck Egg Blue. Flooring is finished in Resene Colorwood Whitewash and vases in Resene Half Black White, Resene Nero, Resene Half Resolution Blue and Resene Hot August. Stool in Resene Hot August and bench in Resene Half Resolution Blue. DIY artwork in Resene Tuscany and Resene Half Black White (stripes), and Resene Nero and Resene Half Black White (circle). Bench from Kmart. Dining table stylist's own. Project by Laura Lynn Johnston. Image by Bryce Carleton.
Key features of Scandi and new Nordic style:
Accents of primary red and royal blue
Minimal aesthetic and clean lines
Minimal window fixings and abundant natural light
Light nature-inspired colours, including white and pale blue
Blonded or whitewashed wooden furniture and flooring
Bold graphic artworks with clean lines
The Scandi and new Nordic style is minimalism made comforting. Developed in the colder climate of Northern Europe in countries such as Norway, Denmark and Sweden, neutral colours are this style's foundation, with an emphasis on grey, beige, white and lighter shades of popular colours. For a modern Scandi look, try pale warm greens or blues, such as Resene Jet Stream. Pair your walls with whitewashed timber flooring in Resene Colorwood Whitewash to bring in elements of nature that still lighten the space. A simplified colour palette is the perfect way to define a minimalist space but be sure to add cosy elements such as sheepskins, knitwear and bright artwork. The right colours can create a wonderful feeling of warmth, so try using bright Resene Tuscany or bold Resene Hot August to create striking patterned artwork for you space. For the finishing touches on the room, incorporate natural elements such as houseplants, introduce further warmth through an abundance of lighting or paint décor such as cabinets in crisp Resene Half Black White. A white cabinet will open up the space – making it feel brighter during the winter months – and will provide you with important storage space, making it easier than ever to achieve that minimalist look.
Art Deco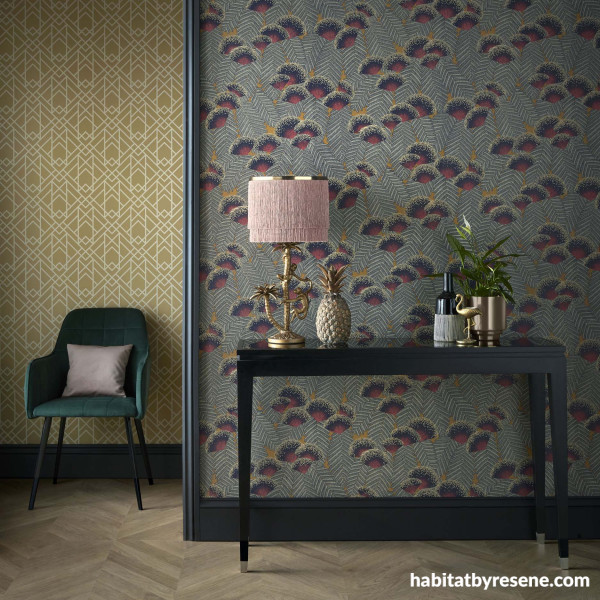 An elegant Art Deco sitting room can be easily achieved with Resene Wallpaper Collection 1907-140-07 (left) and Resene Wallpaper Collection 1907-138-03 (right).
Key features of Art Deco style:
Bold hues and dark furnishings
Striking geometric patterns
Simplistic but elegant forms in décor
Symmetrical patterns and vertical lines offset by curves and arched detailing
Accents of metallics, including silver and gold
Opulent materials such as stainless steel, dark timber and chrome
Turn back time with an elegant Art Deco-inspired space. Art Deco, a popular design movement during the 1920s, is making a resurgence in our homes with a modern spin on the classic glamour, elegance and functionality of yesteryear. Make a statement with a bold patterned feature wall and embrace rich golden hues with Resene Wallpaper Collection 1907-140-07, a wallpaper that will take your bedroom or living room to a whole new level. The 1920s saw an increase in geometric shapes, tessellating patterns and bold geometry soon became a cornerstone of Art Deco interior design, symbolising movement and future thinking. Complement your luxe feature wall with surrounding walls in dark Resene Nero for contrast and introduce opulent materials and décor with chrome or gold accents to accentuate that glamourous feeling.
Curves and arches are also recognisable elements of the era. Juxtaposed against vertical and horizontal lines, the curves of Art Deco became a symbol of taming the natural world to create elegant, formal interior spaces. Resene Wallpaper Collection 1907-138-03 reinvents the relationship between curve and line, creating a stylised fan and feather pattern with deep jewel tones that is perfect for an elegant sitting room or guest bedroom. Pair this design with deep blue, purple or mustard décor and you're ready to entertain.
One simple hack to create an opulent interior is to layer your wallpapers on side-by-side walls. When displayed separately, gold Resene Wallpaper Collection 1907-140-07 and colourful Resene Wallpaper Collection 1907-138-03 can be striking features of any room, but together the bold-on-bold nature of the styling will create an even greater sense of richness. The trick to successfully having multiple wallpapers in the same space is to tie them together with similar accent colours – these two both have accents of gold, so the eye recognises the similarity and connects them. Ground the elaborate look by painting the trim in a dark colour that works with all your chosen wallpapers, such as Resene Indian Ink. Having one solid colour going through the whole room will give it a sense of unity.
Hamptons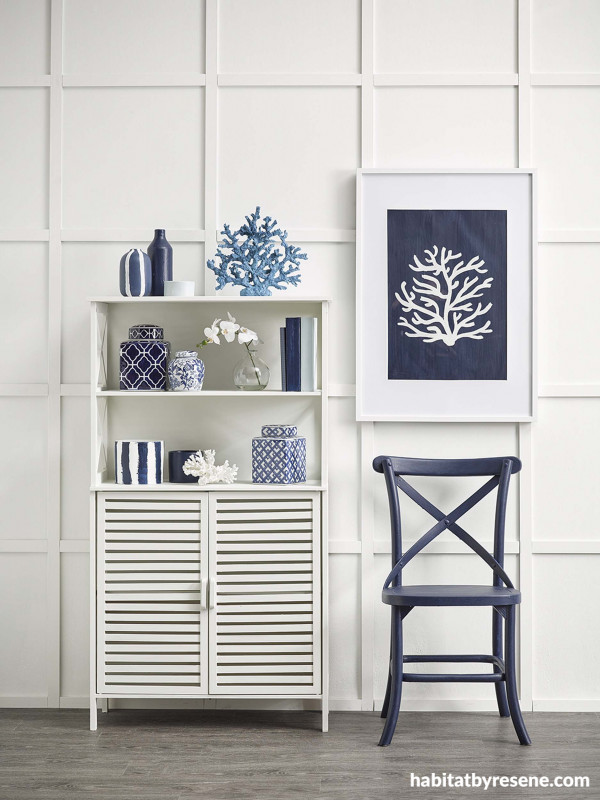 This Hamptons-style living room features walls in Resene Black White. The cabinet is in Resene Merino and the chair and plant pot are in Resene Blue Night. The striped pot plant is in Resene Black White and Resene Blue Night, the medium-size vase with white stripes is in Resene Biscay with stripes in Resene Black White, and the tealight holder is in Resene Halcyon. The books are in Resene Blue Night and Resene Halcyon, and the small coral is in Resene Black White. The DIY coral artwork is in Resene Blue Night and Resene Merino. Ground the look by staining flooring in Resene Colorwood Dark Ebony The cabinet is from Mocka, orchid in glass vase from Kmart and blue coral from Bed, Bath & Beyond. Project by Vanessa Nouwens. Image by Wendy Fenwick.
Key features of the Hamptons style:
Striped furnishings
Navy and denim blue accents
Shaker-style kitchens
White, bright and whitewashed walls
Battens or tongue-and-groove panelling
Cape Cod outdoor chairs
Timber flooring
Coral and shell artwork
They say a change is as good as a holiday, so why not make every day a beach getaway with an ever-classic Hamptons home? Originating in affluent beach houses on the East Coast of Long Island in America, the Hamptons style embraces an elegant and breezy way of living. Develop the sophisticated yet beachy vibe in your own home with wicker furniture, bright colours such as Resene Black White and whitewashed timber. A Hamptons room is not a beach-themed room, but rather takes the essence of the sand, rolling waves and beating sun and condenses it into an interior style that is both effortless and calming. Paint your walls in soft blues and sea foam greens, such as Resene Halcyon, as well as natural stone-grey elements. Of course, a Hamptons room wouldn't be complete without the signature navy blue and white striped décor. While it's tempting to go overboard and paint stripes straight onto the wall, try a more subtle Hamptons look by creating a bright battened wall in Resene Black White, then pair it with décor in Resene Blue Night or a blue striped throw and pillows. This will future proof the space and give you the opportunity to redecorate your room on a whim.
Art Nouveau


This sleek bedroom's walls are in Resene Finch and floor in Resene Colorwood Mid Greywash. Drum tables in Resene Black Forest (sides) and Resene Green White (tops). Charles Rennie Mackintosh Rose mirror and donut vase in Resene Nero. Small jar in Resene Olive Green. Headboard from The Cane Collective, duvet and pillowcases from Citta, lamp from Lighting Direct. Project by Laura Lynn Johnston. Image by Bryce Carleton.
Key features of the Art Nouveau style:
Muted, sombre colours such as olive green, mustard, lilac and mauve
Motifs from the era incorporated in décor, such as the Mackintosh Rose
Stylised artwork, wallpaper and stained glass
Contrasting materials; pale wood and wrought iron
Nature-inspired illustrative designs such as vine tendrils, flowers and insect wings
Combine classic comfort and culture with an Art Nouveau bedroom update. Art Nouveau design was popularised in Western Europe and America between 1890 and 1910. Taking inspiration from the likes of architect Charles Rennie Mackintosh and jeweller René Lalique, the movement was characterised by intricate linear designs and flowing, natural curves. Vines and weaving flowers are a popular motif of this style and the style suits spaces where you wish to evoke calm and relaxation. Turn your bedroom into an Art Nouveau haven with a muted, sombre colour palette of brown, sage green, olive and mustard. Resene Finch provides a shadowy lichen grey green backdrop, but still retains enough warmth to give the room substantial body. Enhance the elegance of the room with extravagant prints or large florals from the Resene Wallpaper Collection. Stylisation was a huge part of the Art Nouveau aesthetic, so try incorporating colourful stained glass door panels and ornaments painted in Resene Silver Steel and Resene Pewter. Play with the weight of the objects in the room by juxtaposing heavy wrought iron elements with delicate wall mirrors or small vases.
Mid-century modernism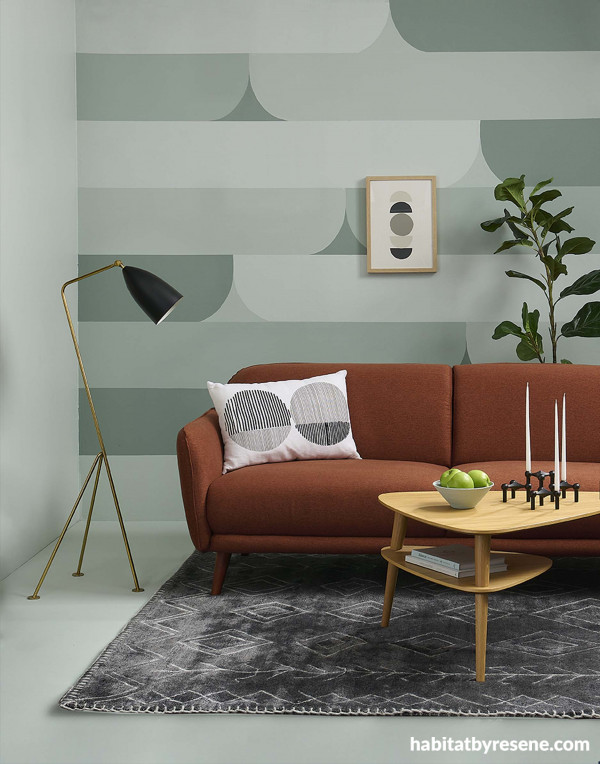 This mid-century modern lounge is brought to life with a creative wall in Resene Robin Egg Blue, Resene Half Robin Egg Blue, Resene Quarter Robin Egg Blue and Resene Smoky Green. The left wall is in Resene Quarter Robin Egg Blue and the floor is painted in Resene Half Robin Egg Blue. DIY artwork in Resene Milk White, Resene Taupe Grey, Resene Fuscous Grey and Resene Half Black White. Sofa, coffee table and floor lamp from Nood, cushions and rug from Freedom, candleholders and tapers from Good Form. Project by Laura Lynn Johnston. Image by Bryce Carleton.
Key features of mid-century modernist style:
Mixed materials including wood, vinyl, plastic and glass
Bold geometric prints and wallpapers
Clean lines, including peg-leg furniture
Bold colour accents, including black and white, orange and dark blue
Furniture as art
Nature-inspired colours, such as sage green
Put functionality at the fore with mid-century modernist home updates. Influenced by earlier Bauhaus styles and new materials such as plastic, mid-century modernism dominated the design world from the close of World War II until the late 1960s. A unique blend of minimalism and retro, mid-century modernism is easy to achieve in any home. A sure-fire way to create a mid-century modern space is to use uncluttered, sleek lines that combine both organic and geometric forms in a single, subtle design. The style incorporates a vast range of colours, from bold hues such as Resene Hot August, to dusty blues such as Resene Robin Egg Blue. Pair walls in Resene Robin Egg Blue with simple lines in crisp Resene Black White, rust-toned metals and an abundance of stylised wooden furniture. For an authentic mid-century modern look, introduce vinyl or plexiglass into your design in small amounts to retain a minimalist aesthetic.
Classic country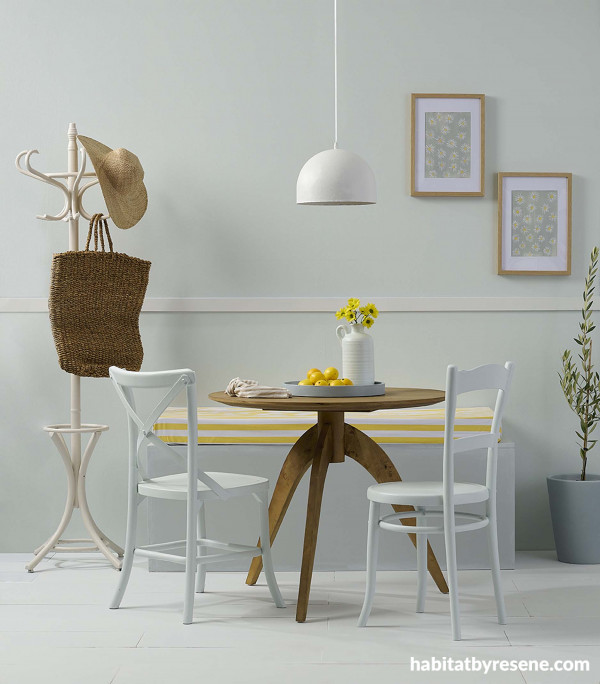 This classic country dining room's wall, chairs and vase are in Resene Quarter Periglacial Blue with dado rail, pendant lamp and floor in Resene Wan White. The coat rack is in Resene Sandspit Brown and the bench seat is in Resene Periglacial Blue with Resene Quarter Periglacial Blue 'whitewashed' edges. The large plant pot and round tray are in Resene Powder Blue. DIY daisy paintings in Resene Periglacial Blue, Resene Quarter Black White and Resene Energy Yellow. Dining table from Leopold Hall, hat from Kmart and olive tree from Mitre 10. Project by Melle van Sambeek. Image by Bryce Carleton.
Key features of classic country style:
Light wall colours, such as bright whites or pale blues
Natural or whitewashed wooden floors
Exposed ceiling beams
Simple design with natural and practical materials
Mismatched décor and aged furniture
Patterns, including stripes florals, brickwork and wood panelling
Create a state of nature in your home by bringing the outside in with classic country design. The classic country style has been around since the 1990s, when designers mimicked the look and feel of early American farmhouses and added a touch of shabby chic. Creating a home with classic country style is all about cultivating a rustic space that exudes warmth and cosiness. An easy way to kick start your design is with a subtle colour palette overflowing with warm neutrals – think creamy whites, pale blues and butter yellows. Pair walls in Resene Quarter Periglacial Blue with hardwood flooring in Resene Wan White and exposed beams stained in Resene Colorwood Natural. The farmhouse style is simple at heart and champions imperfection, celebrating aged décor and mismatched furniture. To create faux vintage furniture, try Karen Walker Vintage Wax from Resene ColorShops, it's easy to use on bare or stained timber and will give your project an instant aged look. Finish the look with accessories that have a natural connection – think potted plants and wildflowers – or colour pops including bright ceramics, copper elements and thatch baskets.
Mediterranean


This Mediterranean courtyard look was achieved with the illusion of limestone walls using Resene FX Paint Effects medium with layers of Resene Half Canterbury Clay, Resene Eighth Canterbury Clay and Resene Double Spanish White. The shutters and windowsill are Resene Kangaroo and the faux cobbled patio is painted in Resene Half Canterbury Clay, Resene Eighth Canterbury Clay, Resene Double Spanish White, Resene Blanc and Resene Half Spanish White. Large amphora in Resene FX Faux Rust Effect. Table and chair from Jardin. Project by Annick Larkin. Image by Bryce Carleton.
Key features of the Mediterranean style:
Window shutters
Wrought iron pieces
Terracotta pots and amphora planted with white or red geraniums
Cobbled or terrazzo courtyards
Limestone or stucco walls
Deep overhanging eaves
Welcome the heat of the Mediterranean sun into your home with this timeless style. Early Mediterranean homes blend traditional Spanish and Italian architecture with touches from France, Greece and Morocco. The homes were traditionally designed with adobe – a mixture of straw and clay – and finished with textured stucco and red roof tiles. Your colour palette will play a major role in the type of Mediterranean style you're trying to achieve. For a subtle, summery aesthetic select a neutral backdrop – similar to a classic country home – of pale yellows, muted blues and creamy whites such as Resene Merino or beige Resene Eighth Canterbury Clay. Combine these breezy colours with timber elements and enrich the space with patterned textiles and tile work.
For a richer, bolder look, try a from-the-earth colour scheme. Inject a splash of terracotta Resene Santa Fe or earthy Resene Burnt Umber into the space or take inspiration from the sea and sky with Resene Sea Mist or Resene Escape. The Mediterranean style often offers an easy-living indoor/outdoor flow, so make sure your chosen colour palette extends beyond your living areas to create a seamless transition between your indoor and outdoor spaces.
Industrial style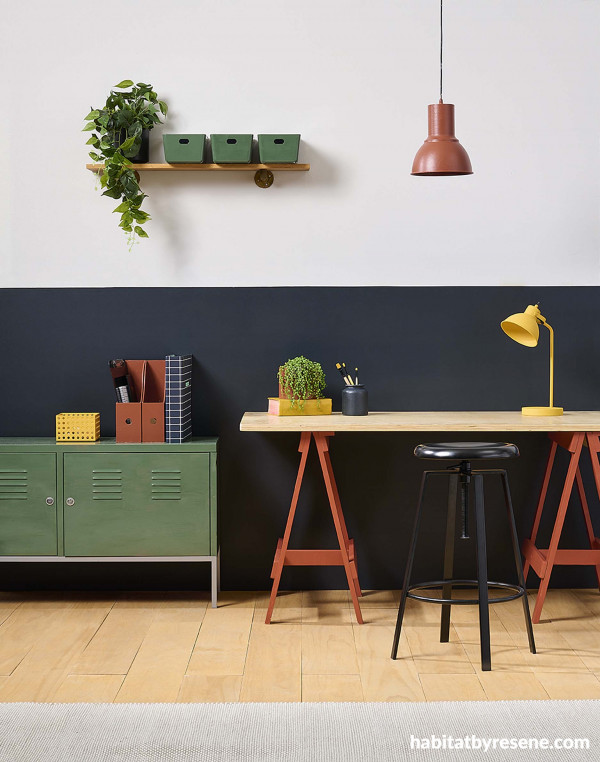 This bright and cheerful industrial office has an upper wall in Resene Quarter Ash with lower shelf wall in Resene Cinder and timber floor stained in Resene Colorwood Natural. Locker and storage bins in Resene Half Forest Green and trestle desk legs, magazine holders and pendant light in Resene Mocha. Desk lamp, perforated bin and book in Resene Fuel Yellow, plant pot in Resene Nero and jar in Resene Cinder. Timber shelf stained in Resene Colorwood Natural with metal pipe brackets in Resene FX Faux Rust Effect.Desk from Mocka, stool from Nood and rug from Citta. Project by Laura Lynn Johnston. Image by Bryce Carleton.
Key features of Industrial style:
Exposed brick, pipework and beams
Aged or patinaed pieces
Concrete floors
Oversized pendant lights
Metal furniture
Accents in machinery colours, such as red and green
Black features
Industrial style found its footing at the end of the second industrial revolution, when vacant industrial buildings became resources for residential areas, leading to bold new architectural designs that brought the raw elements of these industrial spaces to the fore. Draw inspiration from warehouses and urban lofts by curating your own 'unfinished' space. Begin with a neutral palette of grey Resene Quarter Ash with accents of bright white. Introduce moody natural colours such as Resene Half Forest Green or deep Resene Cinder through furniture to create a naturally wild atmosphere in the space. Complement these colours with lots of textures, avoiding luxury materials in favour of exposed brick, timber, stone and steel. When it comes to accessorising, go big with bold abstract wall art and colourful metal features.
Whether you're after a carefully curated Art Nouveau space or are ready to create a quirky country classic, Resene's diverse collection of paints, stains, colours and wallpaper has everything to help you craft your timeless interior.
Published: 23 Dec 2021
Do you have a home full of wonderful Resene paint and colour? Send us some snaps by emailing editor@habitatbyresene.co.nz.