►
◄
latest
habitat tv
blog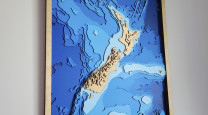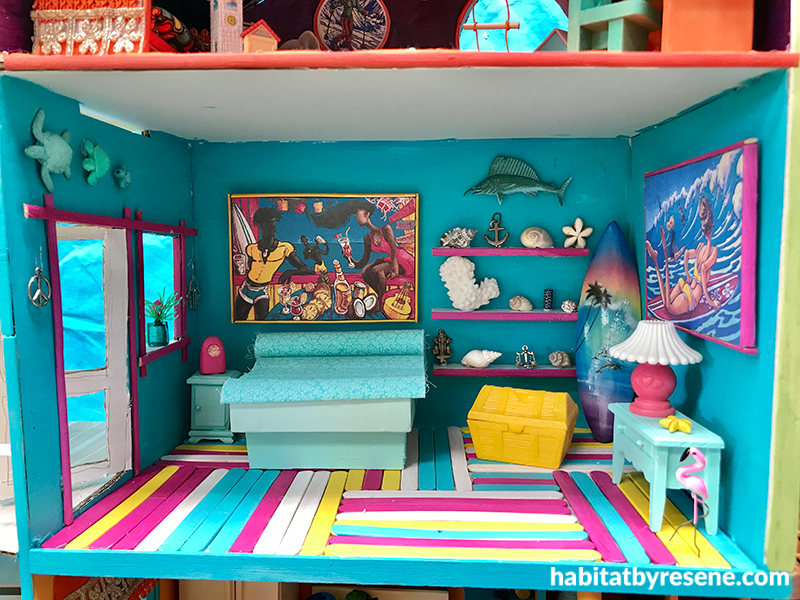 Sirpa Alalaakkola's winning tropical teeny house is inspired by the Caribbean
27 Jul 2022
The winning adult's Teeny House entry came from Sirpa Alalaakkola of Picton, whose detail-packed teeny house features a rock-climbing wall. habitat by Resene caught up with Sirpa after her win to talk about her impressive winning design: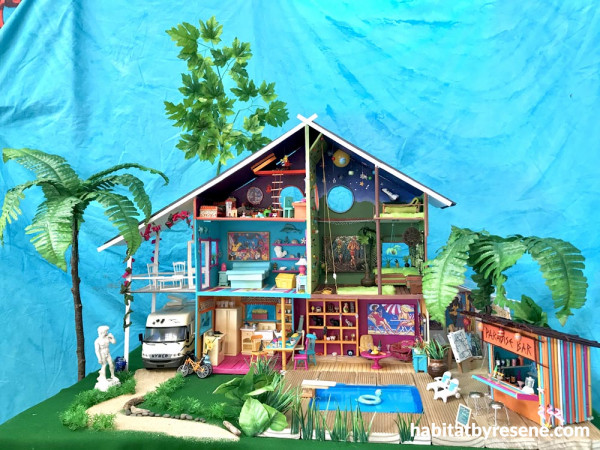 habitat by Resene: What made you want to enter the competition?
Sirpa: The idea to enter into this Teeny House competition came way back from my childhood. I've been an avid miniature enthusiast ever since we made a little dollhouse on a cardboard tray at school when I was seven. At home I continued making it into a grand multi-storey house, as some of my classmates gave theirs to me. Everything was handmade as we did not have anything shop bought those days
habitat by Resene: Where did your inspiration come from for your design?
Sirpa: Inspiration for this tropical beach house came partly from my own house, and my dream house in the tropics. I dream of living in year round tropical climate somewhere in the Bahamas or Caribbean. My daughter and I brainstormed a lot of ideas when the competition was announced, and I knew I had to follow through with it.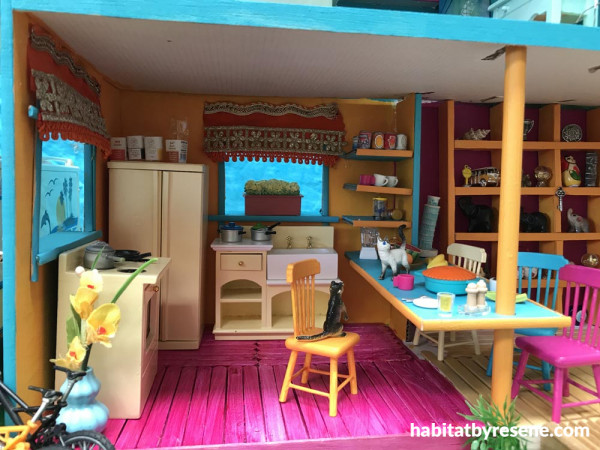 habitat by Resene: Does your own home feature Resene colours?
Sirpa: In my own house I have used Resene colours throughout, some call it the "rainbow house" as it features a lot of colour. I have used Resene paints ever since I arrived in New Zealand almost 30 years ago. Resene colour systems make so much sense and it seems any colour is available. It is so inspiring and logical how colours are arranged in the charts.
habitat by Resene: How long did this teeny house take you to decorate?
Sirpa: It took me a good two months on and off to actually complete this teeny house and I could have gone on and on adding to it… It's like an addiction, you can't stop – more ideas kept popping up.
habitat by Resene: Can you share what creative materials you used?
Sirpa: I think my most creative use of material is using beads and charms of various shapes and sizes for the climbing wall, for souvenirs like snow globes on the shelf, for planets and stars for the space room, for flowerpots or lanterns in the tiki bar. Also popsicle sticks, cut up bamboo placemats and old bamboo curtains were very good for timber flooring. A piece of old pool table made a great lawn and a lunchbox lid a cool pool. And then of course the statue of David, perfect scale souvenir to become a garden statue. I had kept some of my daughter's old dollhouse furniture for my diorama work, so I had some furniture from that.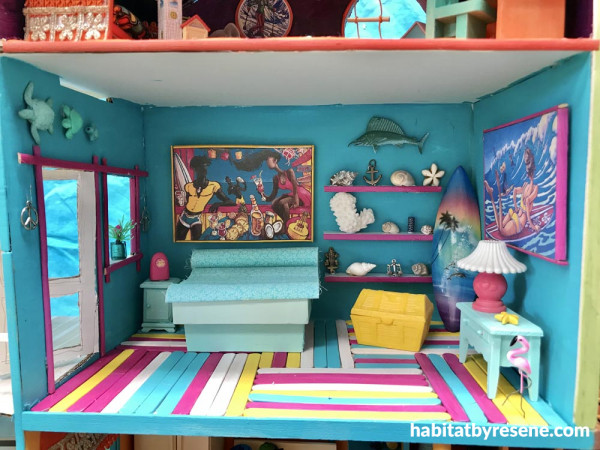 habitat by Resene: What was your favourite Resene colour you used?
Sirpa: My favourite colour has to be yellow Resene Buttercup and blue Resene Pelorous that I have used quite a lot. These combined with pink Resene Scrumptious and orange Resene Outrageous really make those tropical vibes come alive.
habitat by Resene: Which room is your favourite?
Sirpa: The rock climbing room must be my favourite, with the tall wall all the way up. Starting from the lush green bush at the bottom where you can lie on the green rug that feels like the forest floor, ending up in space where you have the loft net for hanging out and feeling weightless and checking out the different planets and stars.
The sun is actually a light I put fairy lights inside, as a real light. And then when you turn the lights off some of the planets and stars glow in the dark. How cool would this be in real life!
And who wouldn't love a round window where you can sit on the windowsill and imagine you are in a spaceship. Then through a round door directly into the kids' room. The idea for the climbing wall came from my daughter who actually built a real boulder wall in our house with same green stained look. It's the same with the tiki bar, we've had a little tiki bar in our house for some time now and that goes with the same dream of having a tropical beach house one day. We love making fancy looking cocktails and mocktails in there.
habitat by Resene: Do you use Resene paints in other projects?
Sirpa: All these Resene colours go well for displaying my art. I use vivid colours in my paintings and I love combining the wall colours with matching colours in my paintings. I create large art pieces which can be seen on the walls in this teeny house. I made them to the scale they are in real life. In every room where there's a painting it is matched with suitable wall colours and furniture colours. I'd love to do this in real life where art could be a part of the whole interior design, where art could create the whole space not just a separate piece.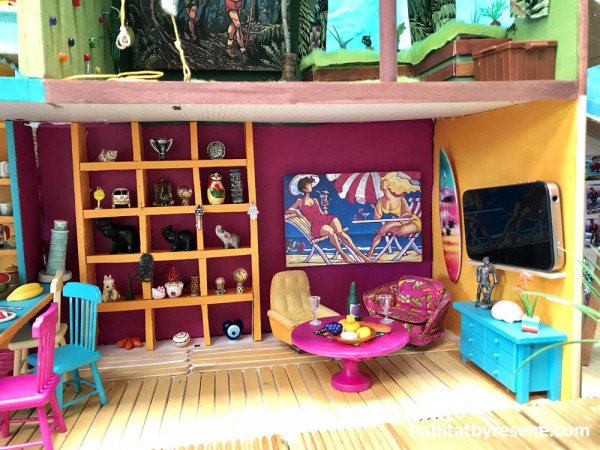 For example the 'surfer' room has two paintings that feature the same colours as the interior. Also the themes on the paintings make it feel totally tropical.
habitat by Resene: How did you get into painting?
Sirpa: I'm originally from Lapland. I ended up in NZ on my travels almost 30 years ago and fell in love with the natural beauty and laidback lifestyle and needed to stay and paint it all. I'm still at it. This Teeny House competition gave me a real opportunity to put to practise my dream of creating exciting spaces in a house. I would love to create these kind of spaces in real life, where the large artworks form part of the interior design, where rooms in themselves become the artwork. The availability of all kinds of colours in Resene selection lends itself perfectly for that.
Published: 27 Jul 2022