►
◄
latest
habitat tv
blog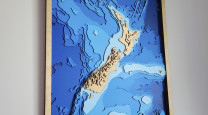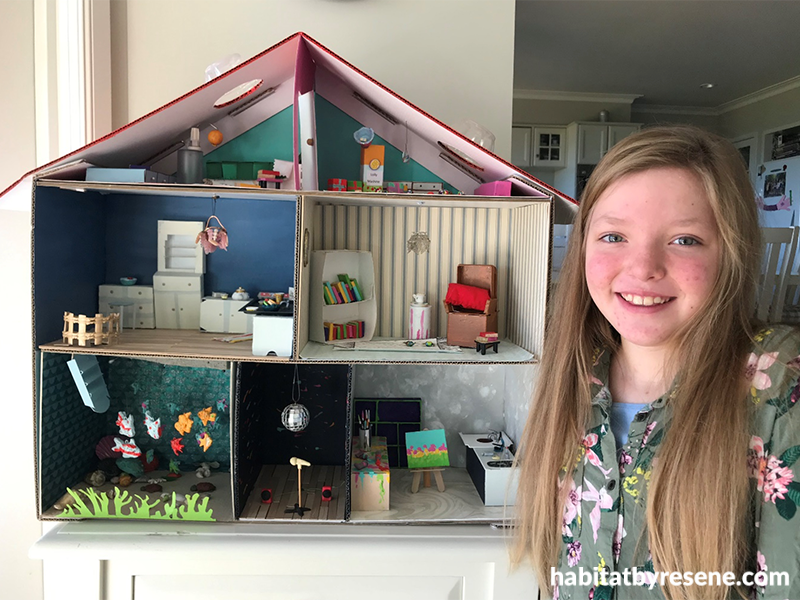 Zoe McBride's winning teeny house has a lolly machine and an underwater room
29 Jun 2022
Zoe McBride's Teeny House might have been small, but her crafty efforts in the habitat by Resene Teeny House Competition show her imagination is huge. As the winner of the Kids under 12 category, Zoe wowed the judges with her big ideas, attention to detail and creative use of Resene paints and wallpapers. Zoe's Teeny House features an underwater room, a disco studio, a lolly machine and a laboratory – all of Zoe's favourite things bundled up into her tiny dream home.
habitat by Resene caught up with Zoe after her win to talk about her winning design:
habitat by Resene: What was your favourite room to work on?
Zoe: That's super hard! My favourite was the underwater room because I could collect all the different shells and I'm also really passionate about our seas and oceans.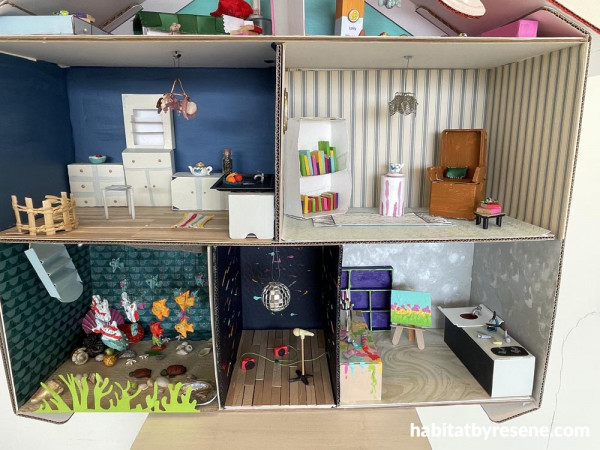 Zoe's underwater room is accessed through a trap door and ladder. The room is decorated with Resene Wallpaper Collection E378032. The disco room is in Resene Indian Ink with a splatter effect using Resene testpot colours on the wall. The art room and science laboratory (bottom left room) features Resene Wallpaper Collection FJ40805, to replicate marble flooring.
habitat by Resene: We love the detail you've poured into your Teeny House, how long did you spend on your teeny house?
Zoe: I don't know exactly but I worked on it off and on for weeks and was always keeping an eye out for things I could collect to make all the bits and pieces. My grandmother, Nanny collected things for me to use too; we kept the house at her place, and I would make things at home then take them and put them in.

Zoe upcycled many materials into her design including old cardboard boxes, broken jewellery and a plastic sundae container to make the skylight on the roof. She handpainted all the books in the library room as reading is one of her favourite activities.
habitat by Resene: What interesting materials did you use to work on your Teeny House?
Zoe: I used a lot of different things but one of the major things was Sculpey clay, that was really useful. And a lot of Resene colours! I also used a lot of recyclable little boxes which otherwise would have gone in the recycle bin, which I used to make tables, chairs, the bed and lots of other things. I used a green ribbon to weave the duvet cover then had to sew around the edges which was really hard! I used an upside-down McDonalds sundae top to make the skylight, and lots of old jewellery to make the lights.
habitat by Resene: What did you enjoy the most about working on your Teeny House?
Zoe: Seeing it come into existence, one room at a time slowly blooming like a flower.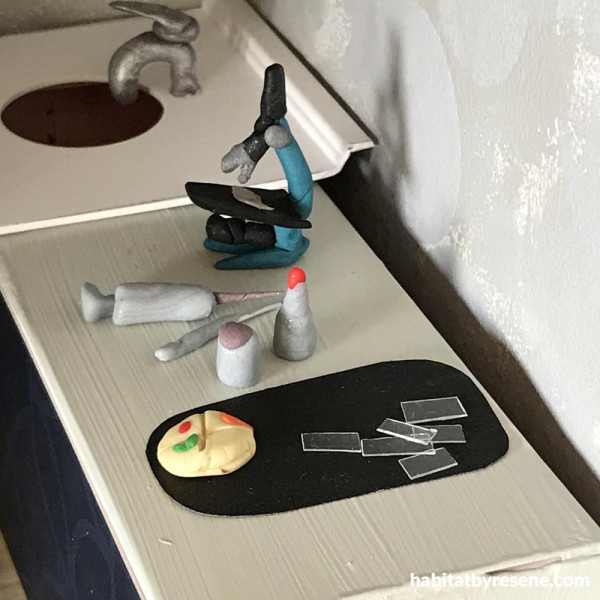 Zoe created her microscope and petri dish from polymer clay. The kitchen cabinets are painted in Resene Indian Ink and the benchtop is Resene Black White.
habitat by Resene: We love the little microscope and the petri dish - tell us a bit about that?
Zoe: I made that half art room and half science room because I really like science and I actually have my own microscope kit at home. The petri dish is growing some bacteria for study. At home I love looking at pollen from different flowers. Some are round spiky balls, some are triangular shapes and everything in between.
habitat by Resene: What made you decide to do the fish room?
Zoe: Whenever I try to think what I like, my brain immediately latches on to art, science, and underwater animals. So, I decided to dedicate an entire room to animals and the underwater environment. In my imagination it's entirely filled with water, and it has a conveniently placed door so you can just dive down and swim with the turtles and fish.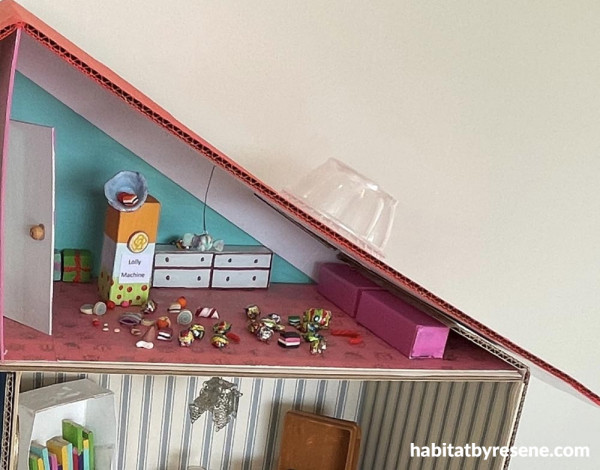 Zoe says the lolly room is strategically placed next to the bedroom for easy access to midnight feasts. The flooring is Resene Wallpaper Collection E375034 and back wall is Resene Freelance.
habitat by Resene: Lolly rooms and disco areas should be part of every home - don't you think?
Zoe: Definitely! I think there should be a real-life lolly dispenser to slow down my lolly-eating! I think there should be a motor and a conveyor belt that drops one lolly at a time but once it's let out five lollies it will stop and you can't use it for another half hour. For the disco room I was inspired by the fact that our family often has little discos where we turn on our disco light and the music and dance for a while.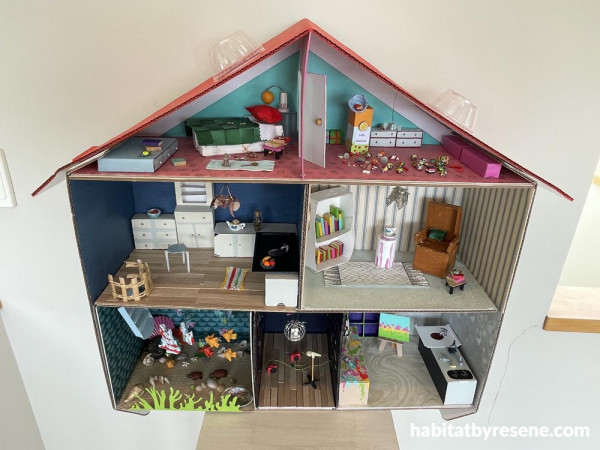 Zoe used 21 testpot colours in her Teeny House including Resene Freelance, Resene Havoc, Resene I Dare You, Resene Christalle, Resene Smitten, Resene Fomo, Resene Paris White, Resene Cinnamon, Resene Pearl, Resene Shimmer, Resene Rodeo Drive, Resene Sandal, Resene Half Black White, Resene Foggy Grey, Resene Half Grey Chateau, Resene Limerick, Resene Tasman, Resene Indian Ink, Resene Half Parchment, Resene Moby, Resene Hi Jinx and Resene Indian Ink mixed with Resene Half Black White for the kitchen walls on the second storey.
Published: 29 Jun 2022