►
◄
latest
habitat tv
blog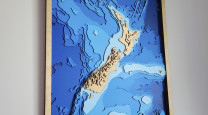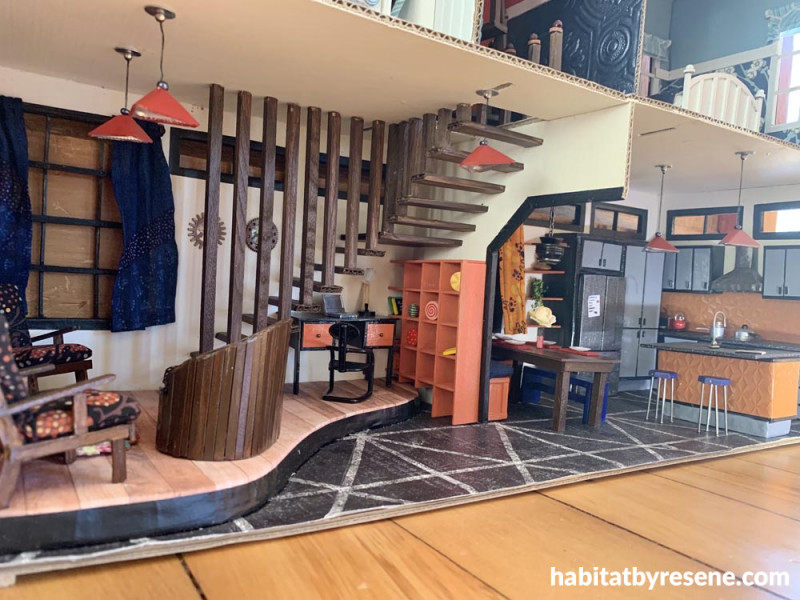 This impressive winning family teeny house features a stained wooden staircase
10 Aug 2022
It was a creative family effort that won Kate Cater and her teenage daughters Anna and Maddie a title in the habitat by Resene Teeny House Competition. As the winner of the Family Effort category, they wowed the judges with a mid-century inspired teeny home, complete with an open staircase stained in Resene Bark wood stain.
The Family Effort category was open for families working together on their project. Families of all shapes and sizes – some with three generations of creative family members – worked together on their teeny project. habitat by Resene caught up with Kate and her daughters after their win to talk about their winning design: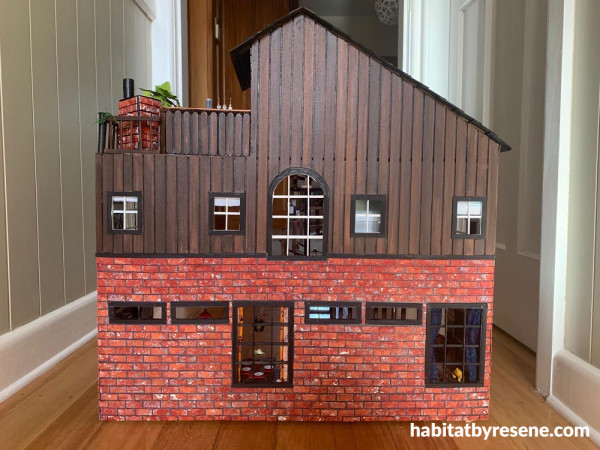 What was the inspiration for your teeny house?
Kate: Wanting to create a staircase! Ever since I was little I have been frustrated by two storied dollhouses with no staircase or other obvious way of getting from one floor to another. I really wanted to create something which would (kind of) work in real-life. So my inspiration was to design a house with a staircase which connected all the floors together in a fairly realistic way.
Anna: The part of the teeny house I contributed to was inspired by what I would like if I had a house and a couple of ideas I already had in my head
How did you divide up the tasks?
Kate: It was really Anna's and my project, though Maddie was recruited for her excellent crocheting skills. Her opinion regarding design/layout was also sought from time to time. Anna and I started by each coming up with a plan for what we thought the house should basically look like; what should be in each space etc. It was Anna's idea to raise the floor in the living area, and to have a rooftop bar for a section of the top floor; both of these ideas gave the house more pizzazz than it would have had otherwise.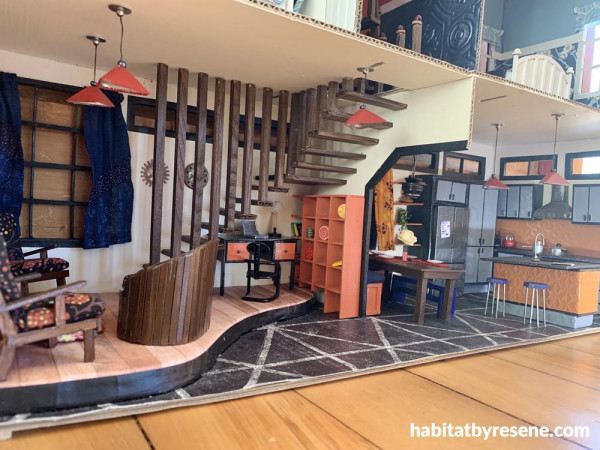 Once we decided what each space was for we purchased some Resene testpots (and looked through what I had already) and looked at wallpaper scraps to decide what colours and papers would work. I papered/painted most of the walls and cut the windows with the house flattened out; it was easier that way. Once the house was put together the really fun task of furnishing the spaces started. Anna did the top floor (child's bedroom and the rooftop bar) and I worked on the bottom two floors.
Anna: I really wanted to help with the teeny house, so we first came up with some design ideas. We decided that since my mum Kate initially found the idea and got the teeny house that she would do two floors and I would do just one.
How long did it take to create?
Kate: Far longer than I thought it would! Figuring out, for example, how to make a desk light with bits and pieces takes a lot of trial and error. It was fun, though. I probably spent several hours most evenings for about six weeks at least.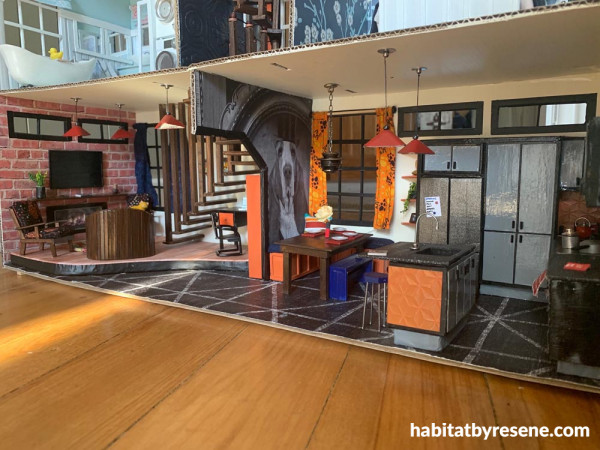 How have you made some of the pieces in the house? Have you used any interesting materials?
Kate: Where to start? We made almost everything that you can see. We used recycled cardboard (from things like teabags/toothpaste boxes), old beads, jewellery bits and buttons, washers, balsa wood, matchsticks, square sticks (the stair rails) and ice-cream sticks. The central post of the spiral staircase is several inner parts of plastic bag rolls we use for the dog held together with dowel bits left over from kitset furniture.
The stairs are just pieces of stiff corrugated cardboard used in packaging poked onto nails hammered into the house wall and firmed up with superglue. The pendant above the dining table is a stopper from the top of an olive-oil bottle painted in a metallic colour and hung on a random bit of old jewellery chain. The basin, bath and toilet are all Sculpey clay.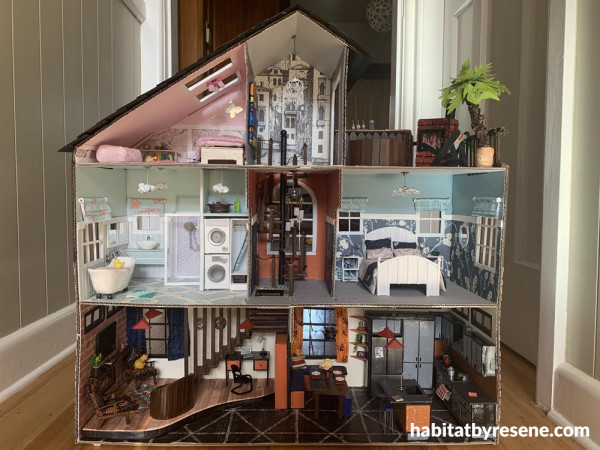 The plumbing is mostly recycled wire (from things like broken bulldog clips) with silver beads/buttons and washers attached. There was so much superglue involved in the construction that we ended up using superglue lids in multiple places - the desk light, the glass on the rooftop bar being two examples. The external bricks I am particularly proud of; they are made from painted egg cartons.
Anna: For the water of the spa we used resin made blue with food colouring, and the majority of the wood panelling on the bar is made from wood stained popsicle sticks. The bark of the palm tree is made of bits of cardboard.
What is your favourite Resene colour used in the Teeny House?
Kate: Probably Resene Vesuvius, the orange in the hall, on the desk and bookcase and a little in the kitchen. I have a thing about that slightly rusty orange colour; I really like it.
Anna's answer: The Resene Jet Stream colour in the bathroom.
There's a bit of a mid-century vibe to you creation, why did you pick that style?
Kate: I think that has to come back to the staircase again! I have a friend whose house has an open floating staircase with wooden battens going to the ceiling rather than a banister. Using this idea meant I could make a staircase which you could see fully from the outside and which didn't make the rest of the room feel too small. As a consequence of that design choice, the mid-century vibe followed.
Anna: That was mostly my mum I think she was partially basing it off our own house!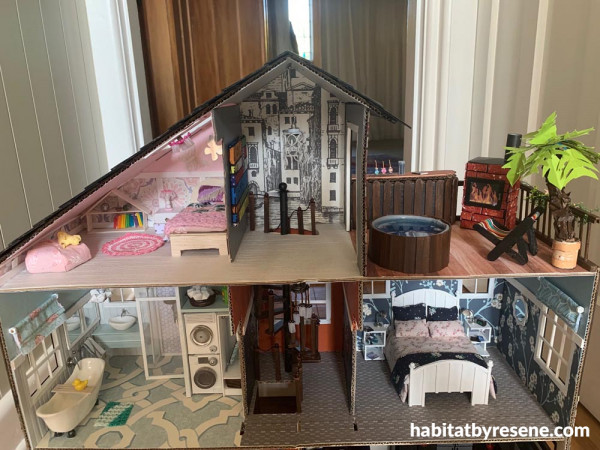 Do you have a favourite room in the house?
Kate: There are things I like in all of the rooms! Perhaps the rooftop bar - Anna's palm tree and bar are just so creative - down to the little bar taps made from earring stalks wrapped with wire. I don't know how she came up with that.
Anna: My favourite is definitely the deck and not just because I made it! Also because it gives the house a bit of luxury.
Anna, what would you like do when you leave school – do you have artistic futures ahead of you?
Anna: I would really love to do something using art. I'm always drawing and crafting.
Kate, what do you do when you're not creating a Teeny House?
Kate: Apart from keeping the house and family in check, I do lots of things involving creating, upcycling or DIY, especially things made with recycled wood. My next plan (idea seeded by this Teeny House experience) is to create a more solid dollhouse with tiny wooden furniture.
Is there anything about your teeny house creation that you'd like to add?
Kate: No house would be complete without a toilet! There is one; it's in the space behind the laundry.
Published: 10 Aug 2022