►
◄
latest
habitat tv
blog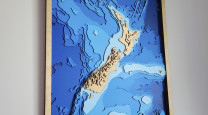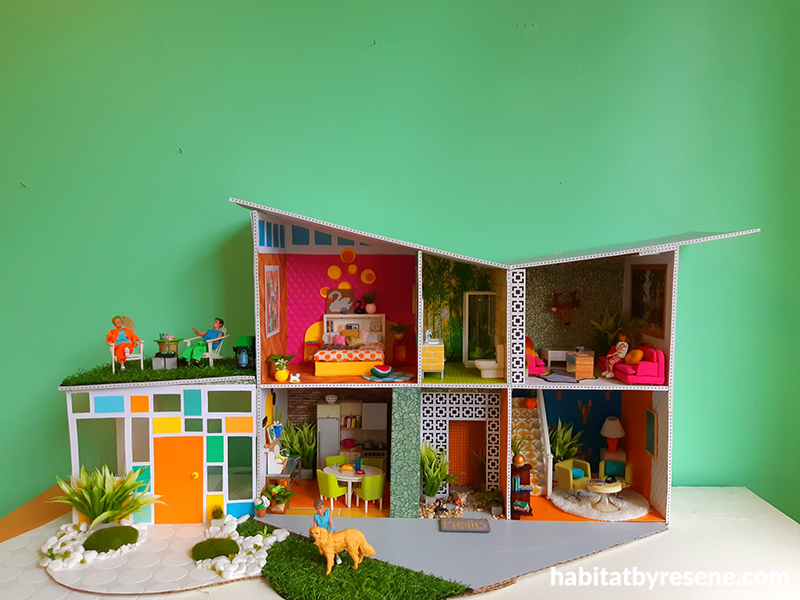 Small wonders: Teeny House competition winners revealed!
23 Jun 2022
The winners of the Habitat by Resene Teeny House Competition show that size doesn't matter when it comes to creativity and style. Decorators young and old entered the competition which saw them transform a cardboard dollhouse into teeny, tiny works of art using Resene colours and wallpapers. The cardboard teeny house became a blank canvas for a wonderful array of creative ideas with many designing their dream miniature homes.
"This competition encouraged people to bring their big creative ideas to life on a miniature scale," says habitat by Resene editor, Emma Rawson.
"The judges were blown away by the high standard of the entries and the painstaking details and hours of work that went into in some of the designs. We saw everything from miniature microscopes to mini tiki bars in the winning entries all brought to life with Resene colours and wallpapers."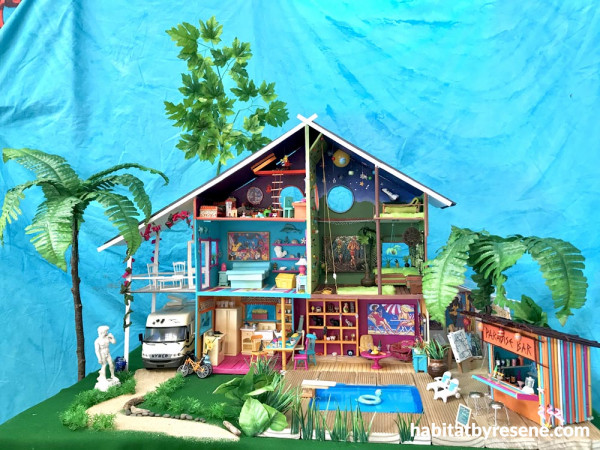 Sirpa Alalaakkola was the winner of the Adult's category.
The winning adult's entry came from Sirpa Alalaakkola of Picton whose teeny house featured a rock-climbing wall and a miniature statue of David.
Zoe McBride, who was 10 years old when she entered the competition, won the children's category for her design which featured a disco room and an aquarium wallpapered in Resene Wallpaper Collection E378032.
The best family effort entry came from Kate Cater and her teenage daughters Anna and Maddie who made a mid-century inspired teeny home with an open staircase stained in Resene Bark wood stain.
Miniaturist and editor of Miniature Time Traveller magazine, Jill Fraser was one of the judges and was impressed by the use of colour in the designs and the ingenuity shown in the teeny houses, many of which used upcycled household items for their dollhouses such as jelly pots for skylights and ice block sticks for wooden flooring.
"The adults and the kids showed an amazing amount of skill for first time miniaturists – and all the entrants showed their love of miniatures," says Jill.
"As it was a Resene competition it was nice to see people use creative colour combinations. Many colours in the designs would work in a real home while others were more imaginative and playful," says Jill.
Jill says there has been a growth in miniature enthusiasts – called 'miniacs' – around the world over the past two years as many people found themselves confined to their homes while isolating.
The Resene Teeny House Competition coincided with lockdown periods, and many parents commented in their entries that the teeny house had kept them and their kids busy during isolation.
"Lockdowns have catapulted people into doing craft at home – and a lot of people turned to miniatures in the past few years – making miniatures out of things you can get at home. We've certainly seen that too with the Resene Teeny House Competition," says Jill.
"There's also something therapeutic about making miniatures. Maybe it's the cuteness of creating things in small scale."
Take a closer look at the winning entries
Kids Under 12
The judges were impressed with all of the entries in the children's category and every child is receiving a prize.
Winner Teeny House Kids Under 12, Zoe McBride Auckland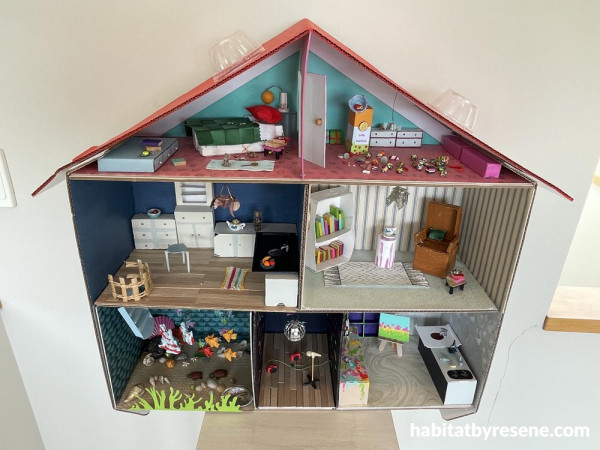 Zoe's winning teeny house showed excellent creativity with a lolly room, aquarium, discotheque and a laboratory, painted in 21 Resene testpots including Resene Smitten and Resene Indian Ink. "We loved that Zoe told a story using colour and let her imagination run wild," said the judges.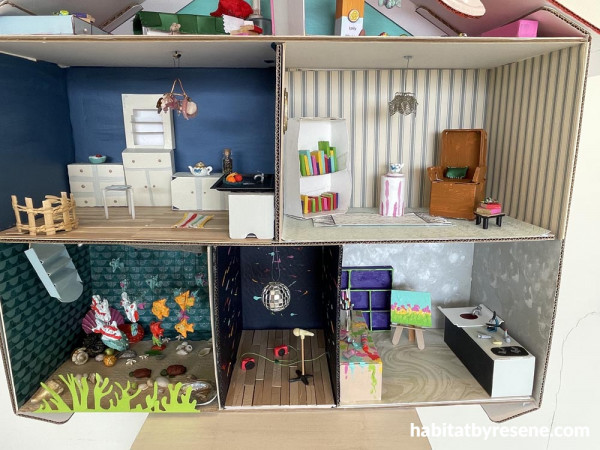 Zoe's winning home featured all of her favourite things including an underwater room decorated with Resene Wallpaper Collection E378032 and fish made by Zoe out of polymer clay and painted in Resene colours. The disco room is painted in Resene Indian Ink with assorted testpot paint splashes on the walls. In the laboratory/art space eagle eyed people will spot a tiny microscope and petri dish on the tabletop.
Highly Commended Kids Under 12: Paige Horn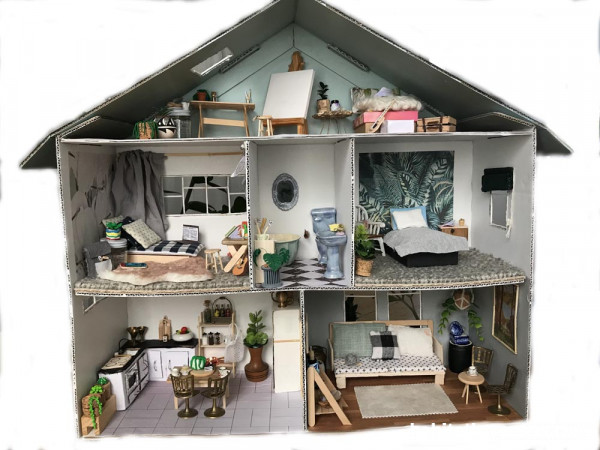 11 year-old Paige's tranquil green colour palette included Resene Triple Duck Egg Blue, Resene Unwind and Resene Wallpaper Collection 409536 caught the judges' eyes. "I'd love to live here, the colours and wallpaper choices are very calming," said one of the judges. Paige showed great craft skills with her sofa made of ice block sticks and shelving and furniture made from odds and ends including cotton reels, toothbrushes and wine bottle corks.
Highly Commended Kids Under 12: Maya Newton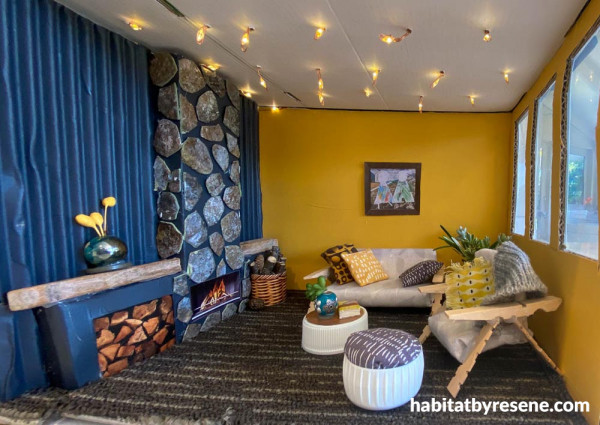 Maya's Teeny House was her staycation project and featured bold colours throughout including Resene Tulip Tree, "I love the happiness of Tulip Tree," she says. In the living room, she used pegs to create Danish style chairs, bottle caps for poufs and a feature wall made of corrugated cardboard painted in Resene Tarawera. "The peg chairs in particular were very innovative," said one of the judges. "The Resene Tulip Tree makes me smile," said another.
We will feature more children's entries over the next few weeks so keep an eye out for more inspiration.
Family Effort
The Family Effort category was open for families working together on their project. Families of all shapes and sizes – some with three generations of creative family members - worked together on their teeny project.
Winner Teeny House Family Effort: Anna, Kate and Maddie Carter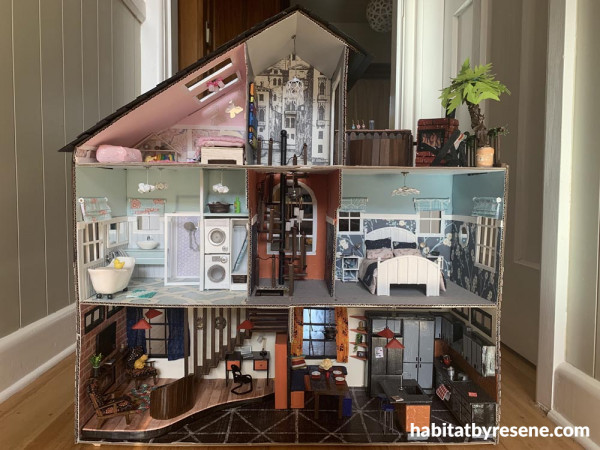 This teeny house was the work of Kate Carter and her teenage daughters Anna and Maddie. The trio reconfigured their home creating a staircase and rooftop spa area and created many pieces from balsa wood. "This one blew my mind!. Great use of materials and very interesting and engaging to look at. I felt like there were always new things to discover," said one of the judges.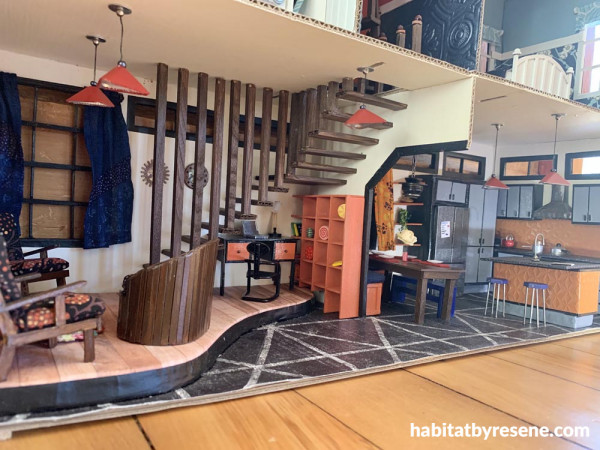 The Carter family used balsa wood stained in Resene Bark to create the staircase. The kitchen splashback features an old textured wallpaper offcut painted in Resene Vesuvius and kitchen cabinets painted in Resene Raven and Resene Charcoal.
Highly Commended Family Effort: Sarah and Rebecca Baxter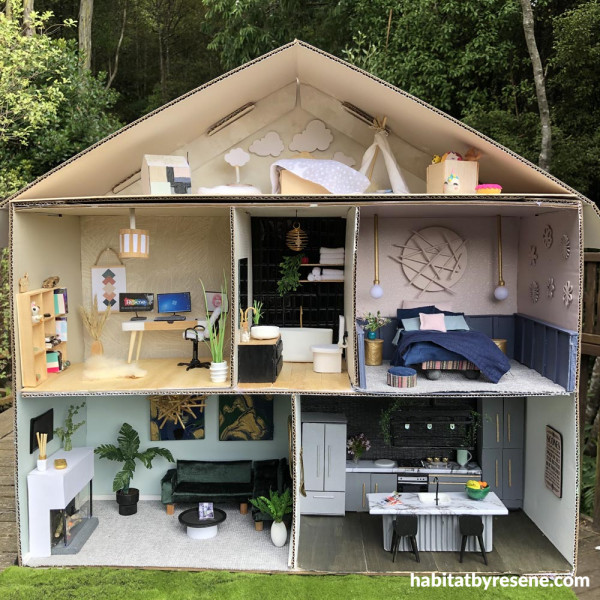 This family effort from Rebecca and Sarah Baxter had something for everyone with a soothing nature inspired living area painted in Resene Nebula and a master bedroom painted in Resene Soothe and Resene Hammerhead. "There are lots of creative details in this house, like the artwork and wainscotting in the master bedroom and the tiny dollhouse and dreamy clouds in the play area in the attic. Fabulous creativity and upcycling," said the judges.
Adults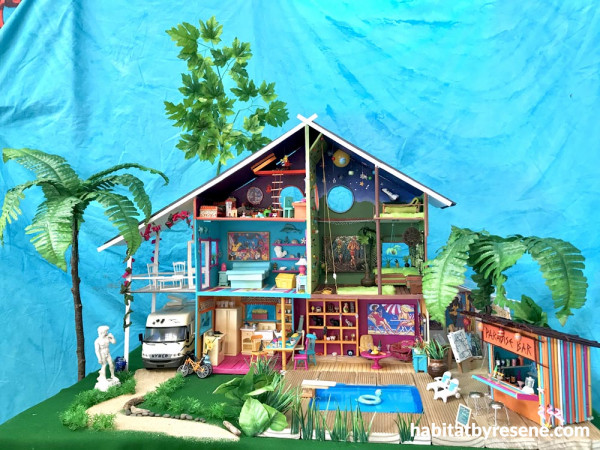 Winner Teeny House Adult: Sirpa Alalaakkola
Sirpa Alalaakkola of Picton won the Adult category, wowing the judges with her use of colour and creative spaces within bold use of Resene colours and her teeny home's interesting features including a campervan carport, tiki bar, swimming pool and rock climbing wall. "Wow this design is out of this world. Sirpa's artistic talents shine in the rock-climbing wall and upstairs play area. The little details tell a story here from the seashells on the shelves in the kitchen to the bougainvillea and statue of David outside," said the judges.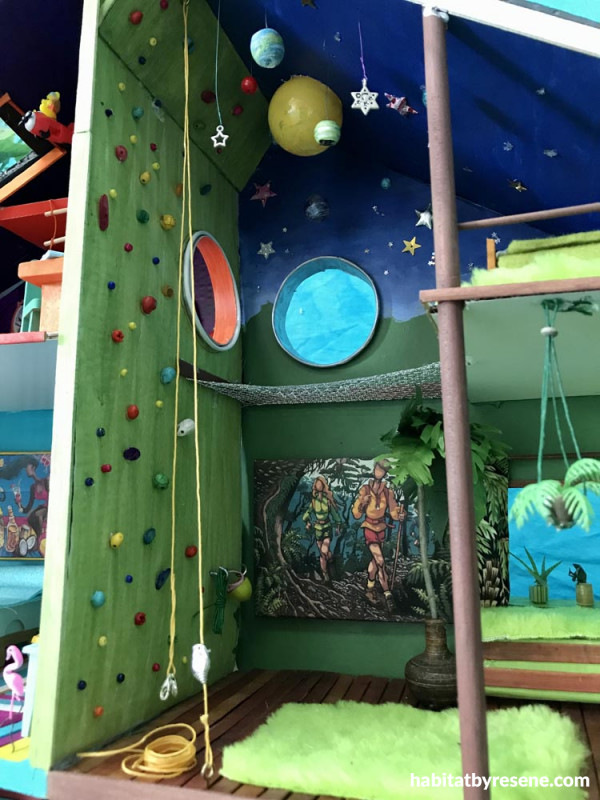 Artist Sirpa designed her teeny house for an adventurous family. Her rock climbing wall is painted in Resene Bush with Resene Aviator on the top half of the wall. Resene FX Nightlight glow-in-the-dark paint illuminates the stars and planets at night and Resene FX Metallic in Silver Aluminium on the windows is designed to replicate the weightlessness of space travel as the teeny house occupant scales the rock climbing wall.
Highly Commended Adults: Esra Cakir Fuller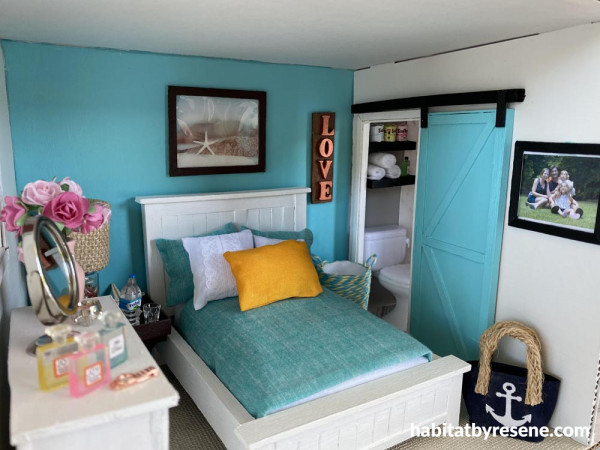 Esra Cakir Fuller created her dream coastal home for her teeny house including a relaxing bedroom space with walls in Resene Sea Fog and barn doors in Resene Yes Please. The judges loved this home's cohesive seaside theme and great use of blues and whites. "Yes Please, I'd love this bedroom at my dream bach," said one of the judges.
Highly Commended Adults: Susie Paterson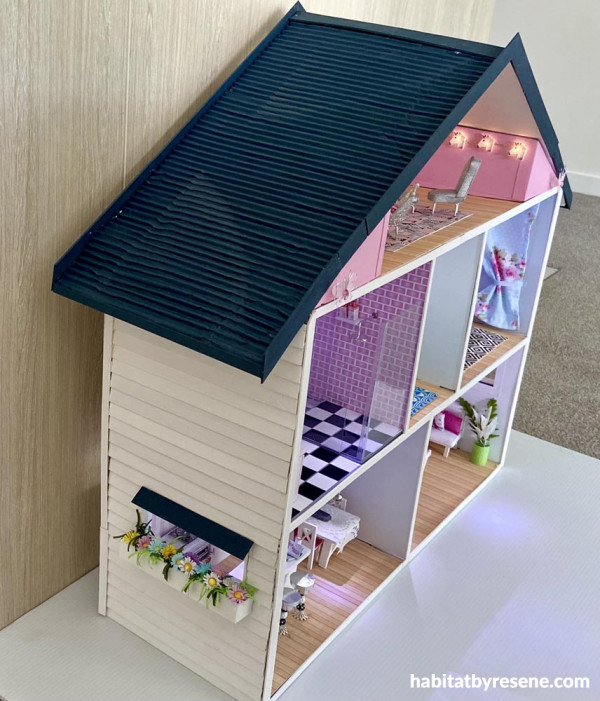 Susie Paterson created her teeny house for her niece using pinks such as Resene Ballerina she knew she'd love. The fabrication impressed the judges with the beautiful balsa wood weatherboards and plant box painted in Resene Half Rice Cake and the corrugated cardboard roof painted in Resene Coast. "Susie's house is so well finished. We're sure her niece will love playing with this teeny house."
Best Neutrals: Kelli Hearsey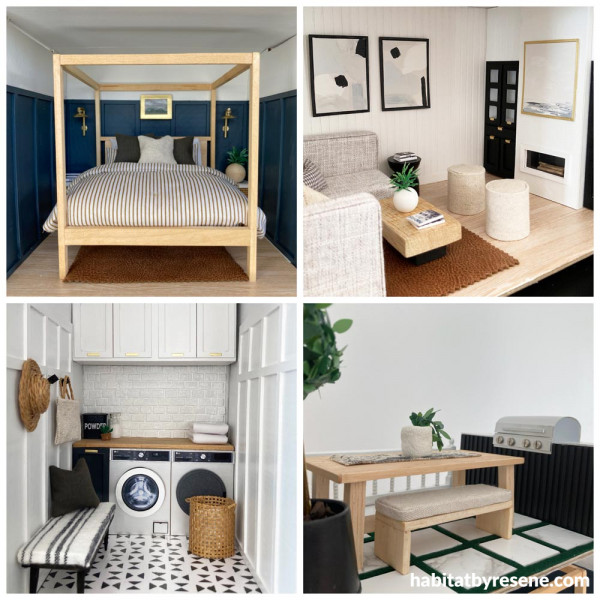 Kelli Hearsey's pared back colour palette featured Resene Double Alabaster, Resene Cod Grey, Resene Dark Slate and Resene Coast – colours that would be very easy to live with in real life. "This one was truly magnificent; it has been put together beautifully." said one of the judges. "I could actually feel someone living in this home. The effort that has gone into the built-in fixtures such as the cabinetry is truly exceptional."
Best Renovation: Kim Lawrence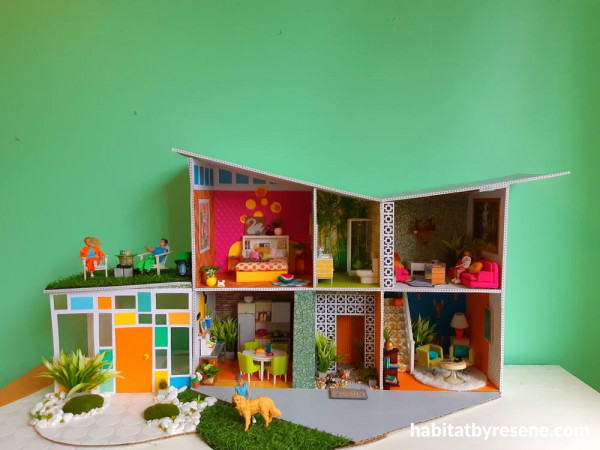 Kim Lawrence of Motueka was awarded a special prize for best renovation for reconfiguring the design of her teeny house. Kim added some design elements inspired by mid-century modern Palm Springs style such as the sloping roof, breeze blocks and a colour block entrance with a door in Resene Tango and a wall made of squares of Resene paint colours. The judges liked the commitment to the style. "This house is so much fun. The breeze blocks and 70s fireplace were a lovely touch, and we loved the use of the lobster wallpaper (Resene Wallpaper Collection 289595) in the living room," said the judges.
Best Renovation Highly Commended: Konstantina Moutos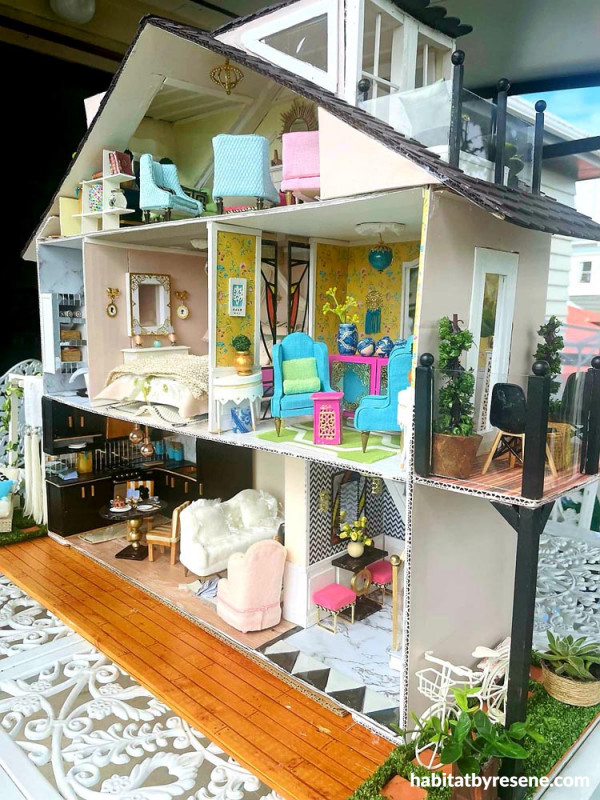 Konstantina Moutos' teeny house was runner up for best renovation with her bay windows and balconies creating extra special spaces within the home. Her design featured many wallpapers including Resene Wallpaper Collection E300123, creating a maximalist style she calls "mini opulence'. The judges loved the use of patterns in this design. "Konstantina clearly has an eye for patterns and colours, she made some beautiful colour choices," said one of the judges. Konstantina says she had never done anything like this before and enjoyed the crafting process. "As a fulltime carer to my mum with Alzheimer's, creating this teeny house was a creative outlet and therapy for me," she says.
Thank you to everyone who entered the Resene Teeny House Competition. We will reveal more photos of the teeny houses and other entries over the next few weeks.
To order your own teeny house, click here.
Published: 23 Jun 2022