►
◄
latest
habitat tv
blog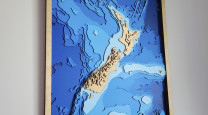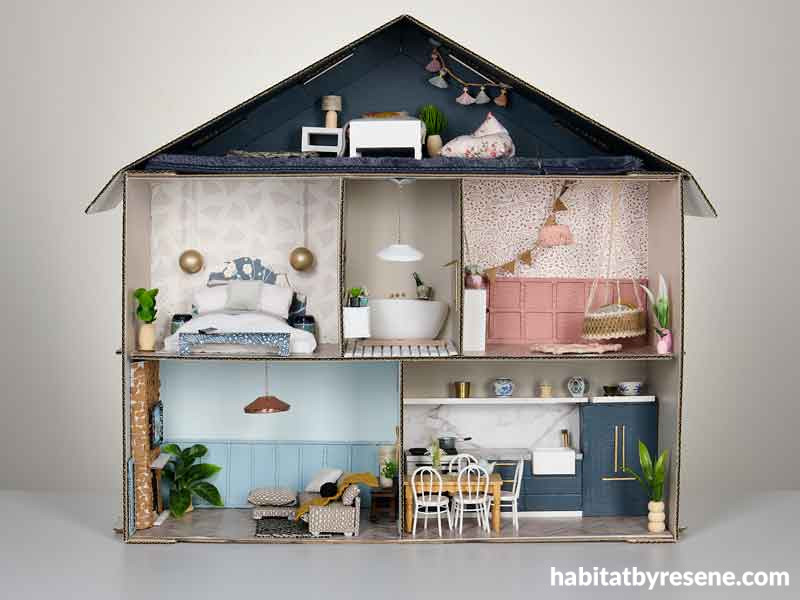 Interior designer Annick Larkin transforms a cardboard box into a Japandi Chic teeny house
29 Sep 2021
There were squeals of excitement when interior designer Annick Larkin and her daughters first saw their teeny house.
"There was a blank canvas for me, a lovely little miniature size house where I could unleash my interior design creativity," she says.
It was not only a chance for unbridled artistry but also scope to play with Resene paint colours she might want to use in her own home (order your own teeny house online here). "I am looking to do up my living room, so I used Resene Botticelli and Resene Cut Glass to see how that might look."
Annick used Resene Coast, her "all-time favourite colour", in the kitchen and the attic, which she transformed into a cosy bedroom. "I desperately want a navy-blue kitchen, so again I lived out my dream."
Annick used several designs from the Japanese-inspired Resene Hanami Wallpaper Collection, including Resene Wallpaper Collection HAN100361121 and Resene Wallpaper Collection HAN100333900, in the master bedroom and nursery. She utilised wallpaper further by using Resene Wallpaper Collection HAN100349911 on the bedhead and Resene Wallpaper Collection HAN100339818 on the bench seat.
" I've chosen wallpapers that had a small scale specifically so they look good in these teeny sized rooms, so I've chosen little fans and floral cherry blossom patterns and I think they've all worked really nicely and add to the overall look," she adds.
Annick used creative materials, including an egg carton to build the fireplace, beads for lights in the bedroom and a milk bottle for the bathtub. To create wainscotting and Jacobian panelling, Annick repurposed the teeny house's cardboard envelope.
"I've tried to use materials that I've got at home. The teeny house came in in the big envelope so I used it make some wainscotting and a bed and a bed head. To create the wainscotting I used a craft knife, a ruler and a lot of patience and cut it out and glued it all together."
Annick encourages anyone at home to give the teeny house a go as either a family activity or a relaxing project for adults. Why not enter the habitat by Resene Teeny House Competition while you are at it.
"This has been the most fabulous project to do. It has kept me and my daughters busy during the school holidays and made me think outside the box."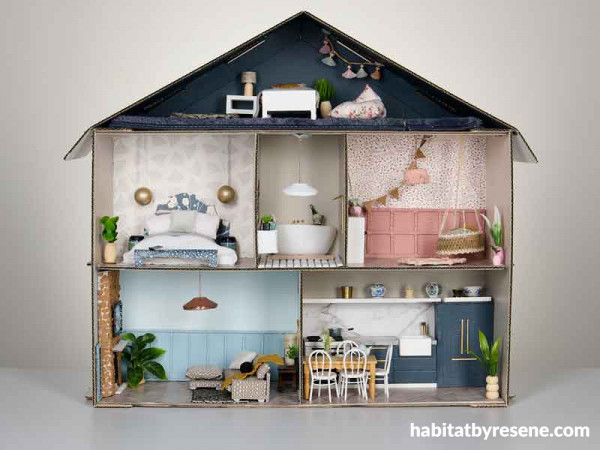 Annick Larkin's teeny house has a Japandi scheme with moody grey/hued colours such as Resene Coast and Resene Coral Tree combined with Japanese-inspired wallpapers from the Resene Hanami Wallpaper Collection.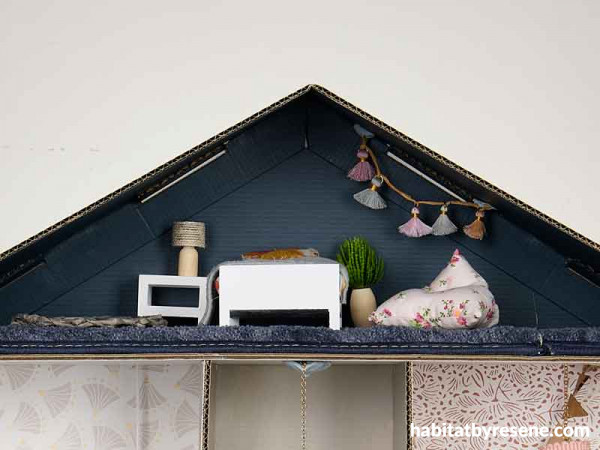 The attic features Resene Coast on the walls and ceiling which is Annick's all-time favourite colour. The room features some teeny house furniture and homemade bedding and linen made by Annick's daughter.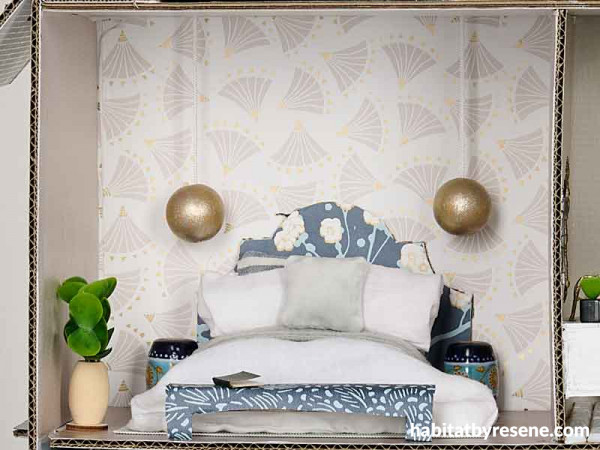 The master bedroom features three wallpapers from the Resene Hanami Wallpaper Collection: Resene Wallpaper Collection HAN 100349911 for the headboard, Resene Wallpaper Collection HAN100349911 for the bench and Resene Wallpaper Collection HAN 100333900 for the fan design on the back wall. The side walls are in Resene Quarter Joss and the lights are made from beads painted in Resene FX Metallic in Resene Rose Gold.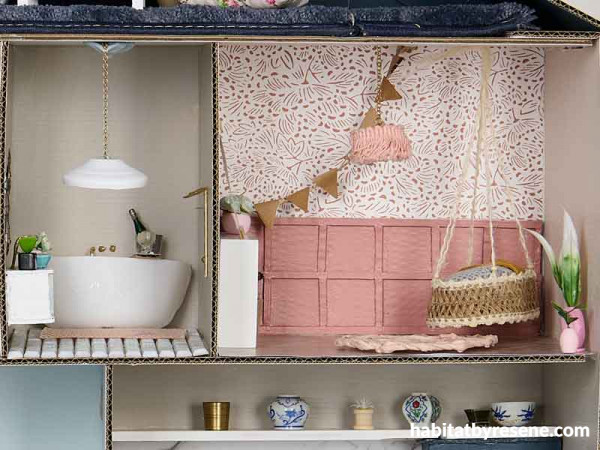 Annick used Resene Double Pravda on the walls of her teeny house bathroom and Resene Quarter Sea Fog on the vanity. The bathtub is made from an old milk bottle. The wainscotting in the bedroom is painted in Resene Coral Tree and the wallpaper is Resene Wallpaper Collection HAN 100333900. The side walls are Resene Quarter Joss.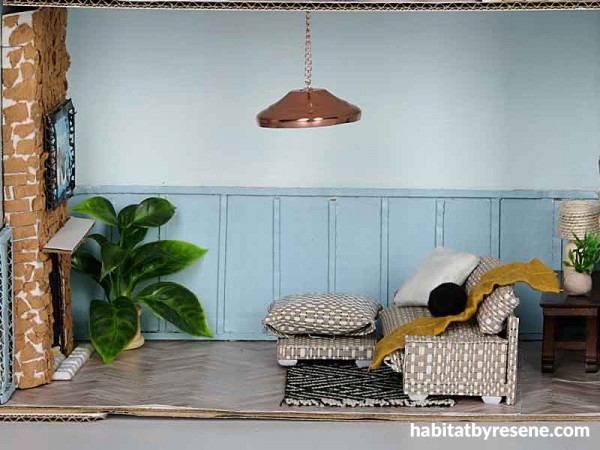 Annick used Resene Botticelli and Resene Cut Glass in the lounge and made panelling from pieces of cardboard. The fireplace is painted in Resene Double Cod Grey and embellished with pieces of egg carton and the couch was made from leftover pieces from a dog bed.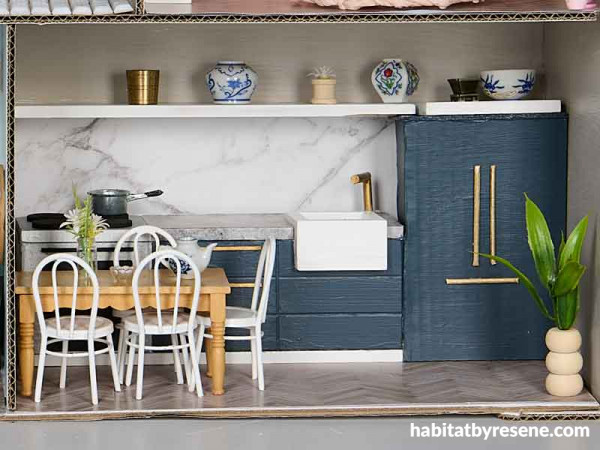 Annick is keen to paint the kitchen of her own home in Resene Coast so she tried it out on her teeny house first. The pantry and cabinetry are in Resene Coast and the sink and shelves are in Resene Alabaster. The walls are Resene Pravda.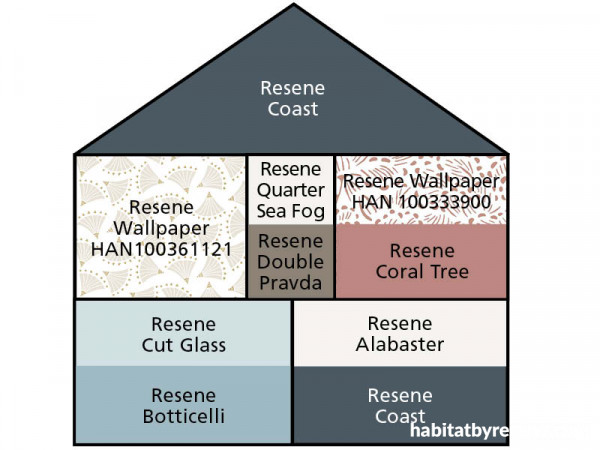 Annick's teeny house colour palette includes grey-tinged blues and Japanese inspired wallpapers.
Published: 29 Sep 2021