►
◄
latest
habitat tv
blog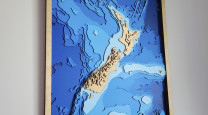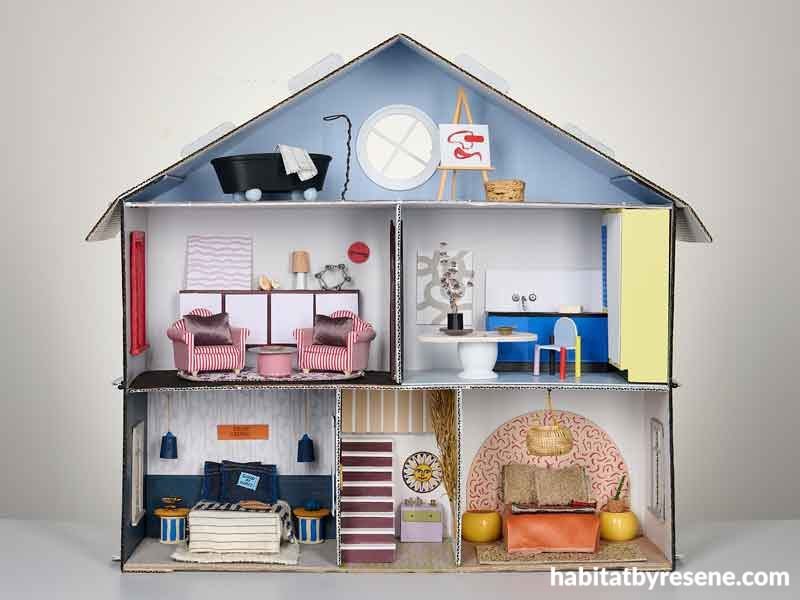 Interior Designer Kate Alexander creates her colourful miniature dreamhouse
29 Sep 2021
Kate Alexander of Places and Graces used her teeny house as an opportunity to play out her interior design fantasies. This included creating colourful furniture pieces from international designers, such as a replica of the limited-edition Dims Cleo chair x Dusen Dusen (in the kitchen), which she painted in Resene Smokescreen, Resene London Hue, Resene Red Hot, Resene Blackjack and Resene Half Turbo.
"This was so much fun. I can have all these things that you probably wouldn't actually be able to put in your own house," says Kate, whose partner Matt made a replica of a bathtub from In Residence using a 3D printer, which Kate then painted in Resene Blackjack.
Kate says that at first, she didn't know where to start when it came to decorating her teeny house but she soon realised the project was an opportunity for unbridled creativity.
"It's almost nerve wracking to have a plain white box to decorate, I was thinking, 'Where do I start? But the thing to remember is, even if you make a mistake, you can paint back over it.
"At one point I pulled some sticky tape off the wall and accidentally pulled away some paint in the process but I just painted over my mistake. So don't worry, there's nothing you can do wrong with these teeny houses."
She painted most of the teeny house walls in neutral greys, including Resene Triple Concrete, Resene Half Concrete and Resene Smokescreen. But she also added accents in Resene Half Resolution Blue and Resene Spring Fever in the kitchen and a bold headboard in Resene Cashmere and Resene Smashing in the bedroom.
"If you want to use neutrals in the teeny house, I think it's good to use a darker neutral so it doesn't disappear with the light," says Kate.
"Unless you cut out windows the only light source is from the front and because of that it can change the way the paint colour looks. I originally painted the walls of my teeny house Resene Concrete but it was almost too subtle. As soon as I changed it to Resene Triple Concrete it stood out straight away and looked much better."
To create more light sources, Kate cut archways between rooms and windows in the sides and accented the architraves in bold colours such as Resene Cab Sav and Resene Red Hot. "Painting architraves and windowsills is a fun way to add a pop of colour and something I'd love to see more people do in real life."
Kate created the stairs out of balsa wood and says she had to calculate the height and width of the stairs carefully. The front of the stairs is painted in Resene Cab Sav and the top of the stairs is Resene Quarter Iron.
"The stairs were a mathematical challenge but I'm pleased with the result." Now when my 11 year-old asks me, 'Why do you need maths?' I can tell her this is the reason.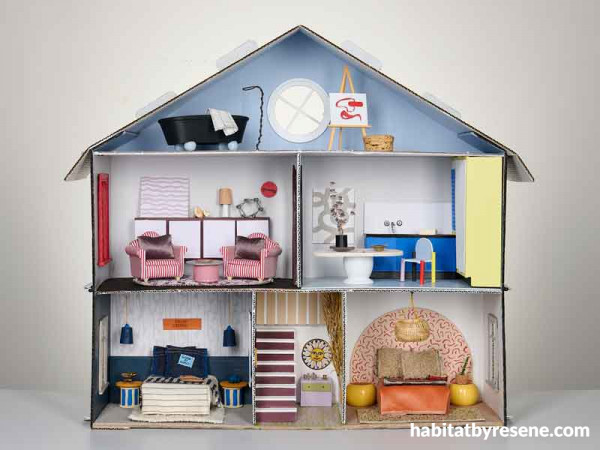 Interior designer and stylist Kate Alexander created a colourful teeny house using bold primary colours including her favourite blue Resene Half Resolution Blue, lemon yellow Resene Spring Fever and Resene Red Hot.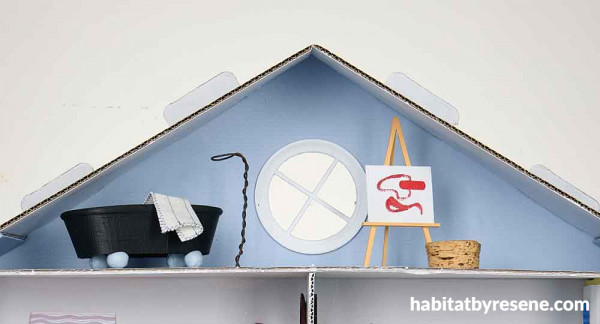 The attic wall is painted in Resene Smokescreen and the circular window frame is Resene Quarter Iron. The bath is Resene Blackjack and the artwork on the easel is Resene Red Hot.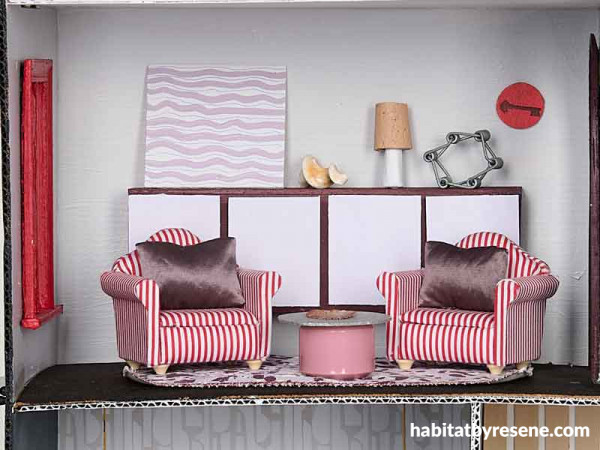 The chairs in the lounge were bought online and are the only piece of furniture that Kate didn't make herself. The walls are Resene Triple Concrete, the window frame is Resene Red Hot and the floor has been stained in Resene Pitch Black wood stain. The sideboard is built from balsa wood and is painted in Resene Cab Sav and Resene Sonique and the painting is in Resene London Hue. The coffee table is built from a napkin ring with a cardboard surface painted in Resene FX Metallic in Resene Silver Aluminium, the lamp is made from a coiled piece of paper painted in Resene Quarter Iron with a cork top painted in Resene Cashmere.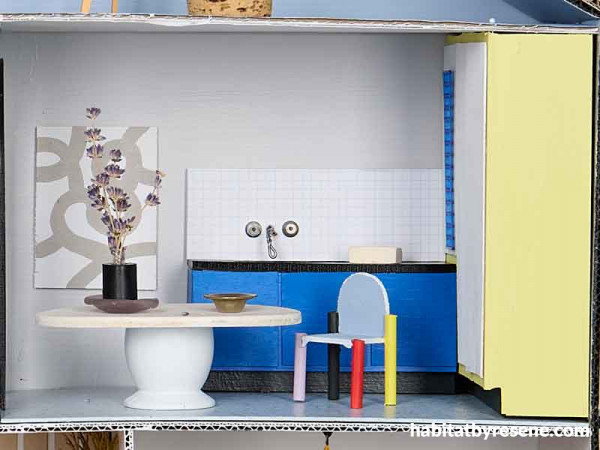 The vibrant colour-block kitchen features walls in Resene Triple Concrete and kitchen cabinetry painted in Resene Resolution Blue and a splashback made of maths book paper. The cupboard is painted in Resene Spring Fever with doors in Resene Quarter Iron and a kickboard in Resene Blackjack. The table base is built from a candleholder painted in Resene Quarter Iron with a balsa wood tabletop finished in Resene Colorwood Whitewash. The chair is based off a design by Dims and Dusen Dusen and is painted in Resene Smokescreen, Resene London Hue, Resene Red Hot, Resene Blackjack and Resene Half Turbo. The artwork is painted in Resene Quarter Sandstone.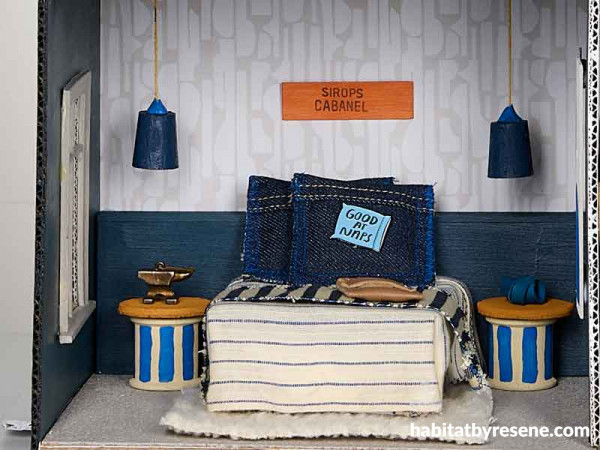 Charcoals and dark blues give this bedroom a cosy feeling. The left wall and ceiling of the bedroom is painted with Resene Element and the window frame and floor are painted in Resene Quarter Sandstone. The front wall is a scaled down version of Resene Wallpaper Collection Y6200106 with the wall below the dado painted in Resene Bunting. The lampshades are painted in Resene Bunting with Resene Tory Blue on the top. The bedside tables are made from cotton reels painted with Resene Quarter Moonbeam and stripes in Resene Tory Blue and a wooden top in Resene Mai Tai.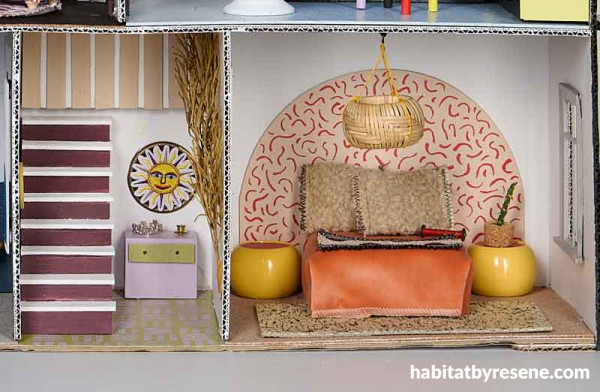 Kate says making the stairs out of balsa wood tested her mathematics abilities. The front of the stairs is painted in Resene Cab Sav and the top is Resene Quarter Iron. The main part of the wall is Resene Half Concrete and the top level is Resene Quarter Iron with panels in Resene Rodeo Drive. The pattern on the floor was created with a potato print using a small Jersey Benne potato and Resene London Hue and Resene Crisp Green from the Karen Walker Paints collection – the same colours are used on the hall table. The bedroom on the right has a striking bed headboard painted in Resene Cashmere with stripes in Resene Smashing. The walls are in Resene Quarter Concrete and the cork floor is finished in Resene Whitewash. The bedside tables are made from napkin rings with a wooden top painted in Resene Smashing.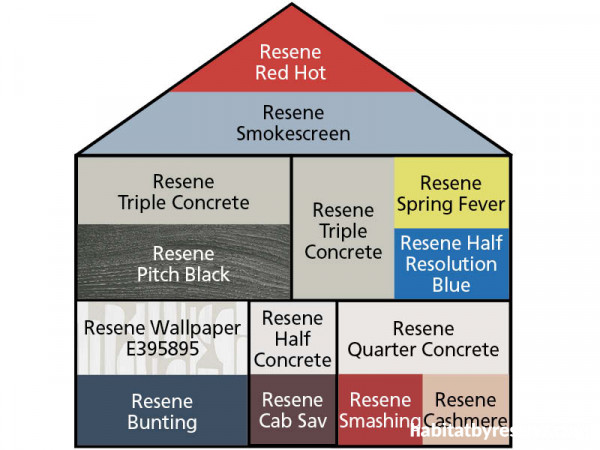 Kate planned out her colour scheme before she started to design her house.
Published: 29 Sep 2021