►
◄
latest
habitat tv
blog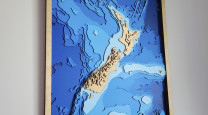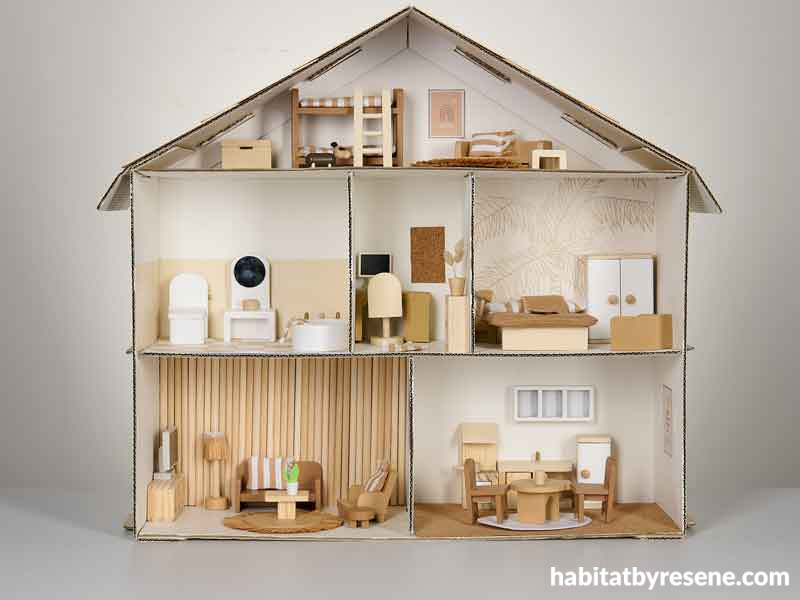 Take a tour of interior designer Vanessa Nouwens' tonal teeny house
29 Sep 2021
Interior designer Vanessa Nouwens is known as the queen of tone-on-tone interior style. So it's not surprising she put her colour skills to good use creating a cohesive teeny house (order yours here) using Resene colour and pint-sized furniture bought from Kmart. Vanessa chose a warm neutral colour palette of hues she thought were "easy to live with".
She paired neutral walls in Resene Rice Cake and Resene Blank Canvas with furniture and accents in Resene Black White, Resene Blank Canvas, Resene Triple Rice Cake, Resene Rice Cake, Resene Canterbury Clay, Resene Gold Coast, Resene Brown Sugar, Resene Sand, Resene Teak, Resene Calico and Resene Bullwhip.
"To create a tonal scheme, I normally start with a couple of hero colours. In this case, it was Resene Brown Sugar and Resene Gold Coast. I then selected other colours within the same colour palette and still very warm, but much lighter."
Vanessa used natural material fabrics to complement the soft colour scheme – she glued a raffia trim to a coaster to produce a replica jute rug and she sewed her own linen duvets and cushions.
"I dusted off the sewing machine to make the cushions and duvets. It softens the wooden furniture and makes it feel more realistic. Linen is my favourite fabric so there was only ever going to be one type of fabric in this," says Vanessa.
Other on-trend features in Vanessa's teeny house include a checkerboard floor in the bathroom with squares in Resene Canterbury Clay
"The checkerboard pattern is as a really big interior trend. You typically see checkerboards painted in black and white but also you can use other colours, it can be used on floors or walls. I thought the bathroom was the perfect place for it as almost looks like tiles," says Vanessa.
Botanical wallpaper is another big trend and Vanessa used Resene Wallpaper Collection E384510, a tropical palm tree print, which she transformed into a mural at teeny house scale. The timber feature wall in the lounge carries on the natural scheme and is made from dowel protected in Resene Aquaclear.
"It's quite different to my own home but I am really drawn to these kinds of natural colours. I could easily see this playing out in a lovely beach house with all the sea, sand and other natural elements."
Order your own teeny house for $40 plus delivery here
To enter the Teeny House Competition and for more Teeny House stories and inspiration, click here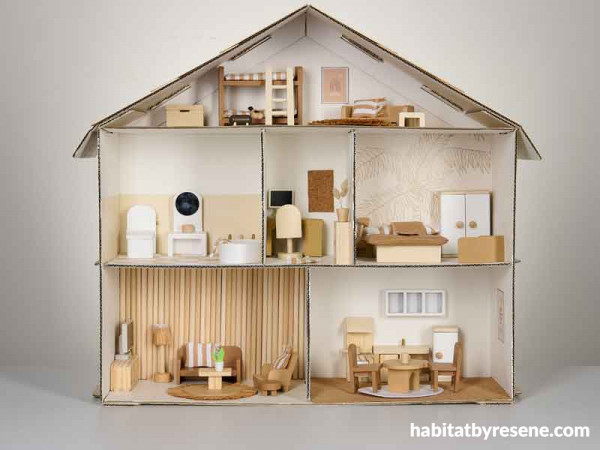 Vanesa's warm tonal colour scheme has two hero colours: Resene Brown Sugar and Resene Gold Coast which she has tied in with other darker and lighter beige, brown and cream colours.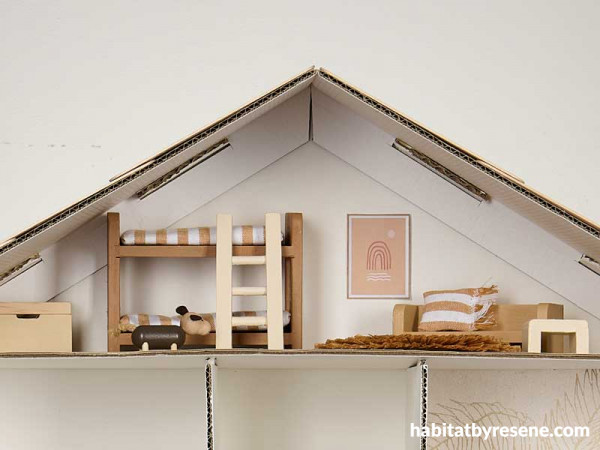 Vanessa used toy furniture from Kmart throughout her home, painting over the original colours in her tonal colour palette. The bunk bed is painted in Resene Brown Sugar, the ladder and side table are in Resene Blank Canvas, the sofa is in Resene Gold Coast and the toybox and floor are in Resene Canterbury Clay. The wall colour is Resene Rice Cake.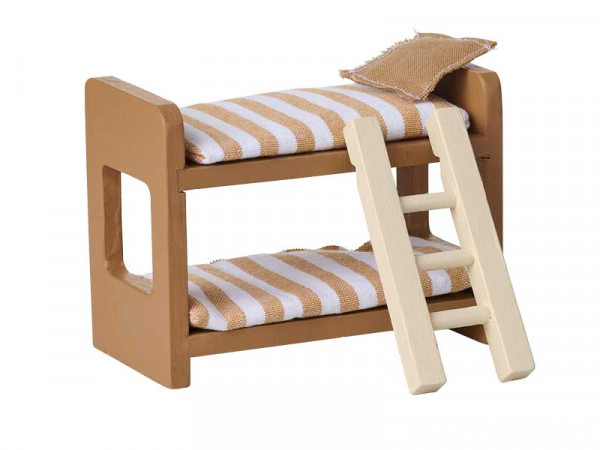 Vanessa used her hero colour Resene Brown Sugar for the bunk in the attic. The bedding is made from scrap pieces of linen and the ladder is painted in Resene Blank Canvas.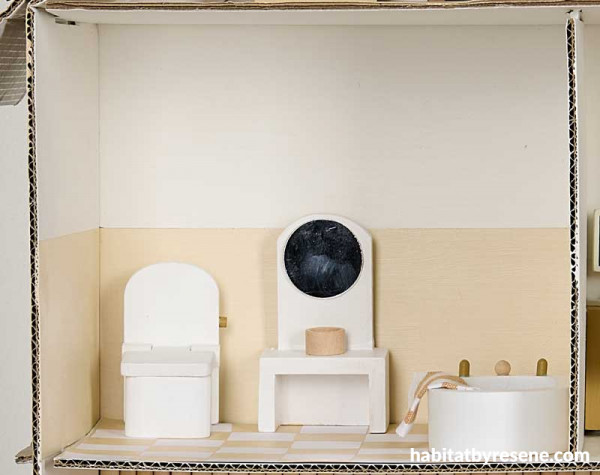 Checkerboard floors are a hot interior trend, but instead of the traditional black and white, Vanessa painted hers in Resene Canterbury Clay and Resene Black White. The toilet, vanity and bath are all Resene Black White and the tapware is Resene Bullwhip. The top wall is Resene Rice Cake and the lower wall is Resene Blank Canvas.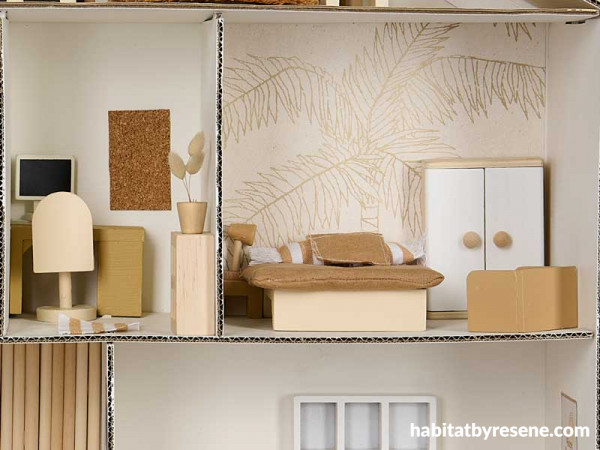 Both the office and the master bedroom have walls in Resene Rice Cake and a floor painted in Resene Triple Rice Cake. The wallpaper is Resene Wallpaper Collection E384510 which at teeny house scale became a tropical mural. The bed is Resene Sand and the chair beside table and lamp are Resene Gold Coast, the wardrobe is Resene Black White. In the office, the desk is in Resene Teak and the chair is in Resene Sand.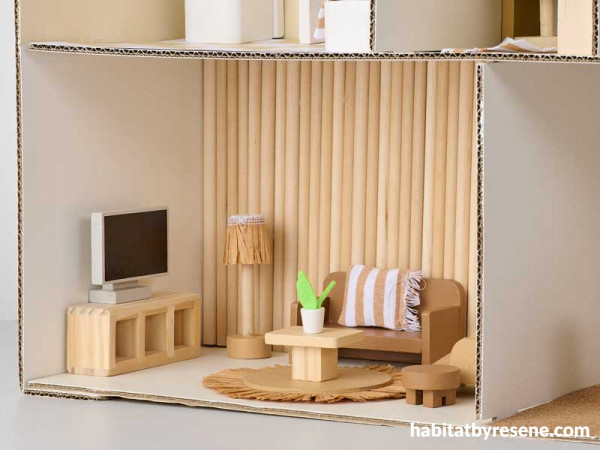 Vanessa created a timber feature wall – another hot interior trend – for the living room using natural dowel coated with Resene Aquaclear. The walls are Resene Rice Cake and the floor is Resene Triple Rice Cake. The sofa and side table are Resene Brown Sugar, the coffee table and lamp base are Resene Calico and the chair and lamp are Resene Gold Coast.
Vanessa kept things simple in her kitchen, using a cork sheet on the floor which ties in with the walls in Resene Rice Cake. The kitchen sink and oven are in Resene Sand, the table is Resene Gold Coast, the chairs are Resene Brown Sugar, the cabinet is Resene Black White and the cup is Resene Canterbury Clay.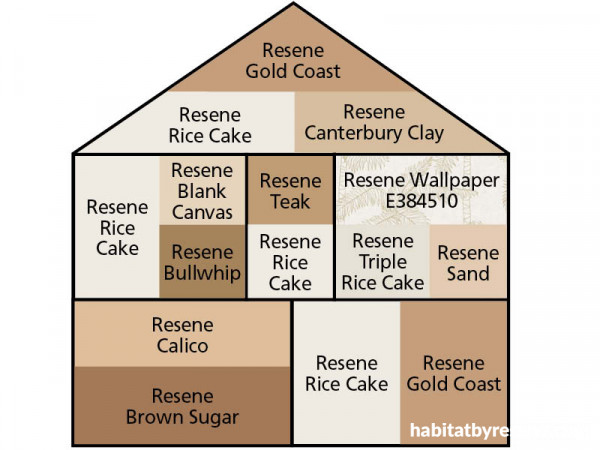 There are more than 10 Resene paint colours in Vanessa's tonal colour scheme, she says the colours would work well in a beachside home and work well with natural linens and furniture made from natural materials.
Order your own teeny house for $40 plus delivery here
To enter the Teeny House Competition and for more Teeny House stories and inspiration, click here
Published: 29 Sep 2021